For as long as music has been posted online, memes have been using them.
Sometimes it's the music itself that's hilarious, other times it's the context.
Either way, these 21 songs have earned their place on our list of 21 funniest meme songs.
1. Jiggle Jiggle – Duke & Jones and Louis Theroux
This first song is the youngest addition to our list, having only just been made in the past year.
The song itself is a remix to a part of a bit called Chicken Shop Date" done this past February where Louis recites a rap he performed years ago (skip to 2:23 in the video for the remixed words).
2. Buttercup – Jack Stauber
Buttercup is a great example of contextually funny.
The song came out five years ago but has truly hit its stride since TikTok turned it into a meme in 2020.
Listening to the lyrics, this song itself isn't funny, but the TikToks that have been made using this song as background audio are truly hilarious.
3. What is Love? – Haddaway
What is Love is one of the earliest true funny meme songs.
Haddaway put this song out in 1993, but when Saturday Night Live picked it up in a recurring segment called "Roxbury Guys" (including the likes of Jim Carey, Will Ferrell, and Tom Hanks), it spread like wildfire.
Specifically, a scene including Carey and Ferrell bobbing their heads in unison while the song played on the radio.
4. You are a Pirate – Lazy Town
We could write an entire article on Lazy Town's contributions to meme culture alone.
Their presence as resident internet funny band is practically unmatched.
This song came out back in 2004 and over the following four years snowballed from a niche song to an all-out all-bets-are-off bop.
Most notably, a somewhat saucy animation on youtube that we are not at liberty to officially share.
5. What's Up – 4 Non Blondes
This song came out in 1992, so it's probably older than whoever's reading this right
now.
What's Up blurs the line between contextual and flat-out funny music.
The high notes to reach for, the long screams near the end, the lyrics, this song has it all.
But what puts this song over the top is the remix that dropped in 2010 with He-Man animated to sing along.
Putting it all together cemented this song in meme history.
6. Oh No – Capone
This song became popular on Tik Tok in 2020 and its memes feature bad situations getting worse (and therefore becoming meme-worthy).
Oh No has found ranks alongside the song Roundabout by Yes for creating memes that end too quickly just before things get even funnier.
7. Big Enough – Kirin J Callinan
Big Enough holds a special place on this list at number 7.
The first two minutes of the song go by with nothing out of the ordinary happening.
And then after a brief whistling interlude, we have screaming cowboys. In the sky.
Yup. It's that song.
In 2017 Big Enough was used as audio over a scene from Jurassic Park and since then we've been privy to screaming cowboys everywhere. God bless America.
8. What Does the Fox Say? – Ylvis
You know this song.
I know this song.
And we both know the death grip it had on meme culture back in 2013 for more than a long time (remember when "Let it Go" from Frozen came out?).
This song has everything you need for a meme song and more. Funny content, thank you, Ylvis.
9. Run – AWOLNATION
The late 2000s saw a surge in meme content.
Then at the turn of the decade, we saw vines take center stage: introducing Run.
AWOLNATION knew it had something special and built its entire song around the guitar riff that starts at 2:07 and is ridden out for the rest of the song.
If you've heard the riff you've seen the videos of people sprinting and running in our most literal translation of memes on this list.
10. September – Earth, Wind & Fire
This one is a classic.
Earth Wind & Fire's song can be heard everywhere from weddings to en masse on TikTok.
The song is such an upbeat bop that you can't help but dance to it – which is exactly what is featured online.
Countless memes showing countless dance moves for countless laughs.
11. P*rnhub Community Intro – P*rnhub
Ah yes, the intro that nobody knows.
A simple, three-second introduction that nobody has heard of outside of TikTok or those funny memes online.
12. America F*ck Yeah – Team America
The movie Team America came out back in 2004, but their iconic introduction is still engrained into the minds of every patriotic troll on the internet today.
The song itself was created as satire towards the bad rap America was getting back in the early 2000s but in true American fashion, the song has been embraced as a meme and posted about (including an excellent bald-eagle version), touting the proud red-white-and-blue.
13. Gangnam Style – Psy
This song may have come out back in 2012, but if you take a look at the meme landscape you'd think it came out in the last two years.
This song was one of the longest and strongest-running memes across so many platforms.
It was funny for so long, it stopped being funny and then became funny again all while retaining its popularity.
14. A Thousand Miles – Vanessa Carlton
This meme was a slow burn.
The song dropped in 2002 and was showcased in 2004's White Chicks with an affectionate
Terry Crews serenading it on screen.
Ten years later, from the depths of youtube came Vanessa Carlton's beautiful music with a heartfelt description of someone, only to be cut off a few seconds into a far-from-ideal scenario ironically related to our ideal description beforehand.
A Thousand Miles Takes the cake for the most ironic meme song.
15. Free Bird – Lynyrd Skynyrd
This song skirted the line between memes and just epic music for a long time.
The entire second half of this song is all-out chaos and rock excellence (as showcased in the multitude of fight scenes it has been used in the background for.
But Free Bird's epic nature was molded into meme format back in 2013 and has not looked back since, including its resurgence on TikTok.
16. Wonderwall – Oasis
Oasis' 1995 classic is one of the oldest and most powerful memes on this list.
From TikTok's asking you to recognize a song after one note today to back in 2013 when it was "scumbag guitar player only knows one song".
This meme has stood the test of time and is still going strong. Anyway, here's Wonderwall.
17. All Star – Smash Mouth
If you haven't seen Shrek, don't even finish this list go watch that instead.
Smash Mouth's success doesn't entirely rest on Shrek's internet presence but it certainly isn't hurting their popularity.
The fact that people still come to Smash Mouth concerts today wearing Shrek costumes might speak a little to the instant meme song they created almost 25 years ago.
18. Bring me to life – Evanescence
Now we get to the beginning of meme songs. Evanescence's song dropped in 2003 and rode the wave of popularity immediately, just in time for the internet's first true taste of memes.
The nature of this song is a meme in itself, but the memes that came from this song were some of the first signs of internet-related humor in song form.
19. Never Gonna Give you Up – Rick Astley
We all knew this song would make the list.
Getting Rick Roll'd may not have been the first meme prank, but it's been the funniest since its inception.
That said, after doing some research on the song we found an alternative version that was released back in 2008 because of copyright issues when the song regained popularity.
While this list is not exhaustive, we know the internet will always win when it comes to outdoing itself with memes.
More, funnier meme songs will come. And when they do, we'll be ready for them.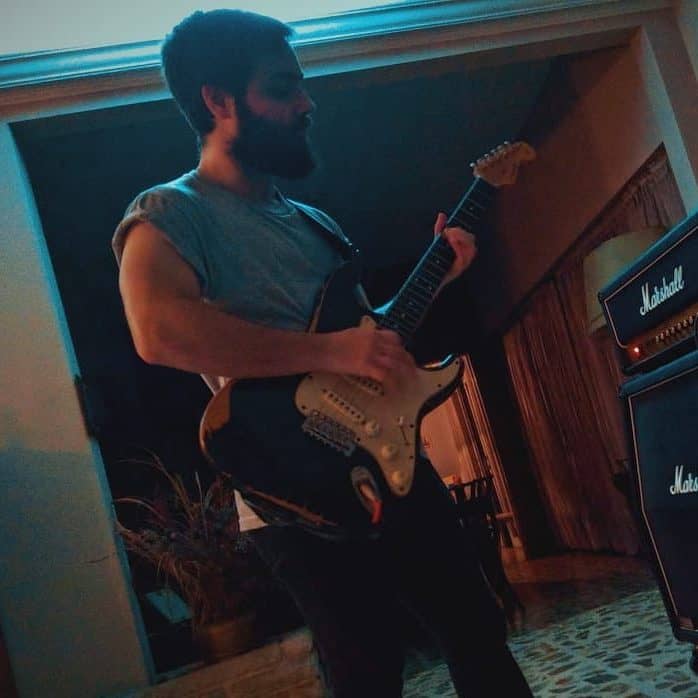 Hello there, my name is Ramiro and I've been playing guitar for almost 20 years. I'm obsessed with everything gear-related and I thought it might be worth sharing it. From guitars, pedals, amps, and synths to studio gear and production tips, I hope you find what I post here useful, and I'll try my best to keep it entertaining also.