The good times are always the best times, sadly they often don't last forever.
Luckily we always keep the good times we've had in our memories, and with the help of a bit of musical memory-jogging, we can always call them back up and reminisce- or better yet, create a brand new good memory in the present.
Whether it's with a touch of joy or sadness though, many musicians have written about the good times they've had and that's what today's list is full of.
1. Memories – Maroon 5
Starting with a touch of sadness on the list because I like to make people sad, Memories is a song about the loss of loved ones and friends.
It's an evolution of Maroon 5's more acoustic 6th studio album and borrows heavily from a bit of classical music (Pachelbel's Canon).
"Memories" is a song about carrying the memories of those who've passed while reminiscing on the times the singer had with them.
2. Summer of 69 – Bryan Adams
Summer of 69 is both a song about looking back on a Summer in 1969 and an innuendo about exploring sex as a teenager, hence the use of the number 69.
Bet you didn't know that.
Summer of 69 is a song filled with memories and it mainly eludes to how things have changed since Adams got his first guitar in his youth and how many of his old bandmates left their dreams behind to settle down.
3. Good Old Days – Macklemore & Ryan Lewis
Good Old Days is a song about not just looking back on the memories you had of good times, but noticing when you're in the good times and making the most of them.
The song looks back on the singer's life at times that weren't appreciated at the moment, but looking back were actually really great times in his life.
4. Glory Days – Bruce Springsteen
Glory Days was an interesting song from Springsteen, with even a verse missing at one point.
In it, Springsteen sings about three (or four) characters, a friend, a girl he loved, and his father and himself.
The song progresses through the group's lives and talks about how things have changed but they still think about their Glory Days.
5. Thnks fr th Mmrs – Fall Out Boy
Thnks Fr Th Mmrs was one of Fall Out Boy's breakout songs back in the day.
It's a song about a couple that has long since lost love for each other but is staying together for the physical benefits.
It's an interesting take on dwelling on memories for sure.
6. When We Were Young – Adele
When We Were Young is Adele's favorite song from her "25" album.
A "shimmering 70s disco ballad" laid naked and bare, with Adele's powerful vocals making you long for the same good old days.
It's a song with a fun message to it, despite the sad composition:
Adele envisioned the idea of everyone from your youth being thrown together in a room and now you're all old and while some are people you loved and others you hated, it's all just everyone together having a good time, and making the best of it.
7. (You Want To) Make a Memory – Bon Jovi
A song with a slow buildup to a climactic final chorus, Make a Memory is probably one of Bon Jovi's less widely-known songs, especially since it was released long after their golden age back in the 90s.
Make a Memory is a slow ballad with a touching aspect to it about both remembering the good times gone and wanting to make a new memory with someone you used to love.
8. GOOD TIME – Niko Moon
Niko Moon gives us a relaxed song about not just dwelling on good times but making a good time right now.
It's a unique concoction of pop, blues, and country sounds that comes together to make for a grounded twangy song that you can just chill to.
9. Brown Eyed Girl – Van Morrison
Brown Eyed Girl is actually an ironic song for Van Morrison because despite it being one of his most successful songs, it's also a song he considered to be a throwaway song.
Morrison never got any royalties for this song either, due to the recording label's contract terms he was with at the time, but it was popular enough to catapult him forward into stardom.
10. Photograph – Ed Sheeran
Photograph was easily one of Ed Sheeran's bigger songs off his X album.
If it weren't for Thinking Out Loud, this would probably have been the main song of the album.
"Photograph" is a song about preserving our memories with the one we love in a photograph and holding onto what was special about the relationship.
11. Girls Just Want To Have Fun – Cyndi Lauper
Cyndi Lauper is mostly known for this one song and it's no wonder why.
For its time, Girls Just Want To Have Fun was a huge pop hit and it was about the spirit of most young teenage girls in that they just want to get together and have a good time.
Lauper captures that spirit in this catchy 80s pop song.
12. Don't Stop Me Now – Queen
A simple song, that energetically sees lead singer Freddie Mercury on a high, not letting anyone pull him down.
The song is considered one of Queen's masterpieces and has aged well, becoming a timeless anthem for many.
It's a song about wanting to have a good time and wanting to stay in that good time.
13. Remember the Time – Michael Jackson
If you want the full experience of this song, you have to watch the music video.
The song was something Jackson wrote with his long-time love interest and mentor, Nina Simone, in mind.
The song itself is considered a masterpiece and one of Michael Jackson's best vocal deliveries, but that aside it's a pretty amazing piece of pop history.
14. Good Times – Sam Cooke
One of the last tracks of Sam Cooke's final album, Good Times is what a ray of sunshine would sound like if you could capture it in a song.
Good Times is what it says it's about, just experiencing and enjoying the good time you're having at the moment.
The simplistic and soulful composition of the song makes it really easy to sink into that feeling of being in the Good Times.
15. I Gotta Feeling – Black Eyed Peas
I Gotta Feeling is one of the Black Eyed Peas's most successful songs and was inspired by European dance music with Will.I.Am taking that inspiration to write this dance track.
It's a song all about having a good night and it was written with the intention of helping people to forget their worries and enjoy the moment.
16. I Go Back – Kenny Chesney
17. For the Good Times – Al Green
18. In My Life – The Beatles
19. Photograph – Nickelback
20. Family Business – Kanye West
21. Memories – Shawn Mendes
22. Let The Good Times Roll – Louis Jordan
23. Automatic – Miranda Lambert
24. Good Time – Owl City
25. Good Times – Nile Rodgers
26. Good Times Bad Times – Led Zeppelin
27. We Are Young – Fun ft. Janelle Monae
28. Good Riddance – Green Day
29. Amnesia – Seconds of Summer
30. Unforgettable – Thomas Rhett
31. You're Gonna Miss This – Trace Adkins
32. The Way We Were – Barbra Streisand
33. Don't You Worry Child – Swedish House Mafia
34. September – Earth, Wind & Fire
35. Celebration – Kool & The Gang
36. For the Good Times – Ray Price
37. Closing Time – Leonard Cohen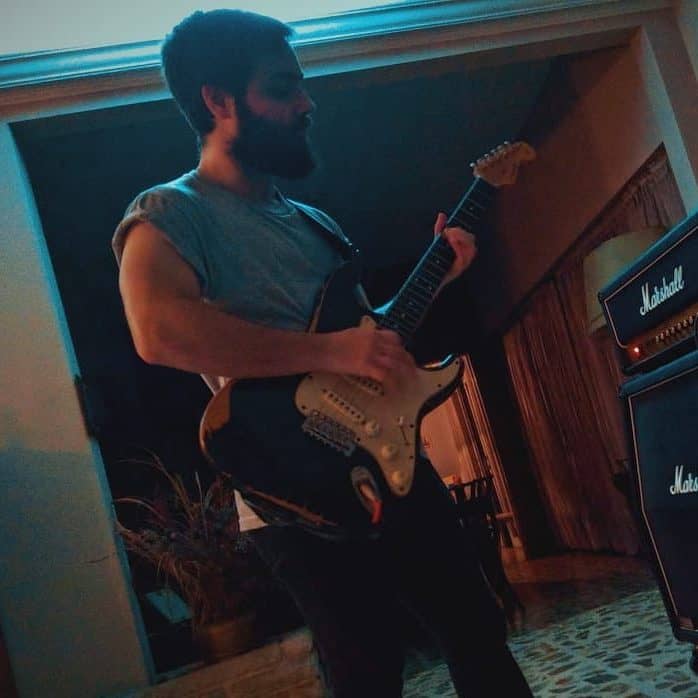 Hello there, my name is Ramiro and I've been playing guitar for almost 20 years. I'm obsessed with everything gear-related and I thought it might be worth sharing it. From guitars, pedals, amps, and synths to studio gear and production tips, I hope you find what I post here useful, and I'll try my best to keep it entertaining also.