Depending on who you ask, Fall is either the best or worst season.
Personally, I love it, it's not as hot as Summer and not as cold as Winter and it's great because when it does get cold, you can just put on more layers.
Likewise, many musicians have felt inspired to write both positive and negative songs about Autumn and that's what this list is all about.
1. Wake Me Up When September Ends – Greenday
Starting off with a song that just about every adult out there has heard at least once on the radio.
Greenday released this back in 2005, with Billie Joel Armstrong writing this song about his father's death when he was ten years old.
It's kind of a song about sadness and grief, but it manages to be a pretty upbeat punk rock song to jam to when Autumn comes around.
2. September – Earth Wind and Fire
This song has been a hit that has stuck with us since its release back in 1978, with interest spiking especially around September (unironically).
If you don't recognize the title, the song becomes instantly recognizable the moment the music starts. It's a bop that will have you moving your feet and dancing about.
3. November Rain – Guns n' Roses
This big ballad became the centerpiece and signature song of the albums it was released on. Clocking in at almost 9 minutes, November Rain is a mixture of grandeur and sorrow.
It's a desperate ballad about lost love, accompanied by Slash's soaring guitar solos.
Ultimately, it might make you a little sad, but it's worth listening to, again and again.
4. Sweater Weather – The Neighborhood
The lead single off of the Neighborhood's debut EP and album back in 2012 "I'm Sorry" and "I Love You."
Sweater Weather is also the first song the band had written together, composed at their first practice session about a year before its release.
It's still a song that holds up with their newer music as the band has grown, and it's just such a pleasant listen, with the song ebbing and flowing, rising and falling in tempo at points.
It's a very cool song and goes well with the coolness of Autumn weather.
5. Autumn's Not That Cold – Lorrie Morgan
When you're in need of a nice, slow power ballad, Lorrie Morgan has got you covered, for Autumn at least.
With a gentle and rhythmic piano, accompanied by waning violins, this makes for a surprisingly gentle breakup song.
That's right, Autumn's Not That Cold is mainly a song about being left behind by a former lover and realizing that you're not only not that hurt, but also looking forward to moving on with your life.
6. When Fall Comes To New England – Cheryl Wheeler
If you're looking for a nice folk–country song, this is for you.
Cheryl Wheeler manages to beautifully capture the peaceful nature of the change that comes with the fall.
The guitar manages to remain light enough to sound almost like a breeze blowing through your hair, it really feels like you can hear the autumn winds.
7. Autumn in New York – Louis Armstrong & Ella Fitzgerald
Nothing really says New York like gentle jazz music.
Louis Armstrong paired up with Ella Fitzgerald to deliver to us this smooth piece of musical mastery.
It's the kind of song that you can play in the background or watch the sunset to, and it somehow makes you acutely aware of the passing of time without making you anxious about it.
8. Autumn Song – Manic Street Preachers
Man, I really like the riff in this song.
Autumn Song is the third single off their album "Send Away the Tigers" and did quite well in the UK, coming in at #10 on their Billboard Charts.
The riff is actually inspired by Slash, with it somewhat resembling Guns n' Roses' Sweet Child O' Mine's intro.
9. Yellow – Coldplay
One of Coldplay's oldest and most enduring songs, Yellow was released all the way back on their debut album.
The title of the song came from the feel the band got from it, with it sounding "bright, full of color and hope" however the lyrics were inspired by unrequited love.
10. Just Like Autumn – The Tuesday Crew
Dialing it down again, The Tuesday Crew brings us a love song about falling in love and likens it to fall – clever.
Just Like Autumn is somewhere between pop, folk, and acoustic, and I quite like it.
With it coming out back in 2018, unless you are a fan, you likely missed this lovely song.
11. Harvest Time – Luke Bryan
How can we have Fall without a country song?
Harvest time is all about how the season of Autumn brings about the time for a yield.
It's a different take on a time when most people are thinking about the weather and the wind, contrasting that with an optimistic look at how fall affects farmers.
If you've ever plowed a field or woken up at 5 am to go out to work on a farm, Harvest time is going to be your cup of tea (or glass of whiskey perhaps).
12. Autumn – Paolo Nutini
Paolo Nutini wrote this song for his grandfather who passed away when he was just 12 years old, admittedly there's a touch of melancholy in the song.
Autumn leaves play more of a thematic role in this song, perhaps a poetic metaphor for how the leaves fall and turn brown, dying as we do.
13. Dead Leaves and The Dirty Ground – The White Stripes
Dead Leaves and the Dirty Ground is another sharp delivery of dirty blues by the White Stripes.
The song is a bit of a metaphor for things passed and lost, with the music video aiding this idea, showing Jack White walking through a house and seeing echoes of the past.
You wouldn't notice this message though, considering it's mixed in with The White Stripes' iconic attitude-laden guitar riffs and drum dynamics.
If anything, it's a song that shows just how well the two members can use these dynamics to fill up a song, despite having so few instruments to work with.
14. Autumn Town Leaves – Iron & Wine
What a lovely song, Autumn Town Leaves brings the mood right down to a calm, yet optimistic view of Autumn.
It is a song that uses the time of Fall to dance around a lot of different settings and ideas while keeping you drawn in by the folky guitar and drums.
15. Harvest Moon – Neil Young
Off the album of the same name, this song was written as a tribute to his wife, Pegi.
Harvest Moon celebrates longevity and faithfulness in relationships, both in its lyrics and in its gentle and beautiful melody.
The guitar, mixed with pedal steel guitar is out front, but what makes it so special is the background harmony, evoking a woman's contentment with her man.
All of it together becomes the image of beauty and romance. 
16. Leaves that Are Green – Simon and Garfunkel 
Included as the second track of the iconic album Sounds Of Silence, this classic folk-rock song uses the metaphor of leaves falling in autumn to describe how time passes.
Released in 1966, this piece reflects on themes of change, growth, and reminiscence.
17. Autumn Leaves – Nat King Cole
To begin with, we have this great piece originally written by Frenchmen Jacques Prévert and Joseph Kosma in 1945.
After being translated into English, Nat King Cole's performance took it to number 1 on the charts in 1955 and became the staple song for nightclub singers.
This classic song captures the mood and beauty of this picturesque season.
Besides, it describes the falling of the leaves from the trees and the changing of the seasons, and its melancholic, reflective melody expresses the bittersweet feeling of autumn.
18. Season of The Witch – Donovan
In the early 60s, there were already signs of psychedelic rock and this song is a perfect example of it.
Released in the 1966 album Sunshine Superman this track is about the arrival of the next autumn season.
Donovan depicts the witching season of fall as a time of magic, change, and mystery, with a folksy melody that captures the mysterious mood of this time of the year.
19. Autumn Leaves – Ed Sheeran
Among his great songs, Ed Sheeran also expressed his feeling of loss and nostalgia that can come with the end of summer. 
Released in 2011 and included in the album Plus (+) this pop-folk song perfectly describes the sense of melancholy that the fall brings.
20. The Four Seasons: Autumn – Antonio Vivaldi
In order not to leave nobody aside, this list goes from contemporary songs to classic pieces.
Le Quattro Stagioni in its original language is a 1723 composition by the great Antoni Vivaldi.
The Four Seasons comprises a group of four concertos for violin and orchestra, one for each season. Autumn is characterized by its fast-paced, energetic melody, which reflects the mood of the fall season.
21. Autumn Sweater – Yo La Tengo
From YLT's eighth studio album, I Can Hear the Heart Beating as One, this track invites the listener to reflect on their own experiences and emotions, much like autumn feelings can often evoke.
Released in 1997, Autumn Sweater is a soft indie rock song that uses fall imagery and themes, such as leaves changing colors and falling from trees, to create a melancholic and nostalgic atmosphere.
22. Autumn Serenade – John Coltrane 
23. The Boys of Fall – Kenny Chesney 
24. California Dreamin' – The Mamas And the Papas 
25. October – U2 
26. The Last Day Of Summer – The Cure 
27. Autumn Song – Van Morrison 
28. Colder Weather – Zac Brown Band 
29. All Souls Night – Loreena McKennitt 
30. Seasons of Wither – Aerosmith
31. Somewhere Only We Know – Keane
32. Fallen Leaves – Billy Talent 
33. Indian Summer – The Doors
34. The Wind – Cat Stevens
35. Autumnsong – Manic Street Preachers
36. Autumn Almanac – The Kinks
37. Autumn Shade – The Vines
38. Song To Autumn – Christopher Maltman
39. Golden Autumn Day – Van Morrison
40. Forever Autumn – Justin Hayward
41. Colors of the Wind – Pocahontas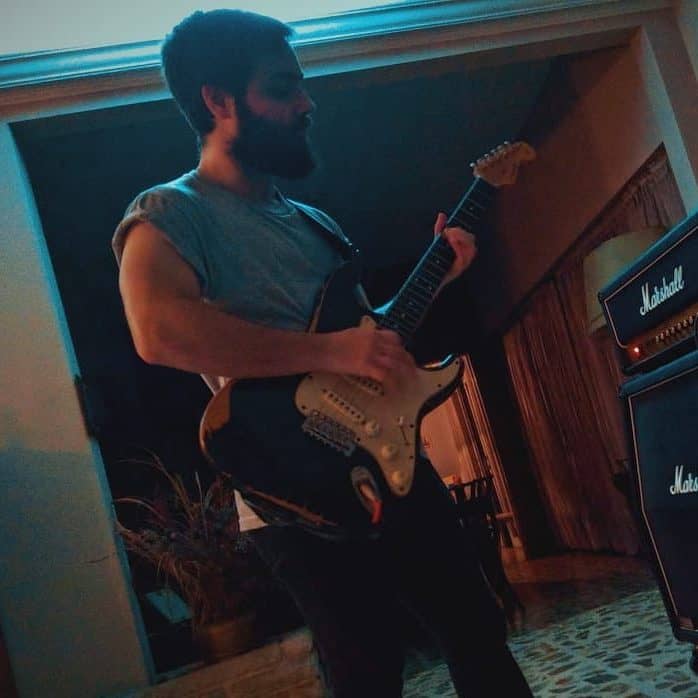 Hello there, my name is Ramiro and I've been playing guitar for almost 20 years. I'm obsessed with everything gear-related and I thought it might be worth sharing it. From guitars, pedals, amps, and synths to studio gear and production tips, I hope you find what I post here useful, and I'll try my best to keep it entertaining also.