Revenge has got to be the most sickly sweet poison out there.
There's a proverb that goes: while seeking revenge, dig two graves.
Regardless of history warning against it, people often feel good when their enemies "get what's coming to them."
Revenge isn't a good thing, but a lot of musicians have been inspired by it, and today I've curated a list of songs about revenge for you.
1. Before he Cheats – Carrie Underwood
They say hell hath no fury like a woman scorned and this song is all about that!
The song details the aftermath of a scorned woman finding out her lover cheated on her and taking it out on his prized truck.
If you watch the music video along with the song, it ends off with Underwood standing in a street and just wreaking destruction with her voice and frankly, that's kind of what revenge is like in this case.
You might get back at your ex, but you will destroy other things unintentionally, maybe even your own life.
2. Forget You – CeeLo Green
Sometimes the best way to get revenge on someone is to forget about them and leave them in the past.
This is the case for Forget You by CeeLo Green.
The song is about when you're in love with someone who thinks they're too good for you
In this case, CeeLo can't seem to impress the girl of his dreams but by the end, he realizes she's not a good person and the tables are turned when he becomes a successful musician while she's left working as a street sweeper.
3. Don't Get Mad, Get Even – Aerosmith
Terrible advice from a half-decent song.
"Don't Get Mad, Get Even" is all about revenge cheating.
The structure of the song is a little weird and it's considered one of their worse tracks off the Pump album.
That aside though, if you're looking to get amped up after finding your girlfriend "with her skirt up to here" then who am I to judge what you should do?
The point of it though is that the world can be unfair and people mistreat us, but we shouldn't give in to getting upset about it. We shouldn't try to get even either though.
4. These Boots are Made for Walking – Nancy Sinatra
A golden oldie, but such a fun song.
Funny how a lot of revenge songs from singers have to do with infidelity.
Nancy Sinatra takes after her old man in her musical influences, adding a fun saxophone jazz feel to this track.
Despite the grim topic, she manages to turn it into a song about overcoming and leaving someone behind in their wicked ways.
Released back in 1966, it's still kind of a feminist anthem for scorned women.
5. Rolling in the Deep – Adele
Adele has written a lot of break-up songs, but this one sings of a bittersweet break up, with Adele stating in the song that they "could have had it all."
This is a song about watching with glee as the one who hurt you gets what you feel they deserve.
It is true that if someone is a bad person and does terrible things long enough, it comes back to haunt them and it seems like this was the case for the hopes Adele had for her ex in this song.
6. Cry Me A River – Justin Timberlake
Justin Timberlake didn't just write a revenge song, he made a revenge music video for it too.
This song is actually centered around his breakup with singer Britney Spears and how he moves on from her after she cheated on him in the song.
Really that's often the best way to handle an unfaithful partner, just leave them behind. Don't waste a single day more on them.
7. I Feel So Good – Richard Thompson
This song seems to be more about taking revenge on a society that has wronged you.
In it, Thompson sings about being locked away and finally set free after being a deviant and then he also mentions breaking someone's heart.
It's a bit of a nonsensical tune but it seems to have an undertone of loathing toward the world.
I think that's really what it comes down to, a song about revenge on a society that you feel wronged you.
8. Having a Blast – Greenday
Punk rock is all about teenage rebellion.
This song fits that frame quite well as "having a blast" is used as a poetic play on words here, with the term referring to an explosion instead.
The song tells the story of a suicide bomber and their final day.
The song is a metaphor for pent-up emotions and anxiety, with Billie Joe Armstrong being quoted as saying: "The song is about wanting to blow yourself up because you're going through some kind of torment."
9. So What – Pink
Pink herself admitted that this song was a bit of a petty tantrum at a time when she and her husband had become estranged from each other.
The song is about still being who you are despite the person you loved leaving you, but also it's about letting off steam.
A lot of steam.
10. Gives You Hell – The All-American Rejects
Gives You Hell is surprisingly not a revenge song in the conventional sense.
Nick Wheeler and Tyson Ritter wrote the song, with Ritter stating the song is "about this asshole, it's a dude who will never know it's about him.
It's kind of a tongue-in-cheek way of looking at someone you hate… and it's giving them the finger."
11. Revenge – Pink ft. Eminem
Oddly enough, this song and the feature from Eminem started with pink writing her rap part and then emailing a gushing love letter to Eminem while drunk on wine.
It is funny how a revenge song came from an affectionate message between two musical friends.
The song isn't a serious one, and neither of the singers is drawing from any personal hurt specific to the time in the song.
Pink stated that it's more for the fun of it and that she involved Eminem because he doesn't take it too seriously either.
12. Don't – Ed Sheeran
Ed Sheeran wrote this song, not as a means to inspire revenge or to get revenge, but as a therapeutic method to release his anger about the subject of the song.
The lyrics plainly state what the song is about, with the revenge being more that he aired their dirty laundry or laid the person's deeds out in the open.
The song may be a revenge track of sorts, but Sheeran has refused to say who it's about.
The person in question knows, but he's refused to say their name publically, which I think is at least cool.
I think it's good when a musician can channel negative emotion into something creative and relatable but still keep the inspiration separate from the song.
13. Picture to Burn – Taylor Swift
Swift was inspired by her high-school boyfriend in this song, the narcissistic and cocky nature he had toward her.
The narrative of the song is that of the protagonist's contempt for an ex-lover.
Picture to burn was also the only song driven by anger on her self-titled album.
Swift said she wrote the song for her teenage fans to relate to: "It's okay to be mad after a breakup or after something goes wrong with a relationship."
14. Here Comes Revenge – Metallica
A heavier song for the list. Here Comes Revenge is a throwback to the Black Album, Load, Reload, and Master of Puppets-type writing styles.
The song focuses on the idea of wrath and the thrill of getting revenge for what has been done to you by others.
James Hetfield gave his interpretation of the song and it's his expression of the grief and darkness you feel at the loss of a loved one who is taken by someone else's foolishness or evil actions.
It's about getting to take revenge on that person.
15. I'll Get Even With You – Foreigner
What a happy-sounding song about taking revenge! "I'll Get Even With You" is what it says it is, it's a plain revenge-type song that doesn't elaborate much on the situation.
I think why most people haven't heard of this track from Foreigner because of how vague it is and how forgettable its melody is.
Regardless, Foreigner was a pretty big band for their day and are still known now, in the twilight of their careers.
10 More Songs About Revenge
| | |
| --- | --- |
| Title | Artist |
| Hit 'Em Up Style | Blu Cantrell |
| Better than Revenge | Taylor Swift |
| Get Outta My Way | Kylie Minogue |
| How Do You Sleep? | John Lennon |
| Me Against You | Three Days Grace |
| What Goes Around…Comes Around | Justin Timberlake |
| Sorry Not Sorry | Demi Lovato |
| Revenge Of a Middle-Aged Woman | Tracy Byrd |
| Revenge is Sweeter | The Veronicas |
| Not Ready to Make Nice | The Chicks |
Hopefully you've gotten your desire for revenge out while going through this playlist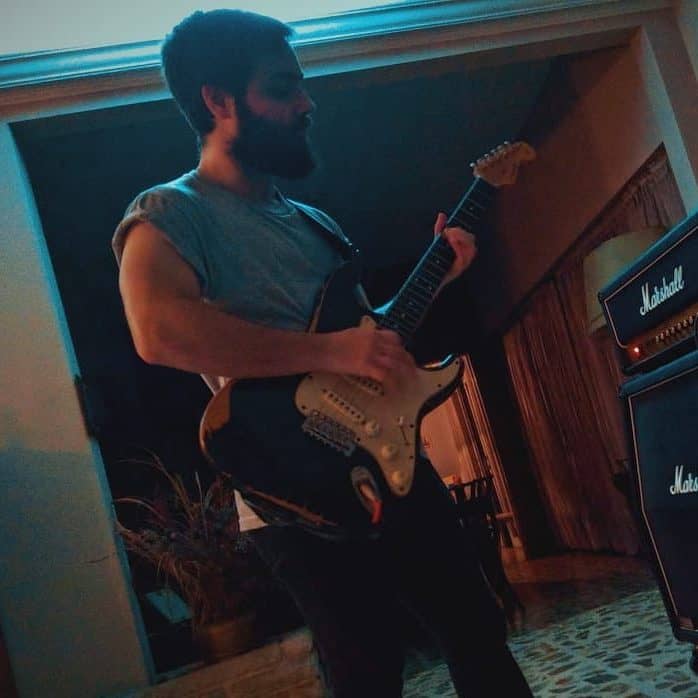 Hello there, my name is Ramiro and I've been playing guitar for almost 20 years. I'm obsessed with everything gear-related and I thought it might be worth sharing it. From guitars, pedals, amps, and synths to studio gear and production tips, I hope you find what I post here useful, and I'll try my best to keep it entertaining also.