Some songs are written to celebrate life. Others talk about heartbreak.
This time, though, we'll be focusing on songs whose meaning goes beyond the first impression.
Here you'll find stories, history, drama, faith, and most importantly, life lessons.
Which are those lessons? Well, only you can deduce them after "listening between the lines."
A word of warning, though. Some of the stories here may trigger you.
Now, let's begin.
1. Man In Black – Johnny Cash
Johnny Cash's message is transparent but deep.
He confesses that the reason he's always wearing black is because of the pain, anguish, and hardship that there's in this world.
Black is a way of "carrying off a little darkness on his back" until the world becomes a better place, without wars or hunger.
2. Pumped Up Kicks – Foster The People
This song narrates the hatred and loathing a young student feels toward the world.
These negative emotions are so deep that the student decides to do a mass shooting in his school.
Sadly, this story is far from fiction. In 2010 only, 233 mass-shooting incidents have taken place in America.
Pumped Up Kicks was made to raise awareness of this issue and the mental health problems that affect the students who decide to get involved in such a hideous act.
3. The KKK Took My Baby Away – The Ramones
The lyrics to this classic are both funny and a bit sad.
The title says it all: the Ku Klux Klan took the singer's girlfriend away from him.
In reality, however, the KKK is a metaphor to disguise guitarist Johnny Ramone, who "stole" the girl from singer Joey Ramone.
And to think they both kept playing together…
4. Children of The Grave – Black Sabbath
What's the very first image that comes to your mind when reading the title of this song?
Most probably, a group of young zombies coming out from their coffins and caskets, isn't it?
Those who know this classic from Master of Reality, though, know the real meaning behind it.
The Children of The Grave are the future children who will be dead due to war and, more precisely, atomic bombs.
The song encourages the children of today to spread love and work toward a brighter future.
5. Tears In Heaven – Eric Clapton
Clapton's son, who was just four years old, fell from the 53rd floor of a building in 1991.
The event led to the creation of this sorrowful song.
6. Rooster – Alice In Chains
Rooster is not about farm animals. Instead, it's about how a human being can turn into one, metaphorically speaking.
Guitarist Jerry Cantrell wrote Rooster to honor the life of his father who fought in the Vietnam War.
Naturally, 'Rooster' was the soldier's nickname.
The gloomy lyrics demonstrate the wicked truth behind being in a war and the trauma that remains after it on the veterans.
7. Waiting On A War – Foo Fighters
Frontman Dave Grohl confessed that, when he was a child, he had a deep fear of witnessing a nuclear war.
When looking at their children, he was reminded of that powerlessness and human fragility again.
Waiting On A War is about that fear, and about Grohl's expectations for a prosperous future for his family.
8. Holidays In Cambodia – Dead Kennedys
The Cambodian Genocide was a mass extermination during the Khmer Rouge regime ruled by Pol Pot. Initially created as an agrarian communist utopia, the regime exerted nothing but forced labor and mass executions, which ended the lives of 2 million people.
Holidays in Cambodia is a depiction of the brutality that Pol Pot imposed over Camodia's population during his dictatorship.
9. Beds Are Burning – Midnight Oil
Australian group wrote this song to make awareness of the Aboriginal land rights of the Pitupi tribe.
Sorry. This one is not about setting hotel beds on fire…
10. Born In The USA – Bruce Springsteen
Although it seems like a nationalistic song, it's not.
Born In The USA is about the Vietnam war and how poorly Americans treated their veterans when they returned to the country.
11. Jeremy – Pearl Jam
Based on real-life events, Jeremy is about a 16-year-old student who committed suicide in front of his class students and teacher.
12. Every Breath You Take – The Police
Appearances can be deceptive. This song justifies that statement.
Every Breath You Take seems to be a love song initially. Unfortunately, it's about a stalker who watches every single move the victim does.
13. The Guns of Brixton – The Clash
Written by bassist Paul Simonon, The Guns of Brixton documents the hardships of living in that area of South London.
As a matter of fact, Simonon grew up in Brixton, witnessing the police brutality that took place there.
Not to mention, Brixton was known for its great number of Jamaican immigrants, thus, explaining the reggae style of the song.
14. Cats In The Cradle – Harry Chapin
This is a father-and-son story. One where the father is too busy with his deeds that he neglects spending time with his son.
When the son grows up, the father invites him to spend some time together. Unfortunately, now it's the son the one who doesn't have time for the father.
The old man concludes that his son grew up to become just like him.
Cats In The Cradle has been versioned by many artists, including Johnny Cash and Ugly Kid Joe.
15. Free Four – Pink Floyd
Free Four goes straight to the point: your time on this Earth is limited, and sooner or later you'll perish.
The lyrics are clear as water, but I recommend you take a closer look at them. The ultimate message is to seize the day and enjoy life as much as you can, so you can be on your deathbed looking back on all your adventures and experiences with a gentle smile.
16. The Trooper – Iron Maiden
The Trooper's meaning is not too hard to conclude. On the contrary, the lyrics are quite explicit.
Nonetheless, what matters is the deeper meaning. For me, The Trooper teaches the futility of wars, where both sides always lose.
As the song says "…but on this battlefield, no one wins."
17. Heaven & Hell – Black Sabbath
Heaven & Hell is packed with analogies and symbolism.
Those who barely skim through the lyrics will believe the song says nonsense.
But, if you take the time to thoroughly read them over and over again, you'll discover that the cryptic words hide valuable life lessons.
18. Everybody Hurts – R.E.M.
19. Imagine – John Lennon
20. Watermelon Sugar – Harry Styles
21. Slide – The Goo Goo Dolls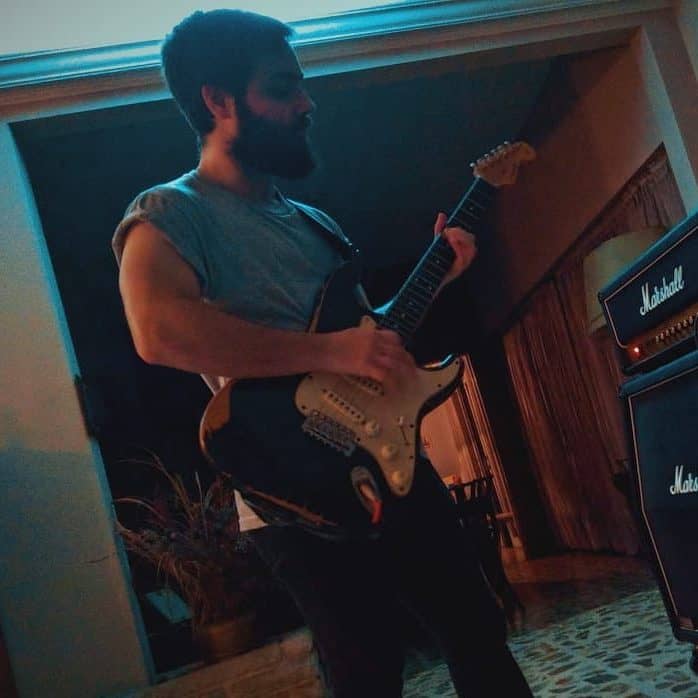 Hello there, my name is Ramiro and I've been playing guitar for almost 20 years. I'm obsessed with everything gear-related and I thought it might be worth sharing it. From guitars, pedals, amps, and synths to studio gear and production tips, I hope you find what I post here useful, and I'll try my best to keep it entertaining also.