Everyone loves a good victory, and most people would admit that winning feels good.
Whether it's as small as winning a game of Tekken or as big as winning a war.
As far as history has been concerned, it usually gets written by the victors too.
Musicians, being human as well, have also enjoyed this feeling of "being on top of the world" and winning at life, having breakthrough hits, and overcoming the odds, and so have undertaken to write about these experiences.
Luckily for us, that means we get to take part in sharing that feeling with them, and that's what all of today's songs are about.
Victory and being a champion.
1. We Are The Champions – Queen
Often played alongside "We Will Rock You", We Are the Champions is a perfect victory song and may just be considered the best song for celebrating victories out there.
It was released as the second song off Queen's 6th studio album "News of the World" and performed splendidly worldwide, topping charts internationally.
It's also considered the catchiest song of all time, but that's hardly surprising since everyone knows it and it's played in football stadiums whenever a team wins.
2. I'm still standing – Elton John
A catchy and upbeat song about overcoming odds and remaining defiant in the face of oppression, this song seems to be more a song about winning out by endurance.
"I'm Still Standing" became a big hit for John pretty much internationally, peaking at No. 1 in Canada and Switzerland, No. 4 in the UK, and No. 12 on the US Billboard Hot 100.
The music video also has quite an interesting back story to it, with it being shot around Elton John's youth when he was still a bit of a whirlwind of chaos.
3. Nothings Gonna Stop Us Now – Starship
Co-written by Albert Hammond and Diane Warren and recorded by Starship back in 1986, Nothings Gonna Stop Us Now is a power ballad duet for the ages.
It's the theme to the romantic comedy Mannequin along with a themed music video too.
The song also made Grace Slick the oldest woman to have a number-one song in the US at the time, surpassed by Cher later in 1999.
4. I'm Gonna Win – Foreigner
An aggressive 80s rock song, I'm gonna win is all about overcoming the odds and determining to win no matter what.
It's a bit of a scarce song these days, but it's worth a listen, with its retro sound effects and choppy guitar, this is a really good amp-up song.
5. Winning Ugly – The Rolling Stones
Winning ugly pulls you in with its slapping bass riff, and is a song all about being a sore winner.
It's one of only two songs that Mick Jagger wrote for the Dirty Work album, Kieth Richards did most of the work.
The reason was that Jagger was promoting his own solo album, She's the Boss, which he cared more to promote than his band's music.
Jagger really puts in some harsh vocals as he brings out the spirit of the song, lifting the spirit of any listener, and taking us along for the ride on the synth-laden victory dance.
6. Unstoppable – Sia
Unstoppable is an empowerment anthem with the beat building as the song progresses, starting off light and tense and eventually exploding into a chorus that is nothing but encouraging to any listener.
It's the kind of song you can listen to before your moment of truth and after, it's not just a victory song but also a preparation for victory song.
7. All I Do Is Win – DJ Khaled
The standout track of DJ Khaled's album, titled Victory, features the autotune prowess of T-Pain on the chorus, the impressive lyrical flow of Ludacris, the rawness of Rick Ross, and the aloof spirit of Snoop Dogg.
A motivational song for all occasions, "All I Do is Win" is a great victory song.
In fact, it's so popular, it's been used by several sports teams, by President Barack Obama in 2013, and less notably by Emma Stone in her Lip Sync Battle against Jimmy Fallon.
It's just one of those loud and in-your-face songs that get you up and going.
8. (Simply) The Best – Tina Turner
Although it's a cover, Tina Turner certainly did this song justice.
Released off her seventh studio album "Foreign Affair", the song was critically well-received and commercial success.
It's not so much a song you'd play after beating someone in a match-up, but it's the kind of song you'd play when you're feeling victorious overall, or when you want to tell someone how you feel about them, maybe someone who helped you to win or is a champion in your eyes.
9. On Top Of The World – Imagine Dragons
An uplifting track from the Imagine Dragons' debut album "Night Visions", On Top Of The World first appeared as their 7th EP, with it preceded by Demons on both albums.
The song sold well on its own but was also featured commercially on a number of different media outlets.
This is overall a feel-good song that makes for a great play after accomplishing something big in your life, but why wait until you win?
This song encourages a mindset of carefree success while learning from mistakes and overcoming the odds and I think that's really cool.
10. Hall Of Fame – The Script
This is a song about achieving your goals and doing whatever you can to get to the point of success.
It's a song dedicated to the listener to inspire you to reach for the same heights the script did.
Featuring Will.I.Am in it too, it makes for a great song to make you feel like you're standing on top of the world.
11. Best Day Of My Life – American Authors
Best Day Of My Life was written with one main goal in mind, to be a positive track for rock n roll to make people happy.
Inspired by a lot of African rhythms along with unusual instrumentation like adding a banjo, mandolin, and different percussion toys, this song is an odd addition to rock and pop music, but it's a standout song for victory songs.
12. Started From The Bottom – Drake
A song for the underdogs, Started From The Bottom is Canadian Artist Drake's song/story about how he got to where he is.
Stating that a lot of people saw his success and assumed he bought his way in, he wanted to write a song to show that that wasn't the case.
It's the kind of victory song that is confidently relaxed but still empowering in its message.
13. TubThumping – Chumbawamba
I don't think there's a person alive born before 2000 that doesn't know this song.
Featured in many movies in the early 2000s and played sick on the radio, Tubthumping is that song that seems to repeat itself incessantly, but it's the positive catchiness that makes it not only bearable but enjoyable.
It's something you can chant along to while you're doing a victory lap.
14. Hey! Look Ma I Made It – Panic! At the Disco
A tongue-in-cheek celebration of singer Brendon Urie's success in the music industry, Hey Look Ma, I Made It is his hat tip to his mother.
As a teenager, Urie's parents worried about his future as a starving artist, but having reached financial stability as a musician, Urie took the moment to reflect on the journey there, examining greedy record labels and phony friends.
It's a song about looking down from the top of the mountain and realizing how far you've come.
15. Champion – Fallout Boy
Champion is one of Fallout Boys comeback songs off their 2017 album MANIA.
While the band's first comeback tune "Young and Menace" headed more in an electronic direction, Champion is right at home with FOBs earlier work, just more polished and a little modernized.
Champion is all about overcoming the odds, and being a winner despite everything. Lyrics aside, the track is on fire and it'll get your temperature rising too.
16. Good Feeling – Flo Rida
17. Ain't No Stopping Us Now – McFadden & Whitehead
18. Winner – Pet Shop Boys
19. Winning – Santana
20. One Moment in Time – Whitney Houston
21. How Do You Like Me Now? – Toby Keith
22. The Winner Takes It All – ABBA
23. Eye Of The Tiger – Survivor
24. Girl On Fire – Alicia Keys
25. Invincible – OK Go
26. Don't Stop Believin' – Journey
27. Roar – Katy Perry
28. Lose Yourself – Eminem
29. Life's Been Good – Joe Walsh
30. Victory – Megadeth
31. Walking On Sunshine – Katrina And The Waves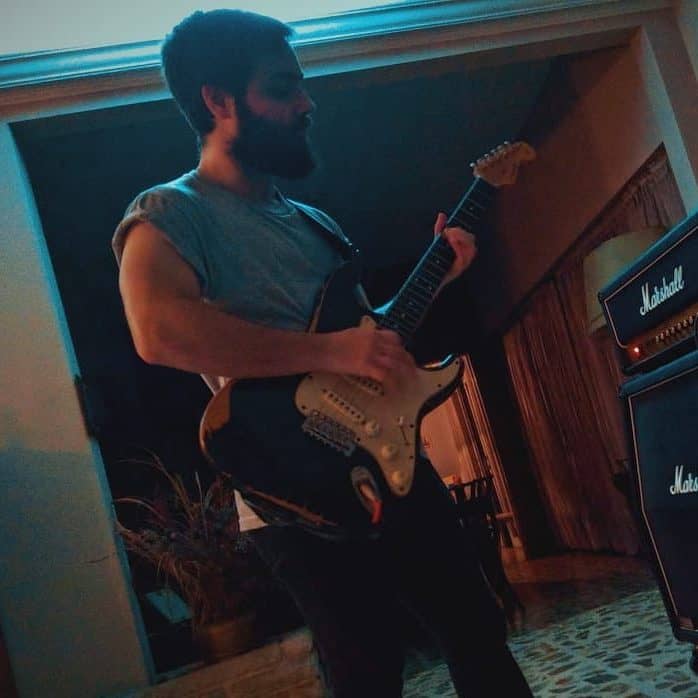 Hello there, my name is Ramiro and I've been playing guitar for almost 20 years. I'm obsessed with everything gear-related and I thought it might be worth sharing it. From guitars, pedals, amps, and synths to studio gear and production tips, I hope you find what I post here useful, and I'll try my best to keep it entertaining also.