The 1980s.
Hands down, the most outrageous, colorful, and funnier decade of the entire 20th Century.
MTV, the Nintendo Entertainment System, Horror Slayer movies, the Walkman… Hundreds of unreal things that seemed from the distant future made the 80s a living party.
And let's not even talk about the music. Some of the greatest bands and the greatest albums come from there.
But since the world of music is so vast, let's focus solely on rock music for this time. There were tons of it during the 80s, not only in quantity but in quality as well.
Here we have gathered 35 of the best of the best for you to go back in time and bang your head. Let's go!
1. Back In Black – AC/DC
In the year 1980, AC/DC released their top masterpiece Back In Black. An album that would become the second most-sold album in history, just after Michael Jackson's Thriller.
Not to mention, the track that gives the title of the album turned out to be one of the most famous rock songs ever. Seriously, even non-Rock enthusiasts love this song.
2. Hot For Teacher – Van Halen
If you had a band during the 80s, then you either had a great music video or starved to death.
Naturally, MTV dominated the music media, which meant that having an interesting music video would make your song listened to by millions.
Van Halen understood this fact, so it provided one of the funniest and dirty-fantasies-awakening music videos in Rock N' Roll.
3. Pour Some Sugar On Me – Def Leppard
Hysteria is the most successful Def Leppard album. It took almost four years to write, record, and mix every song on there.
It is said that hard work pays off; in this case, it is true.
But the most interesting part of it is that Pour Some Sugar On Me, the most relevant hit of the band, was written almost at the very last moment.
Quite ironic if you think about it.
4. Another One Bites The Dust – Queen
The Game is the eighth studio album recorded by Queen.
It includes classics such as Crazy Little Thing Called Love, Save Me, and of course, the song that makes it on the list.
The bass line and the drums are the ones that take the lead. And that's no small thing considering that you're "competing" with Freddie's voice and Brian May's impressive guitar skills.
5. Poison – Alice Cooper
Alice Cooper has dominated every decade since the late 60s. Although his popularity has not been as impressive during the 2000s and 2010s, it's worth pointing out how much of a legend Cooper was during the 80s.
He reinvented himself as a Glam-Hard-Rock-Heavy-Metal frontman, releasing several albums.
Nonetheless, the culminating point of that decade was Trash, which opens with this unforgettable song that's still played live by Alice in his shows.
6. Welcome To The Jungle – Guns N' Roses
Los Ángeles, 1985. A group of young talented musicians formed a band that would change music forever.
Two years later, they would release one of the top debut albums in history, which would open with this hymn.
7. The Final Countdown – Europe
The most famous keyboard line ever in rock music. Period.
8. Don't Know What You Got ('Til It's Gone) – Cinderella
Heartbreaking ballads flooded this wild decade.
Odds are, most hair metal groups had at least one popular power ballad that sounded on every radio station.
Cinderella's Don't Know What You Got is just one of these many. But all things considered, not all power ballads sounded as epic as this one.
9. Eye of The Tiger – Survivor
The critically acclaimed movie Rocky III included this song that was petitioned by Stallone himself.
We cannot thank you enough, Sylvester. Thank you.
10. Still of The Night – Whitesnake
Plenty of "old-schooled" rock bands from the 70s reinvented themselves in the 80s.
Whitesnake is undoubtedly one of them. In '87, they released a self-titled album (also known as 1987) which had clear elements of the Glam and hair metal that took over MTV.
11. We're Not Gonna Take It – Twisted Sister
Music that aimed at angry, frustrated teenagers needed an anthem about angry, frustrated teenagers.
Twisted Sister provided one that still holds up to this day, even for an older audience.
Naturally, you can dedicate this song to your annoying parents, your bitching boss, or anyone that tries to chain your life to their poor, unhealthy standards.
12. Rebel Yell – Billy Idol
Billy Idol has reunited Rock, Pop, and Punk devotees in one peaceful environment, part of it thanks to classics like Eyes Without A Face, White Wedding, and the song that appears here on the list.
13. Kickstart My Heart – Mötley Crüe
This song feels like a shot of adrenaline, which is funny considering that it came as an inspiration after the bass player received two of them when his heart stopped working.
14. Love Removal Machine – The Cult
When The Cult went into the studio to record an album with the legendary Rick Rubin, the group left their gothic sound behind in exchange for a more solid and electric classic Rock N' Roll.
The result was 11 powerful tracks, including our pick for the list.
15. Tragedy – Hanoi Rocks
Hanoi Rocks are a mythical band in the Glam metal/Sleaze sub-genre.
They became the idols of our idols, being idolatrized by bands such as Poison, Skid Row, and Guns N' Roses.
Unfortunately, Hanoi Rocks never received the proper recognition it deserved, and for many, it has remained a cult band.
There are dozens of great songs by this Finnish group, but picking the opening song from their debut album seemed like the best choice.
16. Cum On Feel The Noize – Quiet Riot
Originally written and played by the band Slade but highly popularized by Quiet Riot.
It appeared in Quiet Riot's album Mental Health which had great songs, but oddly enough, none of them ever surpassed Cum On Feel The Noize's success.
17. Livin' On A Prayer – Bon Jovi
It was impossible that a song that speaks so directly to young people struggling to live in the big city wouldn't become a success. But even that fact isn't enough to explain the popularity of this song.
It sounds everywhere! And will probably still do for decades.
18 More Great 80s Rock Songs
| | |
| --- | --- |
| Title | Artist |
| Rock The Casbah | The Clash |
| Bathroom Wall | Faster Pussycat |
| Head Like A Hole | Nine Inch Nails |
| Kiss Me Deadly | Lita Ford |
| Lonely Is The Night | Billy Squier |
| Hit Me With Your Best Shot | Pat Benatar |
| Going Down / Love In An Elevator | Aerosmith |
| I Love Rock N' Roll | Joan Jett & The Blackhearts |
| Rock You Like A Hurricane | Scorpions |
| Home Sweet Home | Mötley Crüe |
| 18 And Life | Skid Row |
| Talk Dirty To Me | Poison |
| Round and Round | Ratt |
| I Wanna Rock | Twisted Sister |
| Ace of Spades | Motörhead |
| Eighties | Killing Joke |
| Lick It Up | KISS |
| The Ballad of Jayne | L.A. Guns |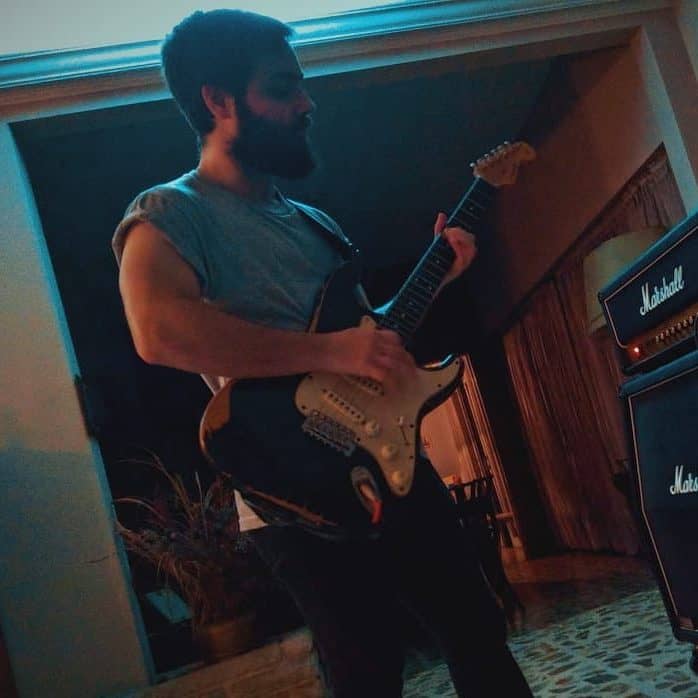 Hello there, my name is Ramiro and I've been playing guitar for almost 20 years. I'm obsessed with everything gear-related and I thought it might be worth sharing it. From guitars, pedals, amps, and synths to studio gear and production tips, I hope you find what I post here useful, and I'll try my best to keep it entertaining also.