The 70s were a wild decade.
The hippie movement of the 60s planted the key elements that would flourish later: rock music, free love, and liberation.
Yes, the 1970s were of paramount importance for the world of music.
Here we have gathered 27 of the most important rock bands of this period. Which one's your favorite?
1. KISS
The "hottest band in the world" understood the magic of the stage. It knew it had the potential to carve into fans unforgettable memories.
Nowadays, KISS live performances might be considered a bit outdated. But in the 70s, seeing a demon-like player spitting blood through his mouth and a guitar throw a firework through its headstock was not a daily activity.
Indeed, KISS combined great rock n' roll tunes about sex, partying, and enjoying life, with theatrical performances, a shocking image, and thousands of fireworks lighting the sky.
Not to mention, it served as an inspiration for hundreds of artists that would emerge in the following decades.
2. Led Zeppelin
Led Zeppelin farewelled the 60s with a wave of fresh air; as if foreshadowing what the new decade was about to bring in.
All in all, Zeppelin recreated the rock n' roll formula and solidified the Rockstar image; one that every future Rock band would try to replicate by their own means.
3. Black Sabbath
The grandfathers of one of the most relevant genres of the 20th Century.
Sabbath gathered influence from the hippie movement but led it in the opposite direction, with gloomy lyrics, heavy sound, and memorable guitar riffs.
It's hard to understand how groundbreaking it was to hear these British musicians for the first time in such a particular era. But that's probably the reason why they were immortalized in music history.
4. The Clash
The Clash was ahead of its time. It taught us that, in the long run, it doesn't matter what genre you play, as long as you play good music (similar to what The Beatles and David Bowie did as well).
Now, this fact is relatively transparent: we find metalcore bands doing mainstream pop, or rock groups playing country. But during the 70s? Hardly…
In the studio album London Calling, The Clash mixed punk, reggae, ska, rockabilly, rock n' roll, and new wave into a unique formula that few artists have done so well in the past.
5. The Ramones
Four New York City outcasts dressed in ripped jeans and black leather gathered to form a band.
They played faster than any other group has ever done before. Their songs were so short that in 40 minutes they could play 28 of them.
The Ramones were a group that was in the middle blurred line between being mainstream and being a cult band. Although they were living legends, they never experienced the "fame and fortune" that other groups on this list did.
6. AC/DC
Almost five decades into the music business, and they are still the top Hard Rock band.
Indeed, even non-Rock enthusiasts are over the moon when listening to some of their songs.
7. Aerosmith
Thousands know Aerosmith as the band behind the radio, almost-pop-like classics such as Amazing, I Don't Want To Miss A Thing, Jaded, Pink, and Crazy.
But way, way before that, Aerosmith was growing as a solid hard rock, blues-oriented band.
The 70s have a nice collection of albums that support this statement: Get Your Wings, Toys In The Attic, and Rocks as their top 3.
But let's be honest, Draw The Line, Night In The Ruts, and the debut album are also Rock N' Roll gems.
8. Van Halen
Van Halen is remembered as one of the greatest Rock bands of the 80s.
However, their first two albums date back to 1978 and 1979, and they acquired such a wild success that in just two years earned the reputation of two decades.
9. Deep Purple
Deep Purple has had several line-up changes since its beginnings in 1968.
However, the formations that the majority of fans like the most are known as Mark II and Mark III.
These lineups released the best albums not just in Purple's career, but in Rock History: Deep Purple In Rock; Fireball; Machine Head; Burn; and Stormbringer.
10. The Runaways
In a business dominated mostly by male musicians, a group of Californian girls gave the middle finger to society.
The Runaways were loud, wild, fast, and fierce. They did Rock music not only as good as the one made by men but sometimes, even better.
Some of The Runaways' classics include Cherry Bomb, Wasted, and Born To Be Bad.
11. Judas Priest
Despite being an 80s icon, Judas Priest made quite a few wonderful albums during the 70s.
Sad Wings of Destiny from 1976 might be the best of that era. Not to mention, it has nothing to envy British Steel and Screaming For Vengeance.
All things considered, Judas Priest is one of the earliest heavy metal bands, even before colossal acts like Iron Maiden, Metallica, and Saxon.
12. Motörhead
Motörhead emerged from the ashes of Hawkwind, a space-rock band in which Lemmy Kilmister learned to play bass.
After being kicked out from Hawkwind, Lemmy formed a new band and released three great studio albums: Motörhead, Overkill, and Bomber.
The last two received positive reviews from the audience, taking Motörhead to a successful lifetime of pure Rock N' Roll music.
13. New York Dolls
Every rock band from the 80s has taken The New York Dolls as a key reference, whether it is punk, glam, or hard.
New York Dolls' career flew high up to the sky and disappeared in the blink of an eye. However, their legacy has stood the test of time, and is still considered one of the most important acts of the 1970s.
14. Queen
There's something special about Queen, and it's hard to put into words.
But as usual, one should let the music do the talking. And needless to say, their music has always spoken.
It's incredible, but decades go by and Queen's music barely aged at all.
15. Cheap Trick
16. Rainbow
17. Rush
18. Thin Lizzy
19. UFO
20. David Bowie
21. The Eagles
22. ZZ Top
23. Yes
24. Bad Company
25. Foreigner
26. Electric Light Orchestra
27. Sex Pistols
28. Fleetwood Mac
29. Talking Heads
30. Blue Öyster Cult
31. Heart
32. Lynyrd Skynyrd
33. The Police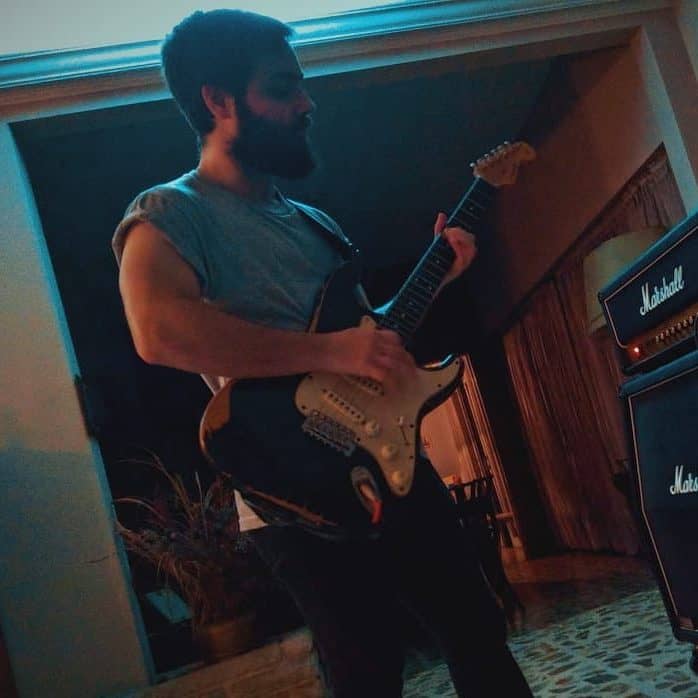 Hello there, my name is Ramiro and I've been playing guitar for almost 20 years. I'm obsessed with everything gear-related and I thought it might be worth sharing it. From guitars, pedals, amps, and synths to studio gear and production tips, I hope you find what I post here useful, and I'll try my best to keep it entertaining also.