Chicago is the third most populous city in the USA with over two and a half million people.
And while it may not dominate the headlines in the way that its bigger brothers Los Angeles and New York City do, there's plenty to love and sometimes hate about the "Windy City" too.
On the positive side, the city is famous for its intimidating downtown skyscrapers, baseball (including Wrigley Field stadium), NBA basketball team the Bulls, and their more Midwestern approach to big city life.
I've only visited Chicago once in my life and I can confirm that one of the lasting impressions it made on me was just how large it seemed.
Of course, Chicago also has a rich history of Mafia activity with Al Capone being one of the most famous gangsters ever.
And unfortunately, residents of the city still have to deal with high levels of crime, prompting some people to call it Chi-raq, a pretty rude nickname both to Chicagoans and Iraqi people if you ask me.
And then there are some "controversial" things that are considered good to the residents and bad to outsiders.
Of course, I'm talking about the endless arguments between New York and Chicago over NYC-style pizza versus Chi-town's deep dish interpretation… or NYC's dirty water hotdogs versus Chicago's fully loaded version.
And that brings up something else; most Chicagoans are fiercely proud of their city, including their musicians.
There is a whole style of Chicago Blues (one of the most famous House of Blues concert venues is there), plus there are famous rappers and Rock bands that have ties to the city.
And some of the most revered names in the Soul, Funk, and R&B genres called the city home too. Heck, there's even a band named Chicago!
You see, whereas most musicians choose to leave the American Midwest to succeed in the music business, Chicago is actually a city that people move to in order to pursue their dreams of stardom.
So just who are the highest-scoring musicians and bands? Which ones deserve to be called the Michael Jordans of the Chicago music scene?
Grab yourself a Goose Island beer or Chicago Fizz and get ready to enjoy some music that's in a league of its own!
1. September – Earth, Wind and Fire
People sometimes poke fun at Disco music but the views and listens that this band gets on streaming platforms tell a different story.
Although Earth, Wind and Fire have had a lot of different members over the years they were formed in Chicago and have brought their infectious optimism to adoring fans for decades.
Soul, R&B, Disco, Funk… they have dabbled in many genres, but if I had to describe their music, I would just call it fun.
Because these guys and gals could teach most modern bands and artists a thing or two about how to put on a show full of energy and vibrant with color…
And there definitely are some more recent groups like Bruno Mars and Anderson .Paak's Silk Sonic project that are heavily influenced by the energy and style of EWF.
My musical tastes may be diverse but I definitely think that society needs more positive music like this!
2. What Kind of Woman Is This? – Buddy Guy
Muddy Waters is actually the guy that is credited with making the Chicago Blues style popular after he moved from Mississippi to Chicago (see #9) but Buddy Guy deserves some attention too.
Chicago Blues is actually an offshoot of (the Mississippi) Delta Blues but harmonica, acoustic, and slide guitar are largely replaced by distorted electric guitar with a full band for a grittier sound.
Buddy was also born in the American South but relocated to Chicago, where he has spent years entertaining audiences and influencing many guitar-playing legends.
But unfortunately, he is getting up there in age these days, so if you ever have a chance to see him perform live I suggest you take advantage of it!
3. A Change Is Gonna Come – Sam Cooke
Sam Cooke is indistinguishable from the Soul genre and is one of my favorite singers of all time.
He was the voice of many classic songs and his foundation in Gospel singing brought new dimensions to his style when he transitioned to a more Pop-oriented Soul / R&B style.
His singing could be crystal clear when he wanted it to be, but he could subtly add some grit to some of the notes in a way that few people ever master.
Cupid, Wonderful World (not the Louis Armstrong song), and Twistin' the Night Away are hard to beat, but this song and Good Times are the real gems for me.
It's a tragedy that his personal life got in the way of his career though and while on a very unhinged and drunken night, he was shot by a motel worker who claimed it was in self-defense.
He was only 33 years old at the time of his death, but I think his music will live on for centuries.
4. We the People Who Are Darker Than Blue – Curtis Mayfield
At this point, I'm thinking that Chicago might be the undisputed king when it comes to African American music.
If you've read through some of the other articles on our website, there's a good chance you've heard me singing the praises of Curtis Mayfield before.
His success in music started with The Impressions performing Soul, Gospel, and R&B, resulting in the classic song People Get Ready which has been covered by dozens of other musicians.
But it's his solo work such as his self-titled debut album and his soundtrack for the Blaxploitation movie Superfly that I really love.
And although I usually hate politics in music, I don't mind it in Mayfield's music, which was assertive in its expression of African American identity and the sociopolitical problems facing urban communities.
His career was shortened by an accident at a concert that left him paralyzed and though he's no longer with us, Chicago should be proud of this man.
5. Bullet with Butterfly Wings – The Smashing Pumpkins
Seattle mostly dominated the Rock music scene in the early to mid 90's with Pearl Jam, Alice in Chains, Nirvana, and Soundgarden.
But Southern California held their own with Stone Temple Pilots and Chicago was proudly represented by The Smashing Pumpkins.
Singer and guitarist Billy Corgan is the driving force behind the band and along with Pearl Jam's Eddie Vedder, they are the only two of those six bands' frontmen that didn't die from suicide or drug overdose.
In fact, they are still touring and recording new music with almost the original lineup (founding member and bass player D'arcy Wretzky left the band in 1999).
The Smashing Pumpkins weren't / aren't Grunge Rock; their music is definitely heavy but there is plenty of Shoegaze influence and "real" solos that harken back to the days of Classic Rock.
Plus, with Corgan's strange signature voice to complete the mix, I find that a lot of their music has aged pretty well and sometimes I have an itch that only the "Pumpkins" can scratch!
6. Tiny, King of the Jews – Big Black (Steve Albini)
7. No Problem – Chance the Rapper feat. 2 Chainz and Lil Wayne
8. Watermelon Man – Herbie Hancock
9. Hoochie Coochie Man – Muddy Waters
10. Devil in a New Dress – Kanye West
11. Back Door Man – Howlin' Wolf
12. I Believe I Can Fly – R. Kelly
13. In Spite of Ourselves – John Prine with Iris Dement
14. How to Fight Loneliness – Wilco
15. Why Can't I? – Liz Phair
16. Bo Diddley – Bo Diddley
17. I Feel for You – Chaka Khan
18. When I Fall in Love – Nat King Cole
19. Looking For You (I Was) – Patti Smith
20. Hard to Say I'm Sorry – Chicago
21. I Want You to Want Me – Cheap Trick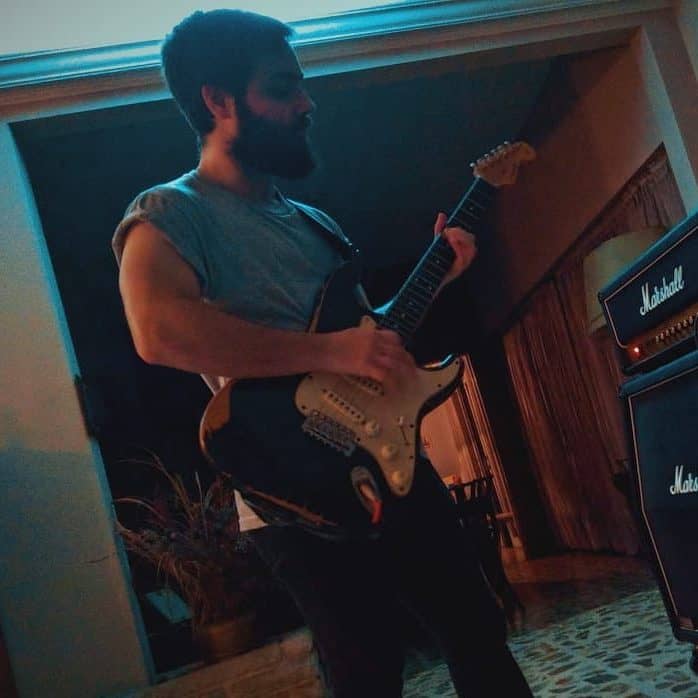 Hello there, my name is Ramiro and I've been playing guitar for almost 20 years. I'm obsessed with everything gear-related and I thought it might be worth sharing it. From guitars, pedals, amps, and synths to studio gear and production tips, I hope you find what I post here useful, and I'll try my best to keep it entertaining also.