Chicago.
Founded in 1837, Chicago grew to become the city that gave birth to brownies, spray paint, full-color TV stations, and the first US blood bank.
Oh, and it also owns the only river in the world that goes backward!
But let's leave facts aside and instead focus on the music.
Here you'll find a great list of great songs dedicated to this great city.
1. Sweet Home Chicago – Robert Johnson
We kick off this list with the legendary blues musician Robert Johnson, said to have sold his soul to Satan at a crossroads in exchange for musical abilities.
Naturally, learning to play an instrument may feel like selling your soul, because you need to devote hours of practice to your instrument.
In the end, though, the results are satisfactory.
2. My Kind of Town – Frank Sinatra
"Chicago is my kind of town / Chicago is one town that won't let you down" yelled Sinatra in this song from 1964.
I wonder though, whether Sinatra preferred Chicago over New York City, which he did a song about as well.
What do you think?
3. Dear Chicago – Ryan Adams
Ryan Adams narrates a story about a man moving on after a breakup.
He somehow tells the city about the woman he fell in love with personifying Chicago as if it was another person.
4. Living In Chicago – Bee Gees
This fantastic song appears in Bee Gee's eleventh album Life in a Tin Can.
Despite the title, it doesn't focus exclusively on how life in Chicago feels like, but it does mention that if you live there, then "you're alone."
5. Born In Chicago – The Paul Butterfield Blues Band
The first track on a first album needs to be vigorous, energetic, and compelling.
Luckily, this is not an exception.
The Paul Butterfield Blues Band opens its debut album with a vivid harmonica solo, which gently leads to the first verse and the rest of the song.
More interestingly, though, is the song's lyrics theme, which points out the issue of gun violence in American society.
6. Back To Chicago – Styx
Styx is a Hard Rock band from Chicago, Illinois.
In their studio album Edge of the Century from 1990, Styx made a song (the last one on this album) dedicated to their homeland.
However, once we check the lyrics we discover the reason the narrator is returning to Chicago is that he's missing her lover.
7. Chi-City – Common (feat Kanye West)
Chicago is known as one of the top cities for hip-hop culture.
Common commemorates that fact in this song from 2005, with lines like "They ask me where Hip-Hop is goin', it's Chicagoan."
8. Chicago – Frank Sinatra
Sinatra makes it again on the list with yet another great song about Chicago.
Similar to the previous entry, Frank Sinatra praises the many adventurous possibilities that this place provides.
Do you still believe he preferred New York City?
9. Chicago Bound – Jimmy Rogers
What can I say? I can't help but fill this list with blues songs.
After all, we're talking about Chicago!
Jimmy Rogers made this one about a man who was born in this city, which happens to be the home of the musician as well.
10. The Night Chicago Died – Paper Lace
The Night Chicago Died narrates the story of Al Capone, one of the most famous gangsters in history.
For many years, people believed that the story told in this track was based on real-life events.
Although the protagonist is Al Capone, the events are completely fictitious.
11. Chicago – Graham Nash
A protest song against the Vietnam War that took place in the 60s.
Naturally, some anti-Vietnam war protests took place in the city of Chicago, during the 1968 Democratic National Convention.
12. Shy-Town – Gorillaz
The title song has a double meaning, mixing the word Chi-Town (another way of naming the city) with the word "shy."
Yes. It was so obvious that I needed to explain it.
13. Meet Me in Chicago – Buddy Guy
Blues musician Buddy Guy begs a woman to come with him, from California to Chicago.
14. 42 in Chicago – Merle Kilgore
42 in Chicago refers to the high temperatures that the city reaches sometimes.
Quite a big number, don't you think?
15. Chicago at Night – Spoon
Every coin has two sides.
Spoon wrote a song about the dangers of this place, narrating the story of a woman who is murdered.
16. Chicago Seemed Tired Last Night – The Hold Steady
A person travels to Chicago, meets lots of people, and meets almost every corner of the town.
By the end of the day, though, he finds himself exhausted.
17. All That Jazz – Various Artists
Chicago is not only a memorable US city but the name of one of the top Broadway musicals.
All That Jazz is the opening scene of the theater show. It's a slow-beginning song that ends up in a charismatic and energetic way.
18. In The Ghetto – Elvis Presley
Elvis depicts the hardships of living in the poorest areas of this town.
In The Ghetto has a boy as a protagonist, the son of a single mother, and the brother of many.
Since the child is starving, he decides to gain money in the only way he knows: crime.
While attempting to steal a car, he gets killed. Unfortunately, the cycle repeats, but in a different family.
19. Showtime In Chicago – Joe Jackson
20. Only In Chicago – Barry Manilow
21. Chicago (Chi-Town) Blues – Earth, Wind & Fire
22. Chicago – Win and Woo (feat Bryce Fox)
23. Tonight, Tonight – Smashing Pumpkins
24. Everyday I Have The Blues / Goin' To Chicago Blues – The Four Tops
25. Chicago – Sufjan Stevens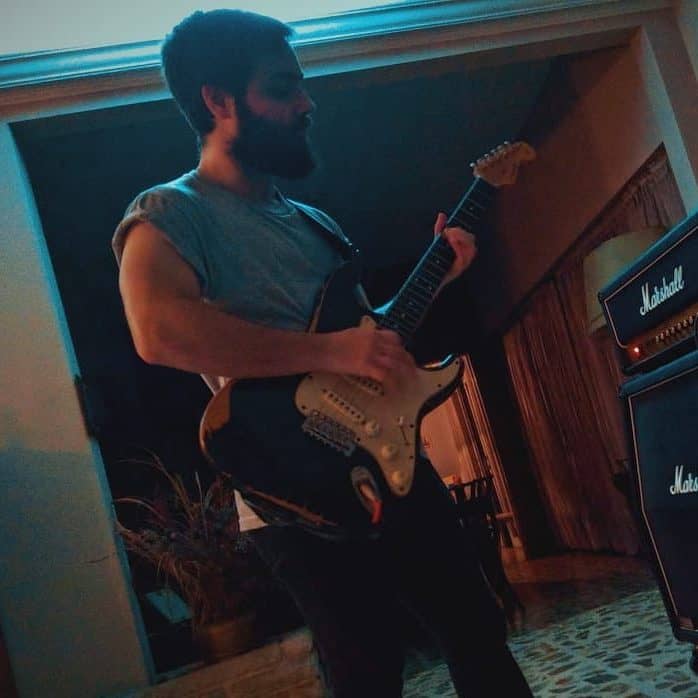 Hello there, my name is Ramiro and I've been playing guitar for almost 20 years. I'm obsessed with everything gear-related and I thought it might be worth sharing it. From guitars, pedals, amps, and synths to studio gear and production tips, I hope you find what I post here useful, and I'll try my best to keep it entertaining also.