Elemental forces are often used as inspiration in poetic literature, and today we'll be looking at wind.
The wind is often a force that is personified as something that gives us direction or presence.
In Dante's Inferno, the famous poem, winds become a metaphor for torrential and ever-changing emotions and lusts.
Regardless of how wind has been used as a device through the ages, today we'll be taking a look at how wind has inspired many musicians to write songs with the wind as a central theme.
1. Dust In The Wind – Kansas
Dust In The Wind is a song about the fragility of human life and how impermanent we are.
Funnily enough, it was a last-minute addition to the lineup of Kansas' 1977 album "Point of Know Return." The song is a meditation on mortality and the inevitability of death.
The song draws from the biblical passages of Genesis and Ecclesiastes about how we are all from dust and will all return to dust as well as from Japanese and Native American literature.
2. Wind of Change – Scorpions
Wind of Change is not only a song about bringing about change, but it's a song with historical weight.
The Scorpions wrote Wind of Change around the time that the Soviet Union was breaking down.
The song became an anthem of unity for people during the end of the cold war, helping in part to unite both sides.
3. Blowin' In The Wind – Bob Dylan
Another song about more than just the wind, Blowin' in the Wind poses a series of rhetorical questions about peace, war, and freedom.
The refrain of the song: "The answer, my friend, is blowin' in the wind" which is either saying that the answer is so obvious it's in your face or it's as intangible as the wind.
Bob Dylan commented on this song during an interview once stating that the answer isn't what everyone's trying to tell him it is, but it's floating in the wind and when it comes down, nobody picks it up.
He was allegedly pointing to a biblical verse in the book of Ezekiel about how people have eyes but don't see and ears that won't hear. It's a political song about turning a blind eye to evil.
4. She's Like the Wind – Patrick Swayze
She's Like the Wind was written for the dirty dancing soundtrack and tells somewhat the tale of the movie.
The song is a simple love song about a woman that is out of the male singer's league according to him.
He talks about how she leads him and makes him burn, he describes her as being like the wind but doesn't quite say what that means, leaving it open to interpretation.
5. Wind Beneath My Wings – Bette Midler
Many artists recorded this song before Bette Midler because it was originally written by Jeff Silbar and Larry Henley in 1982.
The song originally started out as a love song from one lover to another, but the lyrics ended up being something more universal and could apply to multiple different relationships.
The song is ultimately about someone supporting you in a way that you can never fully put into words and show appreciation for.
6. Against the Wind – Bob Seger
Against the Wind explores the space between care and indifference from friends and loved ones.
It centers on growth and memories in life while carrying a mellow and tender tone.
The song became one of Seger's most successful songs, reaching number 5 on the Billboard hot 100. it's ultimately a song about growing old.
7. The Wind Cries Mary – Jimi Hendrix
Hendrix wrote this song as a reconciliation love song for Hendrix's then-girlfriend, Kathy Mary Etchingham.
He also wrote a number of poems with the lyrics from this song featured in them too.
According to Kathy Mary, he wrote the song after an argument with her about her cooking lumpy mashed potatoes.
Bit of a weird thing to learn about a song with many beautiful poetic lines, but even the line about "sweeping up the broken pieces of yesterday's life" is possibly a reference to the dishes Hendrix had to sweep up after Kathy threw them at him.
8. Four Strong Winds – Ian and Sylvia
A song is a melancholy reflection on a failing romantic relationship, with the singer expressing a desire for a possible reunion.
They acknowledge the likelihood that the relationship is over in the lyrics "but our good times are all gone/ and I'm bound for moving on."
A fun fact is that Ian Tyson was inspired by Bob Dylan who wrote Blowin' In The Wind and sang it for Tyson.
Tyson then wrote Four Strong Winds the next day.
9. The Wind – Zac Brown Band
An interesting country-folk song that really seems to be about living life to its fullest and about making mistakes and not letting them bring you down.
Sometimes we make right by others for the way that our choices have affected them negatively.
It's packaged in a love song at the same time, which makes it a little bit of an odd song, but the violin lick that runs through it really makes for a fun listen.
10. Summer Breeze – Seals and Croft
A fanciful and relaxing summer song from the 70s, Summer Breeze is less thought-provoking than a lot of the other songs on this list.
It's a simple song about the value of living a simple life and enjoying the small things because ultimately, something as simple and beautiful as a summer breeze just can't be bought.
11. Ride Like the Wind – Christopher Cross
A song more about living life on the run from the law.
Ride like the Wind tells the story of a condemned criminal on the run to Mexico, told from the first-person point of view.
It describes how this outlaw has to "ride like the wind" to escape the death sentence given to him for his numerous crimes, including murder.
The song is described by Cross as a somewhat romanticized Western where the bad guy gets away.
12. Easy Wind – The Grateful Dead
Easy Wind is similar to Summer Breeze in that it's more of a song about life's simplicities.
It tells the story of a road worker who spends his days chipping rocks to build a highway.
He's warned that if he continues, he won't have much more than five years left to live, but in between this, he's busy trying to find a woman to be good to him.
It makes for a decent country and blues song to just pass the time to.
13. Idiot Wind – Bob Dylan
Dylan has stated that Idiot Wind is a song about the expression of willpower.
He told Jonathan Cott "With the strength of will you can do anything. With willpower, you can determine your destiny."
The song itself is chocked with biblical references, some more obvious than others.
Ultimately the song is an exploration of the bitterness of resentment and revenge against a lover and one's own self who botched their love.
Dylan said he purposefully left the song vague because he didn't want to give away too much.
14. Candle in The Wind – Elton John
Elton John wrote this song as a tribute to Marilyn Monroe, whose original name was Norma Jean, as noted in the song's opening line.
The song points to her short-lived life and calls her a candle in the wind due to how quickly she burned out.
John managed to give her a lot of heartfelt dignity in this song and even though I wasn't even born around the time that Monroe was alive, the lyrics to the song still give me pause at the sentimentality and love expressed in it.
15. Winter Winds – Mumford and Sons
Winter Winds is another folkie love song by this band, with lyrics pointing to a winter love affair that didn't last and didn't mean much.
The song is typical of much of Mumford and Sons' music, being thoughtful and uplifting while also being somewhat melancholy and cliche.
10 More Songs about Wind
| | |
| --- | --- |
| Title | Artist |
| Watch the Wind Blow By | Tim McGraw |
| Catch the Wind | Donovan |
| Summer Wind | Frank Sinatra |
| Colors of The Wind | Pocahontas |
| Must Have Been The Wind | Alec Benjamin |
| Winter Winds | Fotheringay |
| Wild is The Wind | David Bowie |
| Hasten Down the Wind | Linda Ronstadt |
| Riding on The Wind | Judas Priest |
| Cold Wind Blows | Eminem |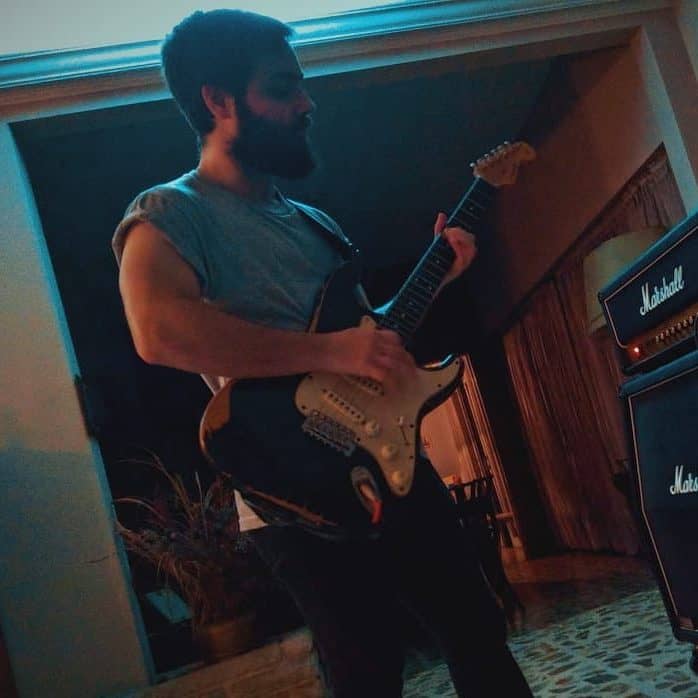 Hello there, my name is Ramiro and I've been playing guitar for almost 20 years. I'm obsessed with everything gear-related and I thought it might be worth sharing it. From guitars, pedals, amps, and synths to studio gear and production tips, I hope you find what I post here useful, and I'll try my best to keep it entertaining also.