Whether you have a brother by blood or by choice, we all know how special a brother is in our lives.
Brothers are those whom we relate to on a deeply personal level, looking out for one another and supporting each other.
The songs on this list cover a lot of things you could say to a brother, some are from the perspective of a big brother, some from a little brother, and some are for friends who are like brothers.
Regardless, if you've been looking for a song to play for someone whom you love like a brother, you should find it in this list.
I've avoided the corny ones, but be warned, there are songs here that will leave a lump in your throat depending on your situation. Either way, enjoy.
1. Brother – Kodaline
This song will likely make you cry. The song itself is beautiful, but when you pair it with the music video…
The song is about the kind of brotherly love where you have each other's backs, no matter what.
Even death doesn't separate the bond between brothers, and we'd give up our own lives to save our brother if we could.
This song speaks of real closeness, so it's on the list first.
2. Hey Brother – Avicii
Hey Brother is a song all about one brother giving advice to another.
The song was written by Avicii but was created with American bluegrass singer Dan Tyminski as the vocalist, along with other musicians.
The song is written in the key of G minor, at a tempo of 125 BPM
The song is in 4-4 timing with a 2-4 measure during parts of the chorus
Hey brother reached close to the top in a number of international charts\
3. Baby Brother – Mattiel
Baby brother is quite an interesting sound, but like many of the songs on this list, it has a lot to do with a sister who misses her younger brother.
She's watching his life go astray and watching him struggle and making observations about how his life has become difficult, noticing how he turns to alcohol to ease the misery of his minimum wage job.
I wouldn't say this is a song you could play for your little brother to illustrate how you feel he's gotten off track, but it's a good song to relate to.
At the end of the day, our despair for the suffering of a loved an emotion that can only exist due to our bond with them.
4. My Little Brother – Art Brut
This song has some real attitude to it and it's quite a catchy bit of British rock.
The story in this song is about a younger brother who just discovered rock and roll and is going over the edge while enjoying the message of rock n roll.
And it seems like it's being encouraged.
This is something you can only understand when you have grown up with a little brother, seeing him grow and change is a really cool experience, even if it's growing into a bit of mischief.
In the sleeve notes to the Art Brut compilation album "Top of the Pops," Eddie Argos reveals how this track has divided his family a little, saying: "I really have a little brother, he is called Colin. He says this song is patronizing."
5. Unknown Brother – The Black Keys 
This song is a bit of a gut punch. It covers a story about a miscarried baby brother that the singer never got to know.
It's a bit heartbreaking to consider that kind of loss, and luckily the black keys aren't some overly emotional, raw piano band because that would have made this a real tear-jerker.
The way the music is presented makes it easier to listen to without crying, but the message in itself will have you thinking for a while.
6. Severus and Stone – Radical Face
This song is pretty straightforward in its meaning.
It's about a pair of twins, and the first verse details that it's the dead of winter and the one twin is sickly, with "ragged breathing" as he lies on his deathbed.
The song continues on to describe the sick brother's passing and subsequent ghostly rising from his bed.
He leads his brother out into the forest and says to him "don't worry about me, I'm where I'm supposed to be."
It seems like a writer's attempt to deal with the loss of a twin sibling and to find reconciliation in the belief that they're at peace in the afterlife.
The song ends by saying "I'll wear this face for the both of us."
This song is based on an overarching narrative on the album "The Family Tree: The Roots."
Victoria Northcote, the older sister in "Family Portrait," (another song on the album) had three children out of wedlock. The father is unknown. Her youngest was a girl named Abigail, who had two twin sons, Severus and Stone. Stone narrates the titular song above, telling the story of his brother's death when they were ten years old.
7. What's Happening Brother – Marvin Gaye
The second song on Marvin Gaye's "What's Going On" album, tells a story of a soldier coming back to the United States after fighting in Vietnam and the adjustments to a new culture that he has to make.
This track was actually inspired by Gaye's brother Frankie, who spent three years serving in Vietnam
This song was released on Marvin Gaye's 11th studio album, What's Going On, on May 21, 1971
What's Happening Brother is just one song in the album that details the point of view of a Vietnam veteran returning home to his country to witness hatred, suffering, and injustice, despite him fighting for the opposite in his war.
The album's songs segue from one to the next and have been categorized as a song cycle
8. Brothers on a Hotel Bed – Death Cab For Cutie
Brothers in a hotel bed is about two people that have grown apart over time.
Brothers in the sense that their relationship is platonic in nature, but as they've grown, they've become strangers.
It's a beautiful and relaxing melody, with somewhat of a sad atmosphere to it.
The song is typical of the sound of Death Cab for Cutie, with the melody being in a major mode, with somewhat of a melancholic feel.
The track runs 4 minutes and 31 seconds long and is in Eb major
It's in a 4-4 time and makes for a decent dance song too
9. Brother – Pearl Jam
Originally an outtake from the band's debut "Ten" Album.
At first, Brother was just an instrumental song, but later the song appeared on the 2009 Ten reissues.
Eddie Vedder explained that the song was about the concept of George Orwell's "big brother."
The song lyrics point to an oppressive older sibling who acts through lies and deceit and blames the destruction he causes on his siblings, showing no love.
This song is more about a proverbial brother than a relative.
The song topped the Billboard Modern Rock Tracks chart, where it spent two weeks at number one
10. Does to Me – Luke Combs
Does to me isn't fully a song about brothers, but Luke Combs makes a statement about what brothers do in this song, and it's quite beautifully said and so I found it worth mentioning this song.
I won't say exactly what he sings, but it's a beautiful line.
The song is a country song, co-written by Combs along with Ray Fulcher and Tyler Reeve, it's also the third single from Combs's 2019 album "What You See Is What You Get."
The song topped both the Canada Country Billboard and US Billboard Hot 100 charts in 2020
The song also received multiple platinum certifications for its sales
11. Daniel – Elton John
This song was written about a guy returning to a small town in Texas who's been disabled by the Vietnam war.
On arrival, people give him unwanted attention, but he just wants to get back to simple living, the way he did before the war.
To escape the situation, he leaves the country.
This song is also sung from the perspective of the younger brother.
There's a bit of fun history to the song. There was originally a longer, final verse to this song, but Elton ripped it out because he thought it was nonsensical.
There are rumors that this missing verse explains the true meaning of the song, but that's been called "just an urban legend."
The song reached No.4 in the official chart. In the United States, the song reached No.2 on the pop charts and No.1 on the adult contemporary charts for two weeks in the spring of 1973.
12. Brothers in Arms – Dire Straits
The closing track on their fifth studio album, sharing the same name. Brothers in Arms was written during the Falklands War and is described by some as an anti-war song.
The song was recorded a second time in 2007 for the 25th anniversary of the war in order to raise funds for the British veterans who he said: "are still suffering from the effects of that conflict."
There are two studio versions of this song: the album version and the shorter version which is 50 seconds shorter than the original and features slightly different solos at the beginning and end of the song
The song has been used in multiple films and TV series. In each instance, it's used over the climactic scenes of the episode.
13. Little Brother – Ella Vos
Such a lovely song about love between a brother and sister. This song seems to be about a sister missing her brother who she never sees anymore.
If you're wondering about the genre before you listen, the song is very electro-pop in its composition.
The lyrics go on to sing about supporting one another despite possibly growing apart through time.
The song originally stemmed from a place of fear and pain for Ella Vos, being written in the wake of a car accident involving her younger brother.
The song is in the key of F major and runs at 145 BPM for a duration of 3:35
14. The Mother We Share – CHVRCHES
"The Mother We Share" is the debut single of Scottish synth-pop band Chvrches, from their debut studio album, The Bones of What You Believe.
The song, while mentioning relations, isn't explicitly about family, according to the band's front woman, Lauren Mayberry.
Some fun facts:
The song received a positive review by many critics, some praising the composition of the song and others praising Lauren Mayberry's vocals.
The song has not yet reached the top of any charts around the world but has reached as high as the top ten in some countries, like Belgium (reached No.9 in 2013) and Japan (No.6 in Japan Hot 100)
15. Over You – Miranda Lambert
Over You is a song co-written and recorded by Miranda Lambert and Blake Shelton about a personal experience Shelton had as a teenager when his older brother was killed in a car accident.
Shelton said he couldn't record the song for himself or sing it onstage every night, but he stated that he would be honored for Lambert to sing them.
Depending on who you ask, this is either an amazing song with a raw meaning to its lyrics or a boring song with uninspired cliche lyrics.
10 More Songs About Brothers
| | |
| --- | --- |
| Title | Artist |
| Blood Brothers | Luke Bryan |
| Me and Bobby and Bobby's Brother | ABBA |
| I Drive Your Truck | Lee Brice |
| He Ain't Heavy, He's my Brother | The Hollies |
| The Bewlay Brothers | David Bowie |
| My Brother's a Basehead | De La Soul |
| Brothers | Dean Brody |
| Little Brother | Hootie and the Blowfish |
| My Brother | John Lodge |
| Brother's Keeper | DaBaby |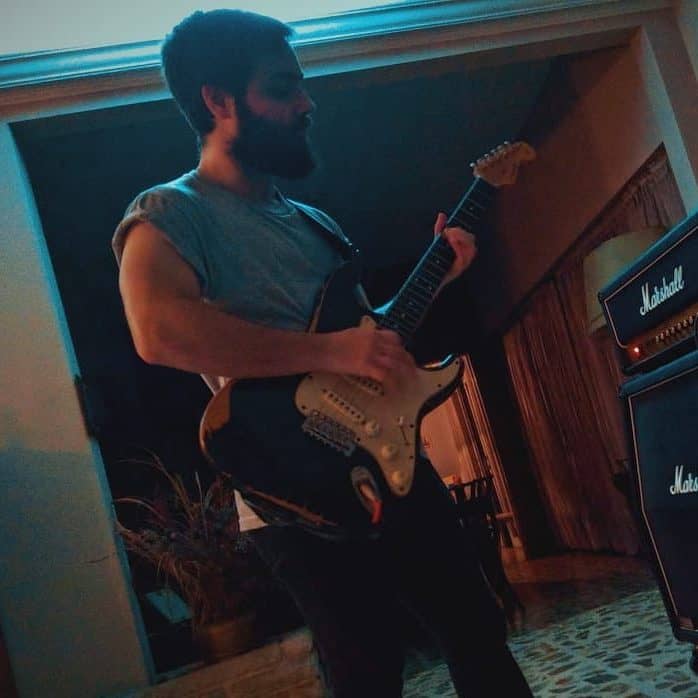 Hello there, my name is Ramiro and I've been playing guitar for almost 20 years. I'm obsessed with everything gear-related and I thought it might be worth sharing it. From guitars, pedals, amps, and synths to studio gear and production tips, I hope you find what I post here useful, and I'll try my best to keep it entertaining also.