Everyone can relate to coming of age, whether it's the excitement of the freedom afforded to you as an adult or the dread of the unknown future.
For some it's a worry of uncertainty as you now have to become responsible for yourself and for others it's a time when you begin to search for answers for who you are.
As varied as the issues of coming of age for the human mind are, you can be assured that there is at least one song on this list for each of them.
Whether you're a teenager with uncertainties or a disillusioned twenty-something, you can enjoy the music here.
1. Wake Me Up – Avicii
Released as the lead single from his debut studio album True, Avicii enlists the help of American soul singer Aloe Blacc.
The song has been described as a "summer anthem" by Variance Magazine and was included by Avicii throughout much of his sets.
This song is about finding yourself and figuring out who you are, but also lamenting the journey of self-discovery leading you into more confusion.
Musically, the song is in the key of B minor and runs at 124 BPM
The song is the most searched on the Apple-owned music app Shazam, with more than 23 million in February 2018
Wake me up spent time at the No.1 spot in over 40 countries worldwide in 2013
2. Time – Pink Floyd
The lyrics deal with the passage of time and with the realization that was not about preparing yourself for what happens next, but about grabbing control of your own destiny.
Roger Waters got the idea when he realized he was no longer preparing for anything in life but was right in the middle of it.
This song isn't so much about coming of age for younger people, but being at an in-between age for those in their mid-to-late twenties.
The sounds for the introduction to the song, the chiming clocks, and ringing alarms, were recorded in an antique store.
"Time" is in the key of F# minor and uses a number of extended chords throughout the song.
3. What's My Age Again – Blink182
Released in April 1999 as the lead single of Blink182's third studio album, "Enema of the State."
The song revolves around the onset of age and maturity, and the failure to implement changes in your behavior.
The song is basically all about being immature for your age and it became one of the band's best-performing singles, peaking at number 2 on Billboard's Modern Rock Tracks chart in the U.S.
The song was originally composed as a joke by Bassist and vocalist Mark Hoppus.
Hoppus claims it took him five minutes to write the song (it happens like that sometimes).
The song is composed in the key of G-flat major and is set in common time with a tempo of 158 BPM.
4. I Don't Want to Grow Up – Ramones
I don't want to grow up is the opening track on The Ramones' final studio album, "Adios Amigos."
The song centers around a young person looking at all the bad stuff in the adult world and deciding it's better to stay a kid.
A lot of other songs from the Ramones are more odes to immaturity, whereas this one is a reflection on the problem of growing up.
If being grown up means being stressed and unhappy, what's the point?
5. Give Yourself a Try – The 1975
Give Yourself a Try is a lo-fi Indie rock and post-punk song.
The song has many influences to it with a pretty aggressive guitar riff running through the song (aggressive for a lo-fi indie pop-punk band at least).
The band was inspired by Joy Division, specifically their track "Disorder", which Matthew Healy said stemmed from both acts originating in Macclesfield.
The whole song is about capturing the health and mental anxiety experienced by Millenials, along with calling the listener to recognize their self-worth and become a part of the world.
The song is pretty fast-paced, at 184 BPM.
The song experienced a generally positive reception upon release, with many critics praising its sound and stating it was reminiscent of the Strokes.
6. I'm Just a Kid – Simple Plan
I'm Just a Kid was the debut single by the Canadian pop-punk band Simple Plan. It's been around for a while now, but its energetic composition really epitomizes the late 2000s.
The song is about being the unpopular kid.
The lyrics center around a kid who threw a party that nobody showed up to and instead spends the night alone, contemplating their lack of popularity.
The song was featured in a couple of movies, namely Grind, The New Guy, and Cheaper by the Dozen.
The music video of the song plays out how an awkward, average guy attempts to impress a popular girl by attempting to perform dangerous stunts, but other, more popular kids interrupt and take his place. The video was made with the band members and actors from "The New Guy", such as Qualls and Tony Hawk.
7. Teenage Talk – St. Vincent
"Teenage Talk" is a bittersweet coming-of-age song, reflecting on the mistakes of teenage youth and the loss of innocence.
The genre for this song is called "Art Rock" and it's kind of a weird sound for me, but maybe you'll like it or it's something you've heard before and it brings back nostalgic memories.
Either way, the song is about coming of age and is kind of unique in its sound, receiving positive reviews for its wistful and pensive tone.
St. Vincent initially composed the song for inclusion in their eponymous album, released in 2014, but the song did not make the album's final track listing.
A demo snippet of the song was used during the fourth season of Girls, in the episode "Tad & Loreen & Avi & Shanaz."
The song was performed live for the first time on April 6, 2015, on The Tonight Show Starring Jimmy Fallon. The song was officially released the following day on iTunes.
8. 7 Years – Lukas Graham
A bit of soul-pop, Lukas Graham released "7 Years" from their second and self-titled studio album. Graham describes the song as a summary of his life so far, and what he hopes to achieve in the future.
It's a song about growing older and coming to realize that being a father is the most important thing.
Graham stated "my biggest dream is not to be some negative old dude, but to have my kids' friends say 'You're going to visit your dad? Say hi! He's awesome.'"
The lyric video was uploaded to YouTube on 17 November 2015, and the music video was uploaded on 15 December 2015. It has since been played over 1 billion times on YouTube.
The song received mixed reviews from critics, with some comparing it to the Beatles' "when I'm 65" and likening Graham to Paul McCartney. Time magazine named it one of the top 10 worst songs of 2016
The song topped multiple international charts, despite the negative reviews of some critics. Some of these were the Australian ARIA chart, the Belgium Ultratop 50 Flanders, and the US Adult top 40
9. Never Get Old – Sinead O'Connor
Never get old was released off of Sinead O'Connor's debut album on 4 November 1987.
The song sings about a couple of topics but it eludes to people's experiences with the passage of time, stating that the only thing the girl finds never gets old is the music she listens to.
The song is very reminiscent of Enya's Irish folk music, no doubt also because O'Connor included Enya on this track, with her speaking in Ancient Irish at multiple points on the track.
The album that "Never Get Old" is released on is a reference to Psalm 91:13 "you will tread upon the lion and the cobra" and you can hear an Irish recital of Psalm 91 on this track in the opening, told by Enya.
10. When You Were Young – The Killers
When You Were Young seems to be about heartbreak and betrayal, about a girl who got swept away by a charming older man.
The song contemplates the difference between a person's expectations and the reality of what love and marriage can be like.
It's a bitter form of coming of age in that the disillusionment tends to make you more mature after the pain.
This song has proven to be of the Killers' most successful singles, reaching number 14 on the Billboard Hot 100. If you don't recognize the name, these are the guys who wrote "Mr. Brightside."
The song is a move towards a more "heartland rock" style, supposedly heavily influenced by the music of Bruce Springsteen. This song was reportedly influenced by "Born to Run" and "Thunder Road."
11. Stop This Train – John Mayer
John described this song as a song about getting older, and suffering from a quarter-life crisis.
The song sings about how time rushes forward and we can never stop it, mentioning things like seeing our parents getting old and dying.
This song is the 7th track on 2006's Continuum album
Mayer stated that when he sang this song for the first time, he sang it for his parents, who pretended not to hear any of the lyrics
12. Coming of Age – Foster the People
Another indie pop hit, Coming of Age is almost a confession, according to Mark Foster.
Lyrically it is about a moment of clarity, about noticing how things have changed for you and for those around you. It's a song about growing up.
The song didn't reach the top of any charts in the year of its release, but it did come close, reaching No.2 on the Billboard US Adult Alternative Songs chart.
The song received positive critical reviews and has been described as "a breezy pop song with innocuous lyrics…"
13. Birch Tree – Foals
This isn't so much a song about growing up, but rather the longing for things of childhood after having grown up.
Foals vocalist and lyricist Yannis Pilippakis explained "I feel my world has become smaller and that song is partly to do with nostalgia for a place you used to go."
He added that it's about getting older and age.
14. The Climb – Miley Cyrus
Miley Cyrus recorded this song for her 2009 film Hannah Montanna: The Movie.
The song was written by Jessi Alexander and Jon Mabe and produced by John Shanks.
The song describes life as a difficult but rewarding journey.
Funny enough this is a song that Cyrus sang but isn't really something she has much say on.
The background of the song is best described by the main writer Jon Mabe and her co-writer Jessy Alexander.
They described it as a form of therapy for the two of them.
The song was rejected many times by other country singers before it was eventually picked up by Peter Chelsom, the director of "Hannah Montana: The Movie"
The climb is a relatively slow song, at 80 BPM and sung in the key of E major
15. Twentytwo – Sunflower Bean
Twentytwo deals with the expectations placed on you as a young woman by society and even your partner.
While the verses express vulnerabilities, the chorus is where the main theme lies.
The main idea is that you will not give up, even when you're alone and everything feels bad.
The whole feel of the song is very reminiscent of 80s pop-rock with a modern twist.
Very soft in its texture, it's quite fitting as a coming-of-age song- or song on aging- from a feminine perspective.
10 More Songs About Coming of Age
| | |
| --- | --- |
| Title | Artist |
| First Time | Ellie Goulding |
| Breed | Nirvana |
| Ready, Set, Don't Go | Billy Ray Cyrus |
| Ready, Set, Go | Tokio Hotel |
| Good Riddance | Green Day |
| Patience | Tame Impala |
| Class of 2013 | Mitski |
| Fifteen | Taylor Swift |
| Forever Young | Rod Stewart |
| The Circle Game | Joni Mitchell |
Coming of age is a journey we all take in our life and at some point or another, it's always going to be exciting and freeing, or bittersweet and reflective. I hope you enjoyed these songs while contemplating coming of age though.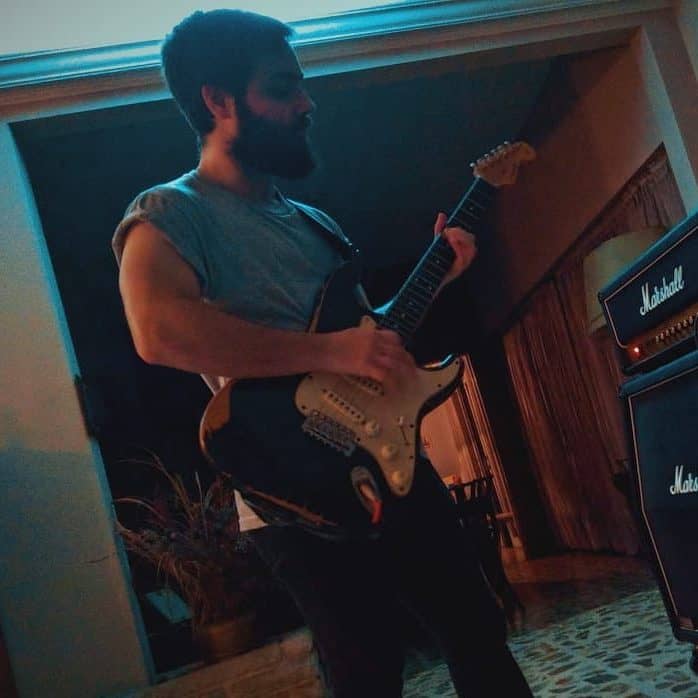 Hello there, my name is Ramiro and I've been playing guitar for almost 20 years. I'm obsessed with everything gear-related and I thought it might be worth sharing it. From guitars, pedals, amps, and synths to studio gear and production tips, I hope you find what I post here useful, and I'll try my best to keep it entertaining also.