Howdy Y'all!
Do you ever dream of leaving your busy life behind and settling down for a peaceful life high in the mountains?
If you do, you might also enjoy some Bluegrass music because it's basically the unofficial soundtrack to life in the Appalachian Mountains, a huge region in the Eastern USA.
The states that are most commonly associated with this music tend to be Kentucky, Tennessee, and West Virginia though.
Stylistically the sound is achieved by a band using acoustic (mainly string) instruments to create a traditional and folksy atmosphere.
With that in mind, while I'll throw in some individual musicians to check out here, most of the music that makes up Bluegrass is by whole bands. That's just the nature of the beast.
And the instruments themselves?
There's usually guitar, (upright) bass, mandolin, and harmonica along with some others. But to my ear, the really definitive instruments are the fiddle and the banjo. That's where the real "twang" comes from.
And thematically the songs are of course rooted deep in the past as well. Think of music that might be played at a small town or village dance in an old Western TV show.
There are songs about love, life in the mountains, having a good time, and even everyone's favorite social lubricant, booze.
By the way, the term Bluegrass is relatively recent and it used to simply be called Hillbilly music. So congratulations to whoever decided to go with a less derogatory name.
Whatever you call it, these artists and bands are some of the best in the game so grab your corncob pipe and let's commence the jigglin'.
1. Blue Moon of Kentucky – Bill Monroe and The Bluegrass Boys (including Lester Flatt and Earl Scruggs)
Bill Monroe is often credited as the most influential figure of Bluegrass.
In fact, his band The Bluegrass Boys is where the genre gets its name from, referring to a slang term (Kentucky Bluegrass) for a type of grass called Poa Pratensis.
Although he had a pretty tragic childhood, he grew up playing the mandolin with his brothers and uncle, first at home and later at local dances.
And he eventually found success as a professional musician, writing Blue Moon of Kentucky that was given a major boost when Elvis Presley recorded a version of it!
By the way, for a while, The Bluegrass Boys included guitarist Lester Flatt and banjoist Earl Scruggs who later played as Flatt and Scruggs and the Foggy Mountain Boys: another of the genre's most famous bands.
2. The Sinister Minister – Bela Fleck and The Flecktones
Bela Fleck is considered a master of the banjo and his band combines elements of Bluegrass and Jazz to push the style into new territory.
For one thing, the instruments they use are a little different than traditional Bluegrass music; their sound is built on Fleck's banjo, percussion, bass, keyboard, harmonica, and sometimes saxophone.
They are also referred to as Jam Band music sometimes, which was actually beneficial to their career in my opinion.
Because a lot of the most famous Bluegrass music is quite old and it's not really a style that resonates with most young people.
But that Jam Band connection helped them sneak into the younger generations' record collections and I had friends from my college days that loved this group.
It's definitely interesting stuff and you won't find many other bands that have a "drumitar" (Zendrum) player because Flecktones member Roy Wooten invented the instrument himself.
3. Man of Constant Sorrow – Alison Krauss and Union Station
When Alison Krauss isn't busy releasing hit Country songs or collaborating with former Led Zeppelin singer Robert Plant, she is a bonafide Bluegrass musician.
And while she's a multi-instrumentalist, she is best known for her singing and fiddle playing.
Plus she has a staggering amount of Grammy awards and other accolades that would make anyone jealous.
It's also worth mentioning her contributions to the Bluegrass-centric soundtrack to the Coen Brothers' film O Brother, Where Art Thou?.
Sure, plenty of musicians have been on movie soundtracks, but if you've seen the movie then you know that the music is actually a central part of the film itself, one of the few times that Bluegrass music has snuck into mainstream media in my lifetime.
4. Mountain Dew – The Stanley Brothers
The Stanley Brothers are a famous duo (and actual brothers) who also performed with a band called The Clinch Mountain Boys.
But as a duo they still managed to achieve a full sound with Carter on guitar, Ralph on banjo and both sharing the vocal duties.
Now you may be surprised to hear an old song called Mountain Dew that I believe is from 1960 (this version).
But when the popular neon green soft drink reissued its "throwback" recipe a few years back they included a funny logo that makes it much more clear what this song is about.
Check it out:
So Mountain Dew is really an old term for homemade (illegal) alcohol also known as moonshine, rotgut, firewater, or whatever you want to call it.
And though I'm not going to stereotype Bluegrass musicians and say that they're all hopeless drunks, I will say that moonshine, bourbon, and whiskey are definitely part of the Appalachian culture that this music sprang from.
After all, going back to Bill Monroe, this was music that was played at dances and parties and I'll bet they were drinking more than lemonade and sweet tea!
5. Unknown jam – John Denver and Itzhak Perlman
I thought about putting John Denver as an honorable mention here because he is usually considered to be a Folk Rock and Country musician.
But as you can see and hear, he had no problem holding his own when it came to playing Bluegrass.
And I decided he deserves some recognition in this genre for several other reasons too.
First, his classic song Thank God I'm a Country Boy is definitely Bluegrass and it's one of his three biggest songs along with Leaving on a Jet Plane and Take Me Home, Country Roads.
Second, although he doesn't usually have the instruments or sound that are associated with Bluegrass music, thematically his songs are often in line with the style.
After all, "Country Roads" is basically a love song to the mountains of West Virginia.
And finally, he is definitely an influence on modern Bluegrass artists and there is even a Bluegrass tribute album of his songs.
6. I'm Knocking on Your Door – Old and In the Way (Jerry Garcia on banjo and vocals)
7. Two Hits and the Joint Turned Brown – Yonder Mountain String Band
8. Shadows of My Mind – Vernon Oxford
9. One Glass of Whiskey – Robbie Fulks
10. Blue Eyes Crying in the Rain – Roy Acuff
11. Talk of the Town – Reno and Smiley and The Tennessee Cut-Ups
12. Free Little Bird – Cousin Emmy and Her Kinfolks
13. Lonesome Old Road – Hobo Jack Adkins
14. Long Time No See – Frank Hunter and His Black Mountain Boys
15. New Step It Up and Go – Maddox Brothers and Rose
16. Log Cabin in the Lane – Jim Eanes and The Shenandoah Valley Boys
17. If You See My Saviour – Molly O'Day and The Cumberland Mountain Folks
18. I Can't Lose Her – L.C. Smith, Ralph Mayo and The Southern Mountain Boys
19. When I Safely Reach That Other Shore – Tommy Magness and His Tennessee Buddies
20. A Beautiful Life – Jim and Jesse and The Virginia Boys
21. I'll Never Make You Blue – The Lonesome Pine Fiddlers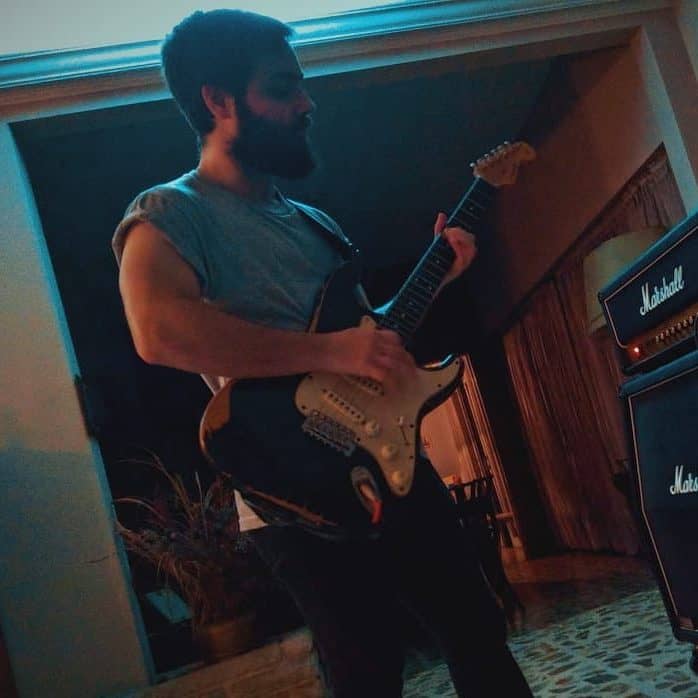 Hello there, my name is Ramiro and I've been playing guitar for almost 20 years. I'm obsessed with everything gear-related and I thought it might be worth sharing it. From guitars, pedals, amps, and synths to studio gear and production tips, I hope you find what I post here useful, and I'll try my best to keep it entertaining also.