If you're at a party and a group of people are discussing Jazz music, it might be intimidating to try to join the discussion, right?
Because it's a pretty vast style with a lot of history behind it, and if you want to know more about it, it can be difficult to know exactly where to start.
It's hard to pin down where or when the first Jazz song was composed but historically, it's usually accepted that it began in America, where the mixing pot of cultures around New Orleans congealed into something wonderful.
And at first, it was also mostly an African American innovation like Soul and Blues and many of the most famous Jazz musicians have African ancestry.
But soon, people from all walks of life were enjoying the energy of this strange music… even Kenny G.
For example, in Jack Kerouac's On the Road from 1957, the characters (based on Kerouac and other real-life people) were often to be found in nightclubs absolutely losing their minds to live and loud Jazz (and lots of beer).
And from Swing to Big Band to the golden age of Jazz in the 1950s and 1960s, it continued with Acid Jazz, Fusion Jazz, Free Jazz, and even Electronic Jazz.
And that's just the instrumental stuff!
There are also plenty of legendary Jazz singers whose voices stir up images of smoky rooms in nightclubs, with a spotlight on a sultry chanteuse or guy with slicked-back hair singing tales of lost love.
Sure, Frank Sinatra and the rest of the Rat Pack did quite a lot of Jazz songs, but today we're going to check out some musicians who dedicated most of their lives to just one genre.
While I listen to quite a lot of Jazz, especially if I want some instrumental music to listen to while I'm doing something else, I realize I have barely even scratched the surface of what the style has to offer.
But I'm confident that the musicians I'm about to introduce to you won't disappoint, and we'll cover all kinds of instruments as well as vocalists!
1. Keys – Herbie Hancock – Little One
If you only know Herbie Hancock as the guy who did the 1983 Electro / Funk song Rockit, you are seriously missing out!
I like that song as well, but this guy is a bonafide Jazz legend on the ivory keys (and plastic keyboard/synth keys as well).
1965's Maiden Voyage is a concept album with five tracks all related to a sea voyage and it's been in constant rotation in my record collection ever since I discovered it.
Because I've listened to a lot of his albums from around the same period and none of them ever capture the relaxed feel that it has.
And the song Little One which is linked above is a standout track from the album in my opinion.
But if Fusion Jazz is more of your style, Herbie has you covered in that genre too, with the classic Head Hunters album from 1973. Check out Watermelon Man and the title track if you want to get your groove on!
And while a lot of the Jazz greats that you'll read about today have already left us, thank God Herbie is still alive and kicking.
2. Trumpet – Miles Davis – Flamenco Sketches
Miles Davis is probably the most famous Jazz instrumentalist of all time, a position he earned with a lifetime of dedication and innovation spanning almost 50 years.
His trumpet playing was as emotional as any singer's voice could ever be and on tracks like Flamenco Sketches, he put away the fast playing of Bebop for a soulful Blues sound.
And because he was "the man" in the world of Jazz, I would say nearly half of the names on this list collaborated with him at some point in their careers.
Basically, if you played with him for a recording or were a member of his touring act, it was the same as receiving a diploma from the most prestigious music school anywhere. He was a career maker.
With more than sixty albums under his name, I realize that some of his stuff may not suit everyone's taste, but you can't go wrong with Porgy and Bess and Kind of Blue, or for more experimental Fusion Jazz try In a Silent Way and Bitches Brew.
3. Saxophone – John Coltrane – A Love Supreme Pt. III: Pursuance
John Coltrane is the other cornerstone of the golden years and on tracks like this, you can really feel the energy of him and the band with a style of Post-Bop that can almost be dizzying at times.
A Love Supreme is considered one of his best releases and holds biographical significance in that it relates to his move towards Christianity in his life, after many years of drugs and booze.
Of course, it's no big secret that drugs were a big factor in a number of Jazz musicians' lives and playing constantly in bars and juke joints meant alcohol was always around too.
And sadly this huge talent only had forty years to make his mark on the world, but he left behind a huge catalog of wonderful music.
Besides A Love Supreme, I recommend starting out with Blue Train and Giant Steps.
4. Electric (Fretless) Bass – Jaco Pastorius as a member of Weather Report – Birdland
Jaco Pistorius is often listed as one of the greatest bass players, not just in Jazz but in all genres.
His most famous work though, is with Weather Report, a Fusion Jazz group that also included bandleader and keyboard player Joe Zawinul who played and composed with Miles Davis before.
His time with Weather Report started with two of the tracks on Black Market (1976) and went to their self-titled album released in 1982.
But Heavy Weather from 1977 is usually considered their greatest album and it kicks off with this wonderful jam.
Jaco also put out a handful of solo albums and he worked with other famous artists such as Herbie Hancock, Pat Metheny, Joni Mitchell and Al Di Meola.
Sadly his life was chaotic and tragic; while on an alcohol binge, he was beaten so badly by a nightclub bouncer that he died later at only 35 years old!
But his Fender Jazz Bass which he reportedly removed the frets from himself (filling the holes with epoxy), is quite a famous piece of Jazz history.
Of course, the upright bass instrument traditionally used in Jazz music is "naturally" fretless so an electric fretless bass is like the best of both worlds, and Jaco knew exactly what to do with such a tool.
I recommend checking out the Black Market, Heavy Weather and Mr. Gone albums by Weather Report… and the Live at Montreux 1976 concert footage on Youtube is awesome as well.
5. Guitar – Wes Montgomery – The Girl Next Door
6. Keys – The Dave Brubeck Quartet – Blue Rondo à la Turk
7. Saxophone – Stan Getz – When the Sun Comes Out
8. Upright Bass and Keys – Charles Mingus – Better Git It in Your Soul
9. Trumpet and Vocals – Louis Armstong and His Hot Five – Struttin' with Some Barbecue
10. Keys – Thelonius Monk – Straight, No Chaser
11. Guitar – John McLaughlin with the One Truth Band – Electric Dreams, Electric Sighs
12. Vocals and Keys – Nina Simone – My Baby Just Cares for Me
13. Vibraphone – Cal Tjader – Soul Sauce
14. Guitar – Joe Pass – There Is No Greater Love
15. Percussion – Art Blakey and the Jazz Messengers – Moanin'
16. Vocals – Ella Fitzgerald and Count Basie – Dream a Little Dream of Me
17. Trumpet – Wynton Marsalis – Baby, I Love You
18. Keys – Duke Ellington and John Coltrane – In A Sentimental Mood
19. Guitar – George Benson – The Shadow of Your Smile
20. Vocals – Cab Calloway and His Orchestra – Minnie the Moocher
21. Keys and Vocals – Harry Conrick Jr. – Don't Get Around Much Anymore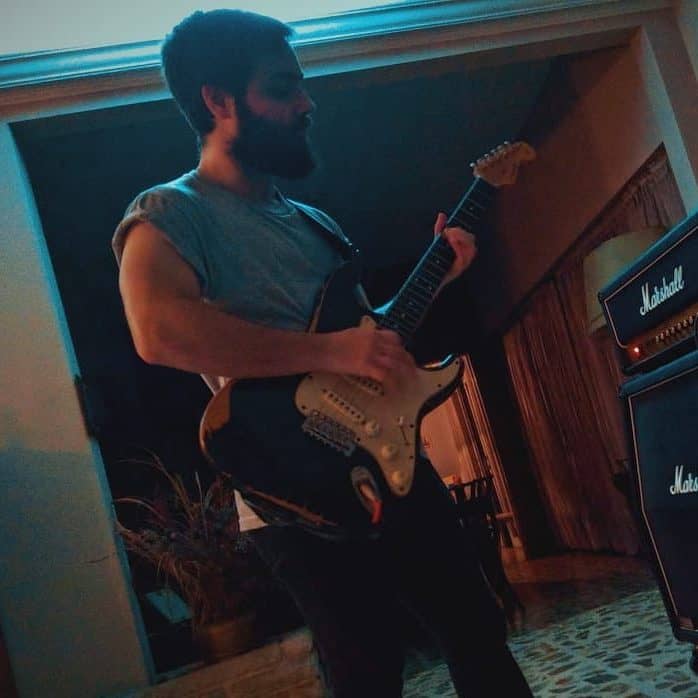 Hello there, my name is Ramiro and I've been playing guitar for almost 20 years. I'm obsessed with everything gear-related and I thought it might be worth sharing it. From guitars, pedals, amps, and synths to studio gear and production tips, I hope you find what I post here useful, and I'll try my best to keep it entertaining also.