School is a universal experience that has shaped us all in some way or another.
It's where we learn, grow, and make memories that last a lifetime.
From the first day of kindergarten to the last day of high school, each moment is special and deserves to be celebrated.
And what better way to celebrate than with music?
Whether you're reminiscing about the good times or laughing at the bad, there's a song out there that perfectly captures the essence of school life.
So put on your backpack, grab your headphones, and get ready to take a trip down memory lane as we explore 23 unforgettable songs about school.
1. School's Out – Alice Cooper
First up on the list is the ultimate anthem for anyone who's ever felt trapped in the mundane routine of school life.
Released in 1972 as the title track of the album of the same name, this classic rock song captured the rebellious spirit of a generation eager to break free from the chains of academia.
Alice Copper's personal experiences in school influenced the song, as he felt like an outcast and a misfit.
Released in the summer of 1992, when school was really out, the song became a hit and remains a beloved classic to this day.
2. Another Brick in the Wall (Part 2) – Pink Floyd
This iconic song by the progressive rock band Pink Floyd is about the struggles of school life.
Released in 1979 as part of the majestic album The Wall, the song tells the story of a young boy oppressed by the rigid educational system.
The track was written as a condemnation of the authoritarian approach to education in Britain.
The song had a powerful impact and resonated with audiences around the world, inspiring countless other artists to speak out against the failings of the education system.
3. School Days – Chuck Berry
Released in 1957, this classic rock & roll song by Chuck Berry was included in the album After School Session.
This track tells the story of a high school student who wants to be free from the rigidity of his school's rules.
It is also a song about the joys and struggles of high school life, with lyrics that touch on everything from crushes and dances to homework and detentions.
With its energetic rock sound, School Days is widely regarded as one of the greatest rock songs of all time and has achieved the status of a rock & roll anthem.
4. Rock 'n' Roll High School – Ramones
This punk rock anthem by the Ramones was released in 1979 as part of the soundtrack of the movie Rock 'n' Roll High School.
The song, which starred the Ramones themselves, tells the story of a group of high school students who rebel against their oppressive principal by starting a rock band.
As Ramones has accustomed us, this fast-paced track evokes energy and embodies the spirit of punk power to join people together and break down barriers.
To this day, Rock 'n' Roll High School remains a fan favorite and inspirational song.
5. Be True to Your School – The Beach Boys
This popular song by the American rock band The Beach Boys was released as a single in 1963.
Be True to Your School was later included on the album Little Deuce Coupe as a tribute to the band's high school days.
Through its lyrics, the track serves as a nostalgic tribute to school pride and loyalty.
The song was a financial success, peaking at number ten on the Billboard Hot 100 chart, and has since become a fan favorite and a mainstay of the band's live performances.
6. Hot For Teacher – Van Halen
Released in 1984 as part of their album 1984, this song tells the story of a student's infatuation with his female teacher and his fantasies about her.
This high-energy rock track was the anthem of many young students that felt related to it.
Although at that time it was a controversial subject matter, the song became a hit and a staple for the band.
Additionally, its iconic music video, which starred comedian Phil Hartman as the "Janitor," also contributed to the song's popularity.
7. What Did You Learn in School Today – Pete Seeger
What comes next is a folk song that speaks to the education system and how it can shape the minds of the younger generation.
Originally written by Tom Paxton and recorded by Pete Seeger, it was released in 1964 as a single.
This song was written as a political statement criticizing the concept that schools are structured to inhibit critical thinking and creativity.
Seeger employs childlike, innocent, and stupid questions to highlight the hypocrisy and hidden goals driving educational lessons.
8. My Old School – Steely Dan
Released in 1973 and included in the album Countdown To Ecstasy, this song reflects on the college experience and the nostalgia that comes with it.
The protagonist of the story is a boy who was expelled from Bard College in Annandale-on-Hudson, New York, for drug use.
The lyrics evoke nostalgia by mentioning various events that anyone who attended college during that period would be familiar with, such as the "fifth of February," referring to the day Malcolm X was assassinated, and the "Duke and Duchess of Earl," a reference to the doo-wop song "Duke of Earl."
9. What I Go to School For – Jonas Brothers
What I Go to School For is a song by the American pop-rock band Jonas Brothers, released on their 2006 album It's About Time.
The song is a cover and was originally released by the pop-punk band Busted.
This track is about a boy who is deeply in love with his teacher, which makes him look forward to going to school.
Interestingly, the song was inspired by Matt Willis' former dance teacher who he has a childhood crush on.
10. School Days – The Runaways
The Runaways' School Days is a famous rock song from their 1977 album Waitin' for the Night.
The piece is about students' rebellious tendencies in school, their frustration with the education system, and their desire to break free from the dull routine of school life.
This song became an anthem for youthful revolt and a symbol of the late-'70s punk rock movement, thanks to its frenetic, guitar-driven sound.
The track also emphasized the band's talent and cemented their status as one of the most recognizable all-female rock bands of all time.
11. Beauty School Dropout – Frankie Avalon
12. Back To School – Deftones
13. High School Confidential – Jerry Lee Lewis
14. Too Cool for School – Fountains Of Wayne
15. Fifteen – Taylor Swift
16. School Spirit – Ye
17. ABC – Jackson 5
18. School Days – Loudon Wainwright III
19. Smokin' In The Boys Room – Mötley Crüe
20. School Mam – The Stranglers
21. Mark Me Absent – The Clash
22. High School – MC5
23. School Is Out – Regina Spektor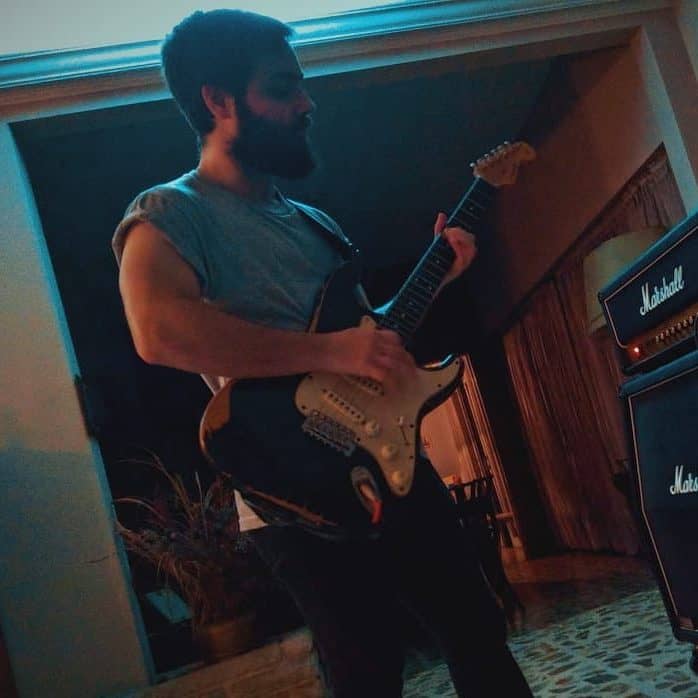 Hello there, my name is Ramiro and I've been playing guitar for almost 20 years. I'm obsessed with everything gear-related and I thought it might be worth sharing it. From guitars, pedals, amps, and synths to studio gear and production tips, I hope you find what I post here useful, and I'll try my best to keep it entertaining also.