What does Kentucky conjure up for you?
A U.S. state?
Some delicious fried chicken?
Banjos and getaway music?
Whatever it may be, singers have found inspiration in the state of Kentucky, its landscape, its bourbon, and its people.
Let's have a look at eight great tracks that will surely want to make you take a trip to the Bluegrass State
1. Blue Moon of Kentucky – Elvis Presley
Originally written as a bluegrass waltz by the great Bill Monroe, the song found significant popularity when it was covered by Elvis Presley as the B-side to his single "That's Alright Mama".
All traces of waltz went away, replaced with the driving rock song we know today.
The song is almost a national treasure now, garnering many awards and honors, including being named the official bluegrass song of the state of Kentucky.
2. Kentucky Woman – Neil Diamond
The lyrics are typical pop fare, with the protagonist singing about his love for a woman, and her love for him.
However, most people may also be familiar with Deep Purple's version of the song, also released as a single in 1968 with the B-Side "Wring that Neck".
Deep Purple's version injects the song with a dose of attitude that takes the music to a completely different level.
3. My Old Kentucky Home – Stephen Foster
This classic ballad's original lyrics appear to be inspired by the novel "Uncle Tom's Cabin" by Harriet Beecher Stowe, however, like most old songs, the lyrics went through various twists over the years (Prine's version does have slight variations from the original text).
Much like "Blue Moon of Kentucky", "My Old Kentucky Home" received huge honors, being named the official song of the State of Kentucky in 1928.
4. Bourbon in Kentucky – Dierks Bentley
The song's protagonist laments a woman's loss, saying there's not enough bourbon in Kentucky to drown his sorrows. It's everything you'd expect from Bentley's music; fans will be satisfied.
5. Kentucky Straight – Johnny Cash
From his 1973 album Any Old Wind That Blows, this is a traditional country ballad where the protagonist envisions a beautiful life with his beautiful woman who is better than the finest straight whiskey in the state of Kentuck (hence calling her "my Kentucky straight").
The arguably over-produced sound does date to the country pop of the 1970s, but the song is what we expect from Cash.
6. It's Got To Be Kentucky For Me – Tom T. Hall
From the 1976 album Faster Horses, our faithful protagonist sings the praises of many states in the US, from Texas to Tennessee. However, he holds a special place in his heart for his "homeland", the state of Kentucky.
This is another song that doesn't pull many thrills and there's no mistaking the traditional country sound. Fans of the genre will certainly enjoy this one.
7. Blue Kentucky Girl – Lorretta Lynn
Sings of her man who left for the city to find fame and fortune, while she reminds him not to wait for those to come before returning to her.
The song was also a hit for Emmylou Harris, who also released it on an album under the same name in 1979. There must be something to that title.
8. I Can Hear Kentucky Calling Me – The Osborne Brothers
So why not go with one of the best, from the 1980 album of the same name by the Osborne Brothers (not to be confused with Brothers Osborne.)
The sings once again proclaim their love for the state of Kentucky and the simple joys that they find within it.
All of this is marked by some fantastic bluegrass playing and spectacular vocal harmonies.
This one may make you step on the gas a bit if you listen in your car; drive carefully!
9. Kentucky Rain – Elvis Presley
All hail the King of Rock n' Roll!
10. Kentucky Woman – Deep Purple
We saw Neil's version early, now for one of the best covers!
11. Kentucky Gambler – Dolly Parton
We all need more Dolly in our lives.
12. Kentucky Means Paradise – Merle Travis
A song from the other famous Merle of country music.
13. Kentucky Skies – Logan Halstead
A great song from a new young artist.
14. Kentucky in the Morning – Tom T. Hall
Tom T. Hall sure loves his home state! 
15. Kentucky Waltz – Bill Monroe
A fantastic bluegrass tune from one of the kings of the genre.
16. Kentucky Rain – Eddie Rabbitt
A great offering from the late Eddie Rabbitt.
17. Kentucky Mandolin – Bill Monroe
If Kentucky is the bluegrass state, surely Bill Monroe is the ambassador!
18. Kentucky Bourbon – Murder by Death
Short n' sweet, much like a shot of fine bourbon!
19. Kentucky Fight Song – University of Kentucky

All together now!
20. Postcards from Kentucky – Rocko Votolato
A lovely ballad that should be on everyone's radar.
21. Kentucky Moon – Jake Ousley
A lovely acoustic number in the great country tradition.
22. Dumas Walker – The Kentucky Headhunters
Not in the title, but certainly in the band! A classic from this Kentucky group, and no list would be complete without a mention.
23. Blue Moon of Kentucky – Bill Monroe
We come full circle with the original track that launched Elvis' career. From one king to another!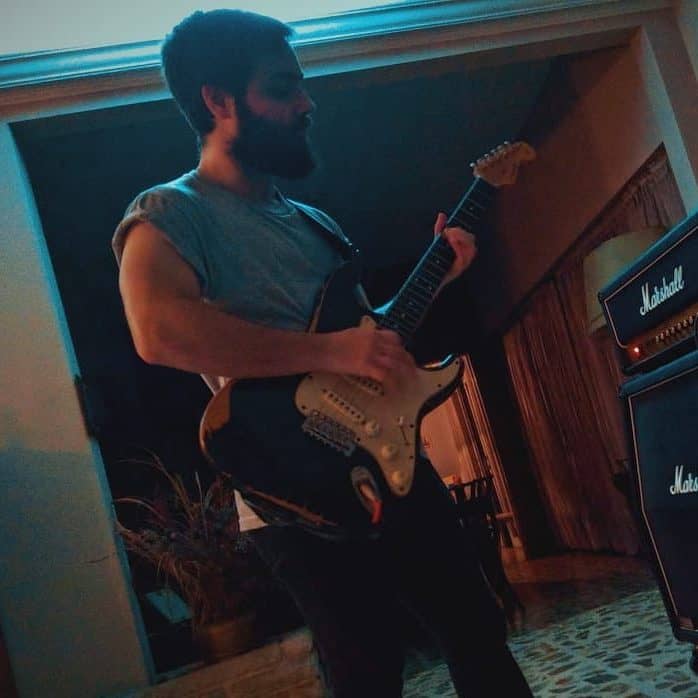 Hello there, my name is Ramiro and I've been playing guitar for almost 20 years. I'm obsessed with everything gear-related and I thought it might be worth sharing it. From guitars, pedals, amps, and synths to studio gear and production tips, I hope you find what I post here useful, and I'll try my best to keep it entertaining also.