At first sight, it seems weird to discover so many songs about drowning.
But give it a second thought, and you'll realize that drowning has more to do with a symbolic expression rather than a literal meaning.
Drowning is feeling suffocated in the face of adversity, chaos, and mislove.
When dealing with any of these circumstances, you must do your best to stay afloat.
I hope these songs will help.
1. Drowning – Chris Young
The reason Chris Young felt he was drowning was not because of a heartbreak.
Unfortunately, the American musician lost a friend of his.
The lyrics are a documentation of the hard-to-grasp emotions he experienced during this period of grief.
2. Drown – Bring Me The Horizon
On October 2014, British metalcore band Bring Me The Horizon released a single that represented a drastic change in their sound.
Drown switched the band from metal to pop in the blink of an eye.
Naturally, the British group kept releasing some heavy music after that, but not as much as they used to do.
3. I Feel Like I'm Drowning – Two Feet
Toxic relationships can take away your breath. This song is pretty much about it.
The songwriter claims he feels air comes back to his lungs when he's away from that abusive person.
Do you relate to this feeling? Then it's about time you do something about it.
4. Keelhauled – Alestorm
Forget about metaphors. This song is literally about a man drowning himself.
More precisely, is about a traitor on a pirate ship.
The Captain and the inmates decide to have some fun with him by applying the keelhaul torture.
This consists of tying the man and dropping him into the water. Before drowning to death, the crew would take him out (with the help of the rope), only to repeat the process over and over again.
5. Drown In My Own Tears – Ray Charles
Originally written by Henry Glover and first recorded by Lula Reed.
It has been versioned by a dozen of artists, including Ray Charles, which might have recorded the most memorable one.
The lyrics are about a person who's missing a loved one so much that he's drowning in his own tears.
6. Head Above Water – Avril Lavigne
Lyme disease is a bacteria transmitted by the bite of a black-legged tick. This disease causes fever and headaches.
Believe it or not, the illness can cause death if it's too severe.
That was the case with singer Avril Lavigne. She got Lyme disease, which led her to a terrible health state that caused her lots of pain.
One night, she even thought she was about to die.
Luckily, Lavigne got better and wrote this fantastic song as a result.
7. Henry Martin – Joan Baez
A traditional Scottish song that narrates the deeds of pirate Henry Martin, the youngest of three brothers.
One night, Henry assaults a ship and ends up sinking it. Needless to say, all the crew drown.
8. Let Me Drown – Soundgarden
Frontman Chris Cornell stated that he thought about the music when composing Let Me Drown, and the lyrics just came naturally.
In other words, there are no real implications behind the meaning of the song, other than suiting the melody and rhythm.
Well, I guess you can always find your own meaning. After all, that's the magic of music.
9. Drowning – Anna Clendening
American internet celebrity Anna Clendening sings this song about holding it on.
Although she seems okay from the outside, she's doing her best to keep her head above the water.
10. Drowning In The Sea of Love – Joe Simon
The title of the song suggests someone's experiencing a beautiful event. After all, isn't it great to be in love?
Well, not this time.
Once we take a look at the lyrics, we see that, once again, someone is suffocated by these feelings.
The man has been abandoned and sorely misses his ex-partner.
Joe Simon's single was the longest-running and the highest-charting of them all from 1971 to 1975.
11. Drowning Lessons – My Chemical Romance
My Chemical Romance took a sad love story to a different level.
Drowning Lessons is about (you guessed it!) missing a loved one.
This time, though, there is no way to make her come back: the woman is dead… or is it?
The protagonist of the story indulges in a life of crime to reunite with his lover once again.
Oddly enough, by killing 1000 people, he will be able to fulfill his dream.
12. Drowning Man – U2
Drowning Man is taken from the album War of 1983.
The title doesn't relate to the lyrics at all since it came after a play that Bono was writing.
13. Sink or Swim – Falling In Reverse
From Falling In Reverse's debut album comes this song.
More often than not, one will face dangerous situations that require staying afloat at all costs.
You either swim or sink.
Naturally, frontman Ronnie Radke knows what he's singing about since he has faced several hard situations, like being an addict or spending years in prison.
14. Drowning Witch – Frank Zappa
15. The Drowning Man – The Cure
16. Drown Me Slowly – Audioslave
17. Drowning on Dry Land – Albert King
18. Drowning In Slow Motion – Trivium
19. Drowning – Backstreet Boys
20. A Prophecy – Asking Alexandria
21. Drowning – A Boogie With Da Hoodie (feat Kodak Black)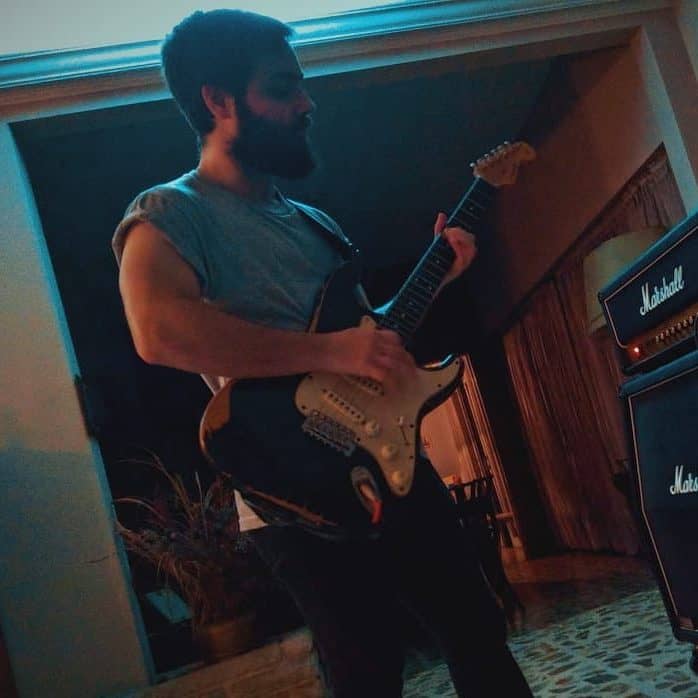 Hello there, my name is Ramiro and I've been playing guitar for almost 20 years. I'm obsessed with everything gear-related and I thought it might be worth sharing it. From guitars, pedals, amps, and synths to studio gear and production tips, I hope you find what I post here useful, and I'll try my best to keep it entertaining also.