Anarchy is a political ideology that advocates for the lack of a government.
This derives from the belief that any governmental structure is inherently oppressive. In an anarchist society, decisions are made through voluntary associations and decentralized decision-making processes.
But let's not discuss politics here. Better to leave that to the musicians that wrote songs about this ideology.
Check these 20 songs about Anarchy and let that rebellious punk inside you take control.
1. Anarchy In The U.K. – Sex Pistols
The most obvious song when thinking about anything anarchy-related is this classic from The Sex Pistols.
This was the very first single released by the band, and it caused a lot of problems.
Since the lyrics promoted a rebellion against the government, many organizations refused to ship the album.
However, according to guitarist Steve Jones, Anarchy In The U.K. has never advocated anarchy whatsoever. He believed that anarchy cannot provide a real, useful answer.
The song has been covered by many groups, including Megadeth, Mötley Crüe, and Green Jellÿ.
2. Anarchy – Crashdïet
Quite an obscure track from a relatively obscure band.
Crashdïet is known for the revival of the Glam metal scene in the middle 2000s, along with other groups like Backyard Babies and Hardcore Superstar.
This song appears on the album The Savage Playground, the final one with singer Simon Cruz.
3. Anarchy Camp – NOFX
Californian Punk rock band NOFX released Anarchy Camp in the album The War On Errorism of 2003.
The lyrics are absolutely violent and, oddly enough, quite entertaining.
It's just about going camping and recklessly behaving as much as you can.
Destroying things, beating people up, and African killer spelling bees?
Why this camp has it all!
4. Baby, I'm An Anarchist! – Against Me!
A political song where two opposite sides collide.
Baby, I'm An Anarchist! is a half-punk, half-folk song that appears on the band's first album Reinventing Axl Rose.
5. Anarchy For Sale – Dead Kennedys
Most of Dead Kennedys' lyrics are a witty and satirical form of expressing a strong opinion against someone or something.
Police Truck, for instance, is about police brutality but sang from the officer's side, just to name an example.
In my opinion, Anarchy For Sale is a critique of the commercialism and consumerism behind a belief or ideology. In this case, being a Punk or an anarchist.
Naturally, when most people think about a Punk stereotype, the image is of a guy with a Mohawk haircut and wearing a leather jacket full of spikes everywhere.
Ultimately, this is what the Dead Kennedys are so against; the fact that fashion comes first, and beliefs much, much later.
6. Skateboard Anarchy – JFA
Anarchy is not the focal point of this JFA song. Rather, it is skateboarding.
The protagonist has a vivid passion for this sport, but people around him don't seem to share it or understand it.
The girlfriend reprimands the boy for spending too much time outside with his skateboard, and the policemen stop him whenever they find him practicing the sport.
7. World Anarchy – Kreator
Finally, a song about Anarchy that's solely metal.
World Anarchy depicts the destruction, demolition, and collapse of society.
Nonetheless, the thrash metal song is not about chaos for the sake of it.
On the contrary, it's about bringing down the powerful tyrants that govern over the weak.
8. Captain Anarchy – Anti-Flag
Similar to the case of Dead Kennedys' Anarchy For Sale, this Anit-Flag song is a direct critique of everyone who calls themselves punk, but who is far from being one.
Once again, the fact that someone spends so much money on appearance instead of enriching his knowledge regarding his opinion, makes the fuck-the-system style a fashion statement.
9. I Believe In Anarchy – The Exploited
Here, The Exploited shares their pride in being a Punk rocker.
They are not afraid to show their wild side, getting drunk, fighting, and claiming their anarchist beliefs to the people.
10. I Was A Teenage Anarchist – Against Me!
Against Me! makes it again on the list with this track from 2010.
I Was A Teenage Anarchist resulted in a controversy a year after its release when the band Rise Against published the song Architects.
Architects contains a fragment from the Against Me! song that is too exact to be a coincidence.
Rise Against did it on purpose as a direct response to the folk-punk group.
Long story short, the two were on two different sides regarding their ideologies.
If you want to find out more about this polemic moment, I encourage you to check both songs.
11. Anarquía En La Escuela – Flema
Argentinian punk rock band Flema wrote this kind-of-funny song about rebelling against the school authorities.
Spitting directors and setting rooms on fire are just a few of the wicked things these guys have in mind.
12. Mother Anarchy Loves Her Sons – Traditional
This is an anarchist anthem from Ukraine.
I'll steal this comment from one on the Youtube video: "Anarchist or not, this song is an absolute banger"
Absolutely, bro. Absolutely.
13. Anarchy – Lilith Czar
14. Anarchy Burger (Hold The Government) – The Vandals
15. Only Anarchists Are Pretty – World/Inferno Friendship Society
16. Anarchy Means I Litter – Atom & His Package
17. Armchair Anarchist – Not Half Bad
18. Anarchy – KMFDM
19. Anarchy Now – Your Face
20. Anarchy Is For Assholes – Teenage Depression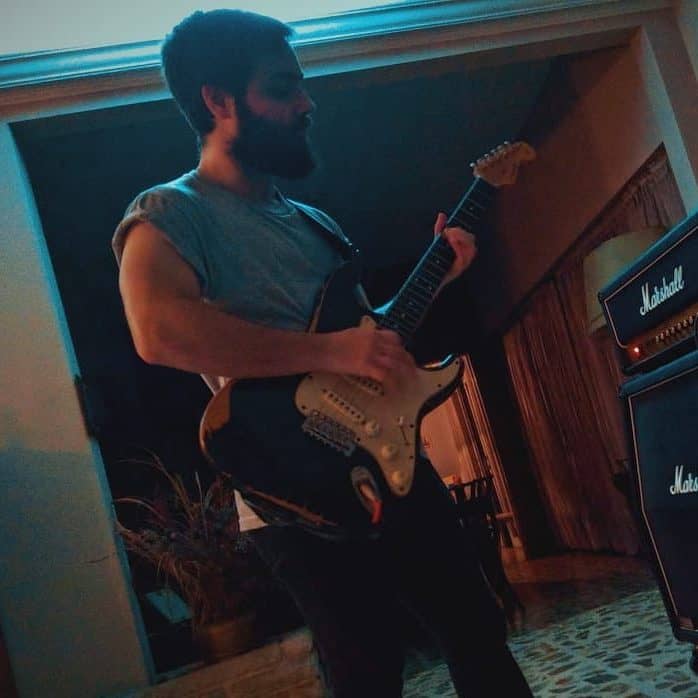 Hello there, my name is Ramiro and I've been playing guitar for almost 20 years. I'm obsessed with everything gear-related and I thought it might be worth sharing it. From guitars, pedals, amps, and synths to studio gear and production tips, I hope you find what I post here useful, and I'll try my best to keep it entertaining also.