For this list, we'll be taking into account two main factors:
Firstly, and the most obvious one, the band began in the early or middle 2000s approximately.
Secondly, the artists began by the end of the 90s BUT their popularity skyrocketed in the 2000s.
So, that means we're leaving behind lots of great bands that made it big during the 2000s: Red Hot Chili Peppers, Green Day, Nickelback, Queens of The Stone Age, Foo Fighters, and so.
Those artists won't be mentioned because they either began their careers in 1997 (or way before that), or they already had successful albums during the early 90s as well.
Without further ado, let's begin.
1. Linkin Park
Few bands spoke so directly to troubled teenagers as Linkin Park did.
It blended metalheads and rap enthusiasts into one strong group, making millions feel they were listened to once in their lifetime.
It's incredible to think that Linkin Park's message is still holding up nowadays, and brand new young listeners find comfort in their music.
2. Audioslave
When Rage Against The Machine broke up, three out of four members were still eager to work on a new musical project.
They initially lacked a singer but found one in Soundgarden's Chris Cornell.
Although Audioslave didn't last long, it left behind three studio albums packed with rock classics.
Show Me How To Live, Revelations, Like A Stone, and Be Yourself still sound on Spotify's rock playlists.
3. Paramore
American high school students deal with some heavy crap: bullying, deep insecurities, low self-esteem, depression, and unattainable love crush.
While these issues hinder one's life, it was a miracle to have bands like Paramore singing for all those unheard voices.
4. Avenged Sevenfold
The 80's heavy metal was ruled by Iron Maiden and Metallica, just to name a few groups.
The 2000s saw a band that would learn from those masters and create their own music: Avenged Sevenfold.
Powerful clean vocals, twin guitars, and some metalcore elements adorned A7x's compositions, which captivated both new and old metal listeners.
5. Arctic Monkeys
In Sheffield, UK, a group of young boys gathered to create a band.
There were two things they were completely unaware of.
First, that they would be the leaders of a new British indie rock movement.
Second, that they would take over the world and become massive.
Indeed, life's full of surprises…
6. Velvet Revolver
Velvet Revolver was a supergroup that consisted of three members from Guns N' Roses and the singer from Stone Temple Pilots. That combination was bound for success from day one.
Its lifespan was like a firework. It flew high toward the sky and burned brightly, but in the blink of an eye was gone.
The group left us with just two studio albums, but the first one is so good that we value quality instead of quantity.
7. The Killers
While they might be considered more pop than rock, it would have been a crime to leave The Killers behind.
With hymns such as Mr. Brightside, When You Were Young, and Humans, The Killers turned into a remarkable band inside the rock-pop and new wave category.
8. Buckcherry
In 1999, a Californian band released a self-titled debut album that became a success, thanks to the single Lit Up. Naturally, a song that explicitly celebrates cocaine consumption would not pass unnoticed.
Oddly enough, their second album was a blatant failure, and Buckcherry dissolved.
They say the third time's the charm. Buckcherry recorded and released 15 in 2005, a comeback album that boosted the band's success and kept them on the road for many more years.
Buckcherry has continued making new music during the 2010s and seems that the 2020s won't be their final stop.
9. My Chemical Romance
My Chemical Romance was the emo teenage idols of emo teenagers.
They took elements of punk, pop, and alternative, and mixed them all together, leading to hits such as Helena, Welcome to The Black Parade, Famous Last Words, I'm Not Okay, and Na Na Na.
10. The White Stripes
This duo demonstrated that you can play Rock music without a bass guitar.
Jack and Meg White released six studio albums before splitting up, gifting us with great classics like Seven Nation Army and Icky Thump.
11. Crashdïet
Straight outta Stockholm emerged the leaders of the Glam metal revival.
Although Crashdïet has not turned into a massive act in comparison to other artists on the list, it has earned the crown as the king of sleaze and gained thousands of followers around the globe.
12. Trivium
Heavy, Thrash, and Metalcore. The three elements that conformed this American band.
Trivium ended up becoming one of the most acclaimed groups in modern metal.
13. Mastodon
Mastodon is a metal band with a bit of progressive, a slice of Sludge, and Stoner rock essence.
The group won a Grammy for best Rock album in 2018, and several Metal Hammer Golden Gods awards.
14. Slipknot
In 1999, nine Iowa masked adults released a violent and ferocious album. This turned out to be one of the first steps of a thousand that would lead Slipknot to become a legend in metal history.
Each one may have its musical preferences and taste, but no one can deny Slipknot has long ago become one of the top metal acts in the world.
15. Fall Out Boy
If Blink-182 were the best pop-punk band of the 90s, then Fall Out Boy was the best pop-punk band from the 2000s.
In 2005, their second studio album From Under The Cork Tree became a best seller and soon achieved the double platinum certification. From that point, Fall Out Boy kept composing, recording, and playing music for millions of fans around the world.
16. The Strokes
The American counterpart of Arctic Monkeys was The Strokes.
Categorized as indie and garage rock, The Strokes took elements from punk but made it less aggressive, and more vintage-like.
17. Bullet For My Valentine
Metalcore was highly popular during the 2000s and 2010s. However, not every band sounded as heavy as Bullet For My Valentine did.
The debut album The Poison presented classics like Hand of Blood and Tears Don't Fall, which are still acclaimed by the fans.
Other outstanding titles include Waking The Demon, Your Betrayal, Riot, and Army of Noise.
18. Alter Bridge
Before becoming the official singer for Slash, Myles Kennedy was focusing his potential on Alter Bridge, an alternative post-grunge band from Florida.
While Alter Bridge hasn't drastically changed the direction of Rock music (unlike other groups on the list), it is remembered as a band that provided a solid and classic-oriented sound, along with Buckcherry and Velvet Revolver, to name a few.
19. Muse
Although Muse began in 1994, they didn't release an album until 1999. Not to mention, the band didn't receive the attention they deserved until the 2000s.
Among the timeless classics Muse has released, we can mention Uprising, Psycho, and Supermassive Black Hole.
20. Them Crooked Vultures
What happens if you put Dave Grohl from Foo Fighters, Josh Homme from Queens of the Stone Age, and none other than John Paul Jones from Led Zeppelin in the same room?
Well, you should listen to figure it out.
21. Franz Ferdinand
22. Jimmy Eat World
23. System of a Down
24. Audioslave
25. Wolfmother
26. Kings of Leon
27. Vampire Weekend
28. Cage the Elephant
29. Capital Cities
30. The Raconteurs
31. The Hives
32. A Perfect Circle
33. The Black Keys
34. Tame Impala
35. The Mars Volta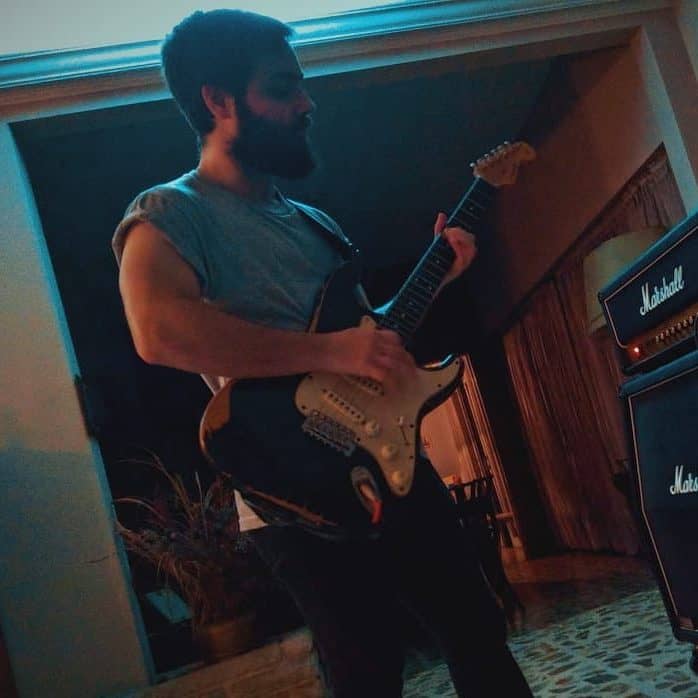 Hello there, my name is Ramiro and I've been playing guitar for almost 20 years. I'm obsessed with everything gear-related and I thought it might be worth sharing it. From guitars, pedals, amps, and synths to studio gear and production tips, I hope you find what I post here useful, and I'll try my best to keep it entertaining also.