Image, lyrics, message, cultural influence, popularity.
All of these factors affect personal taste.
Of course, everyone has their personal favorites. But all in all, there are certain artists that just became the favorite of literally millions.
So, consider that this list is not based on personal favorites, but rather, on the top artists of the majority. Once again, the focus is not only on the music but on the legacy they left behind.
Without further ado, let's make a quick revision of some of the best bands in the history of music.
1. Led Zeppelin
One can point out Zeppelin as the creator of the Rockstar mythical figure.
Before them, most musicians looked and sounded rather similar on stage. Very few could provide such a dynamic performance on stage as the one Zeppelin did.
Not to mention, their musical compositions were at another level. Zeppelin effortlessly blended Blues, Rock n' Roll, and folk into a unique genre that every rock lover has found pleasant.
2. The Beatles
Four guys from Liverpool created more music genres in six years than two decades of music since the 2000s.
The Beatles' first albums were a combination of pop and rock n' roll. While they were packaged with hits, the group barely sounded any different from the rest of the bands of that decade.
That was until The Beatles released Rubber Soul in 1965, and took another direction both musically and lyrically.
From that point onwards, The Beatles experimented with hundreds of genres that go from pop to classical music, and from psychedelic to Indian-inspired folk.
3. The Rolling Stones
Black American musicians dominated the blues during the 50s and 60s. It was incredible to find white Englishmen following their steps and sounding as good as them!
Although The Rolling Stones began as a cover band (like many other artists of that time), they slowly switched to songwriting.
The results were more than acceptable, releasing classic after classic for decades non-stop.
4. Queen
Freddie Mercury was a charismatic leader that knew how to entertain the audience. Not only that, but he had the potential to make them participate as well.
Queen made fans feel like they were yet another member of the band.
Plus, their compositions reached every radio, be it Rock, pop, or disco. Unsurprisingly, Queen is taken as the main musical influence for thousands of musicians, and not only in the world of Rock music.
5. U2
In 1976, a group of Irishmen created U2.
They earned their reputation thanks to their songs and for getting involved in political activism.
From writing songs about genocides (Sunday Bloody Sunday), to participating in charitable events.
Regarding their music, U2 stands out not just as another Rock band but as a group that mixes pop and electronic elements.
6. Nirvana
Nirvana is a clear example that quality matters over quantity.
They lasted only 5 years before the suicide of frontman Kurt Cobain. However, almost three decades have passed by since their last performance, and their music hasn't aged a single bit.
Without a shadow of a doubt, Nirvana is the top 90s rock band and the most influential artist of the grunge genre.
7. ABBA
The pop artist that every metalhead proudly loves.
ABBA was a Swedish group from the 70s which emerged after winning the Eurovision song contest thanks to their hit Waterloo.
Unsurprisingly, the band kept releasing an endless number of classics for the rest of the decade.
8. Coldplay
Coldplay began in 1996 but gained popularity in the 2000s thanks to its ambitious show presentations and emotive songs.
It's fascinating to see that the four original members still play together, and we hope they continue that way.
9. Pink Floyd
Pink Floyd showed that an album was more than a mere collection of songs. It had the potential to tell a story, just like a book or movie.
The Wall, Dark Side of The Moon, Animals, Wish You Were Here; the list goes on.
Sure, not every album was conceptual. However, all of them told a bit of a story somehow, both in lyrics and in music.
All it takes is letting your imagination flow.
10. Red Hot Chili Peppers
The Californian band had two albums that set them apart from the rest of the groups.
The first one was Blood Sugar Sex Magik from 1991, a funky-metal hybrid that earned them worldly success.
The second was Californication in 1999, an album that "re-invented" the band, while still maintaining their funky essence.
The rest of the albums may have been more or less important, but all of them had, at least, one timeless classic.
11. AC/DC
Take the blues, give it steroids, and you get AC/DC.
The ultimate rock and roll band that made Back In Black, the second most-sold album in history.
Oh, and they also pride themselves on having the music video for Thunderstruck with over 1B views on Youtube, which is not too common in Rock music.
12. Guns N' Roses
Before releasing their debut album, Guns N' Roses was already successful.
Every time they played at a bar, the audience would return home with their heads blown up. The band was just incredible!
Then Appetite for Destruction came out in 1987 and the entire USA was in for the new Rockstars Gods.
Not content with that, Guns N' Roses released the double album Use Your Illusion and took over the world.
Nowadays, it's still considered by many the ultimate Hard Rock artist.
13. Metallica
The number one metal artist has to be Metallica.
They have sold over 125 million albums worldwide since their beginning in 1983.
Forty years later, they keep releasing new music, and every album is always highly expected by metal and non-metal fans.
14. Green Day
Green Day began as a Californian punk rock group.
They released Dookie which was wildly acclaimed in the 90s.
However, they reached yet a higher level with the release of American Idiot, with classics like Boulevard of Broken Dreams, Holiday, and Wake Me Up When September Ends.
15. Black Sabbath
Black Sabbath founded Heavy Metal, a genre that would grow to become one of the most popular ones.
However, Sabbath managed to make songs that even non-metal enthusiasts could listen to. It's a fact that many indie or pop fans enjoy Black Sabbath's tunes.
Although the band has changed singers on many occasions, there are two that are the most remembered: Ronnie James Dio and Ozzy Osbourne, the last being the original, and most probably, the one the fans listen to the most.
16. Linkin Park
Hybrid Theory was Linkin Park's debut album, and the name really suited the band's style and genre.
After all, Linkin Park took elements of rap and metal, smashed both into a single formula, and released it to the world.
The result? One of the most sold-out debut albums in history, right after Appetite for Destruction by Guns N' Roses.
The passing of time made Linkin Park switch to pop and electronic, earning them even more fans around the world.
17. Deep Purple
18. Arctic Monkeys
19. Dream Theater
20. Rush
21. Iron Maiden
22. Genesis
23. Fleetwood Mac
24. Rainbow
25. Cream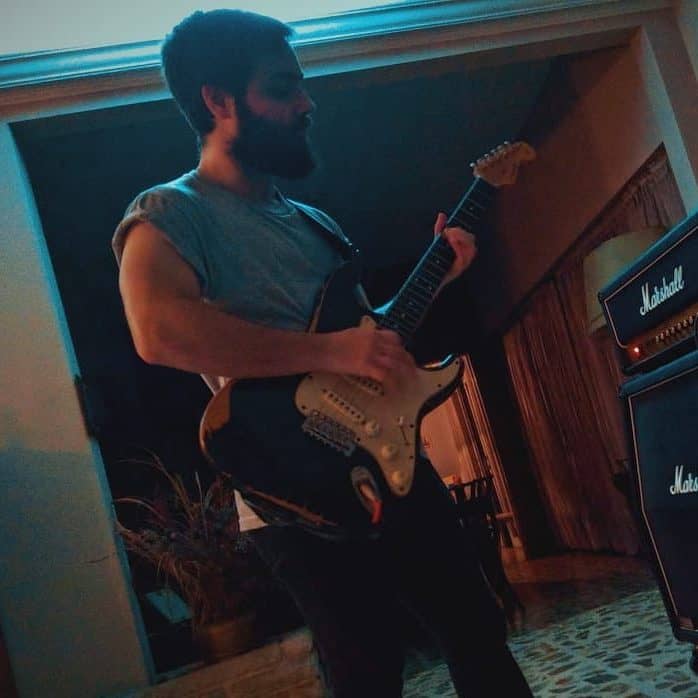 Hello there, my name is Ramiro and I've been playing guitar for almost 20 years. I'm obsessed with everything gear-related and I thought it might be worth sharing it. From guitars, pedals, amps, and synths to studio gear and production tips, I hope you find what I post here useful, and I'll try my best to keep it entertaining also.