The 90s presented a fistful of quality musical acts. And not even two fists were enough to gran them all!
Here we have collected 37 of the most important groups of that decade.
Consider that we have gathered artists that either began during the early 90s or that started at the end of the 80s but whose popularity rose during this era.
Now, let's begin!
1. Nirvana
Grunge governed the 90s. Period.
MTV would slowly stop playing hair metal videos and move on to this Seattle new trend.
We had a variety of incredible artists, but the one that stood out the most was Nirvana.
In 1991, Nirvana released Nevermind, an album that would be immortalized in history.
2. Nine Inch Nails
Nine Inch Nails put an ending to the 80s with Pretty Hate Machine, which for many fans, still holds the title as the best NIN album.
However, it served as a foreshadowing of what was about to come in the following decade.
Nine Inch Nails took over the media with the EP Broken and the ultimate industrial album The Downward Spiral.
Anger, hatred, frustration. Trent Reznor transmuted all that negative energy into art, speaking for the thousands of teenagers who felt the same way.
3. Pearl Jam
First impressions last.
Pearl Jam knew that, and that's probably why they made such an outstanding debut album.
Evenflow, Black, Jeremy, and Alive, are just a few of the hits that appeared there.
But placing the final stop there would be disrespectful. Pearl Jam continued releasing fantastic albums during the 90s and the 2000s, earning themselves a place in the Rock N' Roll history legends.
4. Alice In Chains
Most old-school metalheads weren't much fond of grunge when it became the brand-new music genre.
Some of these new groups were frowned upon initially. However, I believe it's fair to mention that there was one band that gained the immediate respect of heavy metal lovers: Alice In Chains.
Nirvana sure had wild, energetic songs; Pearl Jam made incredible riffs; and Soundgarden's sound was a few steps away from being considered Hard Rock.
But all of that paled when compared to the darkness and heavy compositions of Alice In Chains.
We Die Young, Them Bones, Dam That River, Man In The Box, Rain When I Die. If those songs weren't considered metal, it was because of excessive sub-genre categorizations.
5. Green Day
Before reviving in the 2000s as an emo-teenage sensation, Green Day was already taking the world with albums such as Dookie, Insomniac, and Nimrod.
They provided a fresh facelift to Punk Rock, along with other memorable bands like The Offspring.
6. Smashing Pumpkins
Smashing Pumpkins are regarded as the group that pushed alternative Rock to a superior level.
Their experimentation in sound and composition made them a recurrent act in festivals and events, not to mention their unstoppable presence on MTV.
7. Weezer
Weezer released their debut album in 1994. It received wonderful reviews from critics and music lovers.
It turned into a huge influence for artists that would emerge during the 2000s, especially in the pop-rock and alternative genres.
8. Foo Fighters
It's up to debate, but I dare say Foo Fighters is the top Rock act of the 2010s and beyond.
However, it all began in 1995, when the ex-Nirvana drummer recorded and published an album under the name of Foo Fighters.
The record received good reviews, and he decided to turn the project into a full band. In 1997, The Color And The Shape came out and from that point onwards nothing could stop them, not even the recent loss of the beloved drummer Taylor Hawkins.
9. Rage Against The Machine
When controlled, anger becomes fuel.
The members of RATM were angry, and they used their fury to form a band and vomit their thoughts to the masses.
They had enough of injustice, inequality, racism, and discrimination. They felt sick of powerful, corrupt politicians that took more than they could provide.
The group used music as their counterattack weapon, and they fought well.
Rage Against The Machine is also considered a pioneer of the nu-metal that emerged not long after.
10. Stone Temple Pilots
STP released their best albums during the 1990s, the most acclaimed being Purple and Core.
Among the many hits found on these records, we can name Plush, Sex Type Thing, Interstate Love Song, Wicked Garden, and Big Empty.
11. Soundgarden
Similar to Alice In Chains, Soundgarden was considered by many as one of the heaviest acts in grunge.
Rusty Cage, Spoon Man, and My Wave are examples that support this theory.
While every Soundgarden member has demonstrated to be a professional, it's undeniable that Chris Cornell's powerful voice was the key element that led the band to the top.
12. Korn
Korn deserves a place in the Big Four of nu-metal.
They gathered rap and heavy fans together in one big set of followers, paving the way for soon-to-become legendary acts, including Slipknot and Linkin Park.
13. Blur
The mid-90s resulted in a Brit-pop arrival that would drastically change music during the 2000s.
Blur, among many other groups, was part of that emerging wave.
It stood out because of two reasons:
First of all, Blur just "had the charm" to create radio hits.
Check their Best of album once and you'll have half of the songs there stuck on your head the entire week. 
Second, Blur was more than just Brit-pop. It melted hard rock, punk, electronic, and disco in one original solution that couldn't pass unnoticed.
14. Tool
After blending prog-rock, metal, and alternative into a unique formula, Tool metamorphosed into the intellectuals of metal music.
Some classics include Sober, Schism, Forty Six & 2, and The Pot.
15. Blink-182
It's safe to claim that Blink-182 is the God of pop-punk (unless you consider Green Day under the same category).
These Californians gave a fresh new skin to the punk genre, which captivated teenagers from that decade.
16. Deftones
Some say Deftones is nu metal. Others consider it a very heavy alternative rock group.
Either one or the other, it's impossible to deny the originality behind their sound.
Deftones won a Grammy for Best Metal Performance in 2001, and continue to release successful albums decades later.
17. Kyuss
From the desert plains of California emerged Kyuss; a group that would become a cult legend.
Just like a powerful sandstorm, Kyuss emerged out of nowhere, create beautiful, ordered chaos, and disappeared in the blink of an eye.
It left behind four fascinating studio albums, one of which (Blues For The Red Sun) is one of Grohl's favorite records ever… and that's saying a lot!
18. Marilyn Manson
Manson might be famous for his shocking image and unnerving performance act, which turned him into a demonic idol during the 2000s.
However, the God of Fuck was already scaring and bothering religious fanatics in the 1990s, with albums like Mechanical Animals and Antichrist Superstar.
Marilyn Manson's career has been paused after Evan Rachel's allegations against him. Time will tell whether we'll hear again from him and his music.
19. Red Hot Chili Peppers
20. Radiohead
21. Incubus
22. Oasis
23. Guns N' Roses
24. No Doubt
25. Lenny Kravitz
26. Placebo
27. Faith No More
28. Silverchair
29. Queens of the Stone Age
30. Dinosaur Jr.
31. Garbage
32. Blind Melon
33. Jane's Addiction
34. Temple of the Dog
35. Rammstein
36. Pulp
37. The Cardigans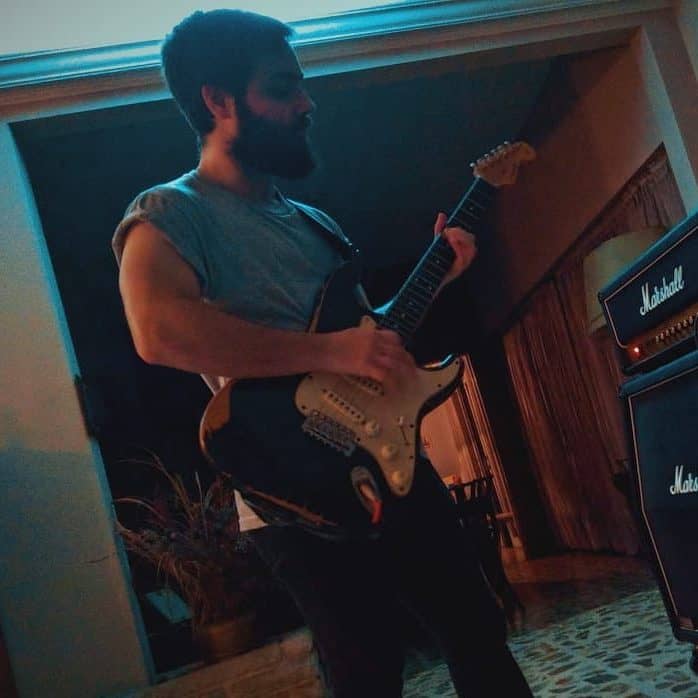 Hello there, my name is Ramiro and I've been playing guitar for almost 20 years. I'm obsessed with everything gear-related and I thought it might be worth sharing it. From guitars, pedals, amps, and synths to studio gear and production tips, I hope you find what I post here useful, and I'll try my best to keep it entertaining also.