Psychos are everywhere!
In the office, at school, in the music business, in the film industry… hell, even in the shopping mall!
Now, this is not to make you paranoid or anything.
It's just a form of dramatizing a fact: psychos exist.
Therefore, it's not a surprise to find there are lots of songs dedicated to these people, or, at least, to a twisted state of mind that makes the singer feel he or she is the psychotic one.
Here we have collected 21 of the best ones about this particular type of person. Let's go!
1. Psycho Therapy – The Ramones
It's always great to start a list with a Ramones classic.
Psycho Therapy is from the album Subterranean Jungle. Arguably, the most classic song on the record.
2. One Way Or Another – Blondie
Singer Debbie Harry suffered the unfortunate event of being stalked by someone.
As a result, she came out with the idea for this song: "One way or another I'm gonna find you…"
The music, however, depicts a different mood – one more cheerful, even goofy.
As usual, comedy and music are the best remedies.
3. Psycho – Muse
Musicians are full of ideas. All the time.
According to Muse members, the riff for Psycho has been played dozens of times during live performances. It dates as back as 1999.
But it didn't make it on a song till 2015!
The album title in which the track appears (Drone) is also related to psychopaths.
According to Matt Bellamy, Drones are psychopaths that turn people into more psychopaths. Somehow related to the concept that the negative aspects of society may turn citizens into monsters.
4. Sir Psycho Sexy – Red Hot Chili Peppers
A great song from Blood Sugar Sex Magik.
It narrates the many sexual encounters of a character known as Sir Psycho Sexy.
Some say the encounters are based on Anthony Kiedis's personal experiences. After all, Kiedis has stated he suffered from sex addiction throughout his life, so it wouldn't surprise us if the events were real.
5. Psycho Circus – KISS
The opening track from the reunion album.
While the record (named after the song) didn't receive favorable reviews, the song Psycho Circus became yet another KISS hit.
The lyrics are somehow a combination of a lunatic out-of-this-world carnival mixed with the basics of a loud music concert.
6. Psychopath – Crashdïet
This demo was never released on an official studio album by the Swedish group.
However, it appears on an official compilation called "The Demo Sessions"
As the liner notes state "you meet them too often, especially in the music industry."
7. Psycho Killer – Talking Heads
David Byrne flawlessly portrayed how it feels to be inside a psychotic's mind with some unnerving but witty lyrics.
8. You're In Love With a Psycho – Kasabian
From the sixth studio album For Crying Out Loud comes this song.
This track was also the first single of that record.
9. Run For Your Life – The Beatles
The last track on Rubber Soul narrates a terrifying story of a man obsessed over his girlfriend.
He warns her that, if he finds her with another man, it will be her end.
Quite a contrast between the lyrics and the uplifting music.
10. Ted, Just Admit It… – Jane's Addiction
Ted Bundy was an American murderer. Most interestingly, though, is that he's the first criminal to have been described as a "serial killer", a term everyone uses nowadays.
11. You're All I Need – Mötley Crüe
Nikki Sixx wrote this song for her girlfriend.
It seems like any other power ballad love song from the 80s, but this one hides a dark secret.
The song portrays a person murdering his lover, which is more disheartening when we remember the song was dedicated to a real person.
Luckily, Sixx committed no crime. At least, not one that involves killing someone.
Naturally, being a member of one of the wildest rock bands in history has most likely involved a crime of some kind, don't you think?
12. Used to Love Her – Guns N' Roses
A classic easy-to-learn Guns N' Roses song.
Used to Love Her illustrates a person killing and burying her wife in his backyard.
However, it seems that the horrible act had negative consequences for the criminal since he can "still hear her complain."
Karma? Justice? You decide.
13. Every Breath You Take – The Police
What's fascinating about this The Police classic is how well hidden the real meaning is.
At first sight, the lyrics seem quite romantic – someone completely in love, gazing at her forbidden love from afar.
The closer we look, though, the sooner we discover it's a song about a psycho stalking a victim.
14. Jack the Ripper – Motörhead
Jack the Ripper was a famous British criminal who, in 1888, murdered at least 5 prostitutes.
He committed the "perfect crime", because to this day, no one has found out his real identity.
15. Psychosocial – Slipknot
16. Psycho – System of A Down
17. Psycho Man – Black Sabbath
18. Psycho Love – Skid Row
19. Psycho – The Sonics
20. Sweet But Psycho – Ava Max
21. Mind of a Lunatic – The Geto Boys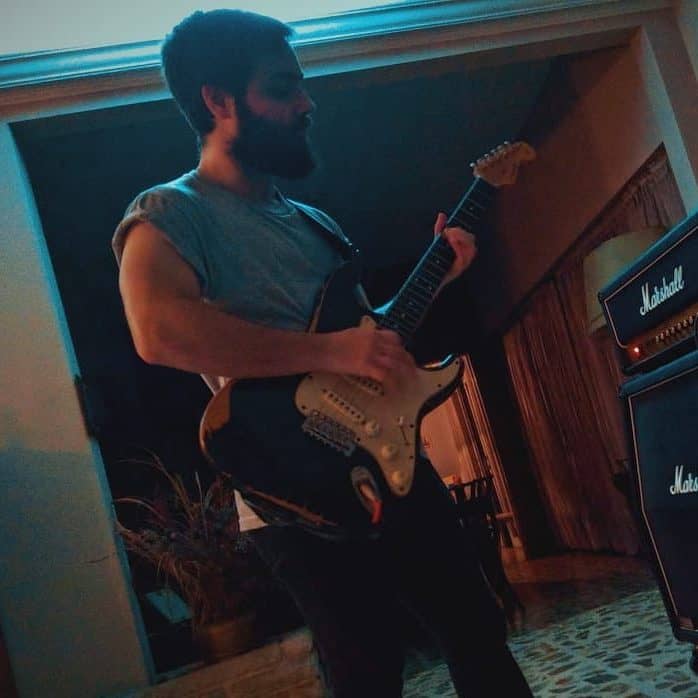 Hello there, my name is Ramiro and I've been playing guitar for almost 20 years. I'm obsessed with everything gear-related and I thought it might be worth sharing it. From guitars, pedals, amps, and synths to studio gear and production tips, I hope you find what I post here useful, and I'll try my best to keep it entertaining also.