Valentine's Day is just around the corner and you know what that means – love is in the air!
Whether you're planning a romantic evening with your significant other or just looking to treat yourself, we've got you covered with the ultimate playlist of love songs.
From classic crooners to modern heartthrobs, we've compiled a list of the best songs to set the mood on Valentine's Day.
So, put on your dancing shoes and get ready to swoon to some of the most romantic tunes out there.
Whether you're in the mood for a slow dance or an upbeat bop, we've got something for everyone.
From oldies but goodies like "Unchained Melody" by The Righteous Brothers to contemporary hits like "Shape of You" by Ed Sheeran, this playlist has it all.
Oh, don't have a valentine?
No worries!
These songs are also perfect for a solo dance party or a night in with friends.
So light some candles, pour yourself a glass of wine and let the music transport you to a world of love and romance.
Happy Valentine's Day loves!
1. My Funny Valentine – Frank Sinatra
Sorry for the obvious choice, but there's no other way to kick off things in such a playlist like this one.
This is perhaps one of my favorite love songs ever and sung by Frank himself it gets even better.
The lyrics are just perfect, not too serious, but sweet enough to captivate just about anyone.
2. Unchained Melody – The Righteous Brothers
Another classic that can't be left out.
This 1965 hit is the perfect song to play when you want to set the mood for a romantic night.
With its soulful vocals and lush instrumentation, it's sure to make your heart flutter and have you swaying in your lover's arms in no time.
3. Shape of You – Ed Sheeran
Now into modern hit territory comes none else than Ed Sheeran.
You probably heard this song a million times when it was topping the charts in 2017.
And although you might be a bit bored of it, you can't deny it's a great upbeat love tune to dance to.
4. Fell in Love With a Girl – White Stripes
Channeling all of his punk vibes, Jack White sings to us about how he fell in love with a girl once, and almost completely.
He then tries to rationalize it for the whole tune, perhaps he is not completely sure about it.
Probably because he is even doubting if it's considered cheating, so there might be a third party involved in this fleeting relationship.
5. Something – The Beatles
I once heard that "Something" is one of the best love songs ever without ever saying the word "love".
And that simple fact just makes it way better for me.
Expressing such feelings without stating the obvious, but leaving no room for doubt is just masterful songwriting.
6. Mystery of Love – Sufjan Stevens
From the soundtrack of the movie "Call Me By Your Name", comes this ethereal track from Sufjan Stevens.
Not too complex in melody, but with lush arrangements that grab your ear from start to end.
The lyrics have a nostalgic vibe to them, remembering the first moments of a relationship at the end of it, and wondering how long sorrow will last.
7. There is a Light That Never Goes Out – The Smiths
Is there anything more lovely than saying that if a double-decker bus crashes into you and your lover, dying by their side is such a heavenly way to die?
I guess not.
And surely Morrisey knows how to carry a melody around a song to make such outrageous lyrics feel adorable.
8. Barefoot in the Park – James Blake
When I first learned that Rosalia was collaborating with James Blake on a song I couldn't believe it.

I love both of them.
The result was Barefoot in the Park, a tune that mixes flamenco-style verses with an electronic landscape and gorgeous chorus that only James Blake could craft.
This is a track about the simple things of spending time with someone else.
9. I Want You – Mitski
This song by the great Mitski feels like a one-sided relationship that didn't work out.
She screams in the car how she loves her significant other because probably she can't say it face to face anymore.
10. Sofia – Clairo
I think Clairo is a bit pushy with Sofia on this one.
But hey, maybe that's how their relationship works, I'm not here to judge!
11. Lover, You Should've Come Over – Jeff Buckley
Jeff Buckley left us way too soon, and that's a shame.
Luckily he had enough time to leave behind an album of amazing tunes such as this one.
His delicate vocals coupled with his excellent taste in chords and melody define this song that feels like a movie.
12. Alison – Slowdive
As the top comment on that YouTube video says: "Shoegaze is the most depressing but uplifting genre of music"
You can almost feel how the lush soundscape embraces you for the entirety of the song.
This tune is about a couple that's trying some… "stuff" together, while the world goes by around them.
A different take on romance, but a very real one.
13. Baby I'm Yours – Arctic Monkeys
This is a cover song Arctic Monkeys recorded in 2006.
The original was written in 1965 by Van McCoy, and popularized by singer Barbara Lewis.
It's an incredibly sweet and melodic love song that will get stuck in your head the second you listen to it.
14. Your Song – Elton John
Truly a classic.
You can't put love in words better than Elton.
"Your song" goes through the things he would do for his lover if he had another set of skills, but ultimately to writing this amazing piece hoping they wouldn't mind.
As if someone would mind having this amazing melody composed for them.
15. Lover – Taylor Swift
"Lover" has a Christmassy vibe to it, especially because of the first verse.
It's a simple and effective song of a girl deeply in love, expressing her feelings for her significant other.
And what a way to do it.

Taylor never disappoints in delivering a banger.
16. Sea of Love – Cat Power
17. Can't Help Falling in Love – Elvis Presley
18. All of Me – John Legend
19. Something Stupid – Frank Sinatra, Nancy Sinatra
20. Yellow – Coldplay
21. Kiss from a Rose – Seal
22. Es Por Ti – Juanes
23. More Than Words – Extreme
24. Chasing Cars – Snow Patrol
25. I Don't Wanna Miss a Thing – Aerosmith
26. She – Elvis Costello
27. Your Body is a Wonderland – John Mayer
28. You Are So Beautiful – Joe Cocker
29. You're Beautiful – James Blunt
30. Love On Top – Beyonce
31. Nothing's Gonna Hurt You Baby – Cigarettes After Sex
32. Telepatía – Kali Uchis
33. This Love – Maroon 5
34. Lovesong – The Cure
35. Thank You – Dido
36. Sidelines – Phoebe Bridgers
37. Banana Pancakes – Jack Johnson
38. Isn't She Lovely – Stevie Wonder
39. Wicked Game – Chris Isaak
40. The Way You Make Me Feel – Michael Jackson
41. Lovefool – The Cardigans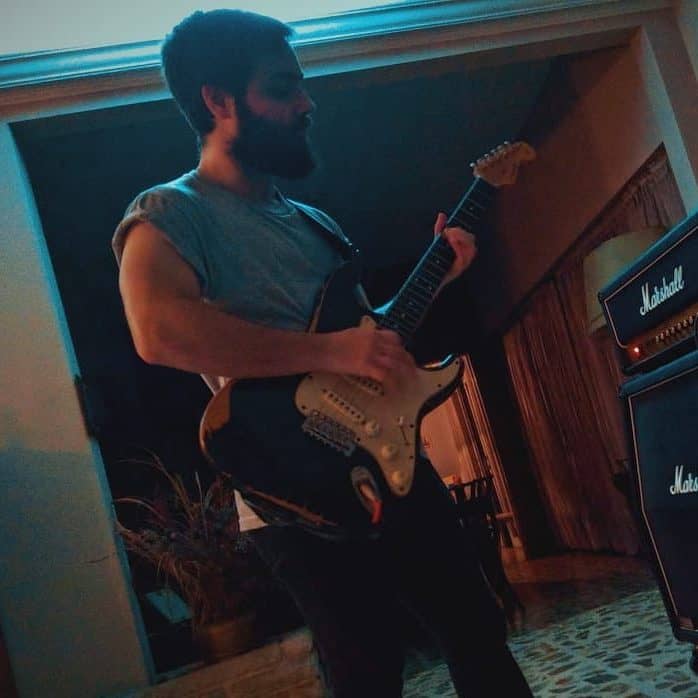 Hello there, my name is Ramiro and I've been playing guitar for almost 20 years. I'm obsessed with everything gear-related and I thought it might be worth sharing it. From guitars, pedals, amps, and synths to studio gear and production tips, I hope you find what I post here useful, and I'll try my best to keep it entertaining also.