Proposing to someone can either be the most nerve-wracking experience of your entire life, or the most natural progression in a growing relationship where once it's said and done, your soon-to-be spouse's "yes" becomes an "it's about time."
The following songs are great for setting the mood for a proposal.
1. A Thousand Years – Christina Perry
Fun fact about this song, there's a version where a male vocal lead sings along with Christina Perry on this.
But that aside, this is probably one of the most beautiful romantic love songs of the last few decades.
It's gentle, it's sweet and it sings of a patient wait to spend your life with someone.
Dying every day for someone and loving them for a thousand years is a pretty intense feeling of love and it's a perfect backdrop to a candle-lit proposal.
2. Perfect – Ed Sheeran
Ed Sheeran is a banger-dropping machine and Perfect doesn't fail to deliver on that account.
This is a song that could most likely sway a "maybe" to a "yes" if you play it during a proposal.
It's a calm reflection on the build-up to where you find yourself standing now.
It's a song about knowing someone is the one, not because of how you feel with them now, but how you've grown together as a couple.
3. Better Together – Jack Johnson
If you're more of a relaxed person or maybe you just have that beach lifestyle, Jack Johnson is for you.
Better Together is typical of Johnson's repertoire but doesn't fall short of being the kind of song you can get down on one knee to.
In it, Johnson talks about life and the journey we take and how it's better in pairs.
It's actually perfect for slow dancing together, so if you had that as an idea for a proposal, this is your song.
4. On Bended Knee – Boyz II Men
If you've looking for a proposal as makeup for a fight, this is probably the best song for it, but it's also an R&B staple.
This song is about a guy proclaiming his commitment so strongly that he would stay on his knees until his love returns to him.
That's a pretty strong feeling, but doubtless many can relate, so enjoy.
5. Love Story – Taylor Swift
I used to love listening to this song when I was a teen.
I'm a dude, but the lyrics still hit me in the feelings.
Being older and more experienced with love now, the understanding of why I loved this song has matured.
This is a song about more than just pure love, it's about love that overcame the odds.
Swift does do us the courtesy of changing the Romeo and Juliet story into a happy ending, but it remains innocent throughout.
I can really appreciate her older music as much as her newer stuff today.
6. I Was Made For Loving You – Tori Kelly Ft. Ed Sheeran
Seems like Ed has his hand in just about every modern love song.
I was made for you is full of hope and tenderness and vulnerability.
It's got that iconic acoustic feel that just gives the song a rawness that makes for a perfect proposal song.
I will recommend again and again, you can dance to this while proposing. Set the mood, lower the lights, spread the rose petals, make some space, slow dance, and then boom!
Down on a knee and propose at the end of the song and bam you're now engaged.
7. Grow Old With You – Adam Sandler
Man, who would think you'd be finding Adam Sandler on a proposal music list?
I almost misread the artist as Sam Adler for a second before remembering this song from the movie "The Wedding Singer."
It may have been sung in a romantic comedy, but this song is more romantic than comedic. It's a song all about your intentions with the person.
It sings about the mundane daily life and looking forward to that and I think this makes for a perfect song for proposing to.
8. I Swear – All-4-One
Another boy band, but everyone knows this song, even if you don't know the band.
This is a beautiful and slow song that isn't just a meditation on love, but it's a series of promises made throughout.
It's really a good backing to set the mood if you're having a night filled with romance.
It might be a number on a playlist of romantic songs to set the ambiance for when you're ready to propose.
9. Marry You – Bruno Mars
This one is a more lighthearted take on the concept of a proposal.
Bruno sings about an in-the-moment marriage ceremony after a night out with your lover.
I don't know if it's a great song for a serious proposal, but if you're of that spirit and both of you love Bruno Mars, then yeah, go with it.
I'd say it's probably a good choice if your significant other likes Bruno Mars a lot.
10. Just Say Yes – Snow Patrol
Just Say Yes is another one of Snow Patrol's high-energy yet calm songs.
It's hard to not like Snow Patrol, Garry Lightbody has such a pleasant voice to listen to, maybe it's the accent.
This is a bit of a synth-pop feel, but it's a great track for a starlit proposal with low light.
It really sets that feel for me, where the beat carries you forward into the moment.
11. Thinking Out Loud – Ed Sheeran
Another romantic Ed Sheeran song.
Ed Sheeran stated that at one point he got tired of this song because everyone and their cousin wanted to use it for their wedding ceremony.
It's a beautiful song nonetheless.
Thinking Out Loud isn't just about the proposal, but about everything that comes after and that's why it's on the list for me.
It's not just about the moment as a climax, but rather the moment as the beginning of a journey with someone, where you'll love them just as much at 70.
12. Truly Madly Deeply – Savage Garden
If you don't know the title, you'll know the song the second the chorus hits.
Truly, Madly, Deeply was a major hit for its time and has been used over and over in many movies too, that's probably how you'll recognize it.
It's a bit of an odd song because you would think Savage Garden is a rock band, but it's actually the most gentle-voiced man I've heard in a long time.
The song is all about wanting to spend the rest of your life with someone and finding meaning in that love you share with them.
Word to the wise though, don't form a relationship based on codependent love.
13. Make You Feel My Love – Adele
Finally, an Adele song that isn't about an ex. It's quite a beautiful pleading melody of Adele plainly stating how she wants to love the person the song is written to.
What I like about this song is that it's about a kind of love that builds up and supports and remains.
It may be a good song about long-lasting relationships, but it also works as a wedding song, as a lullaby for your child, and as a song you sing to the hostage you stalked and now have in your basement.
Well, maybe not the last one.
"Make You Feel My Love" is a beautiful and bare song and I like it and it belongs on this list because it's romantic.
14. Can't Help Falling in Love – Elvis Presley
Everyone knows this song and it has been a staple of romantic gestures since it was produced.
In fact, according to a survey by OnBuy, the song is the most popular choice for a first dance song at weddings.
Regardless of that, Can't Help Falling in Love is something that brings back memories of romance for all of us and it's a testament to how music can shape moments.
It's not so much about proposing, but it makes for a great proposal playlist song.
15. All of Me – John Legend
All of Me is a tender and simple piano love ballad, inspired by Legend's then-fiance- now-wife- Chrissy Teigen.
The song was literally written as a romantic gesture of proposal, which is pretty cool if you ask me.
As for the listeners, we enjoy the song because of its honest and vulnerable lyrics along with the gentle melody.
This song has been used many times in making proposals, and you won't be the last to use it either if you do.
10 more songs about proposals
| | |
| --- | --- |
| Title | Artist |
| Marry You | Bruno Mars |
| Marry Me | Train |
| Marry Me | Jason Derulo |
| Just The Way You Are | Bruno Mars |
| Let's Stay Together | Al Green |
| I Choose You | Sara Bareilles |
| I Do | Colbie Caillat |
| I Do (Cherish You) | 98 Degrees |
| Making Memories of Us | Keith Urban |
| The One | Kodaline |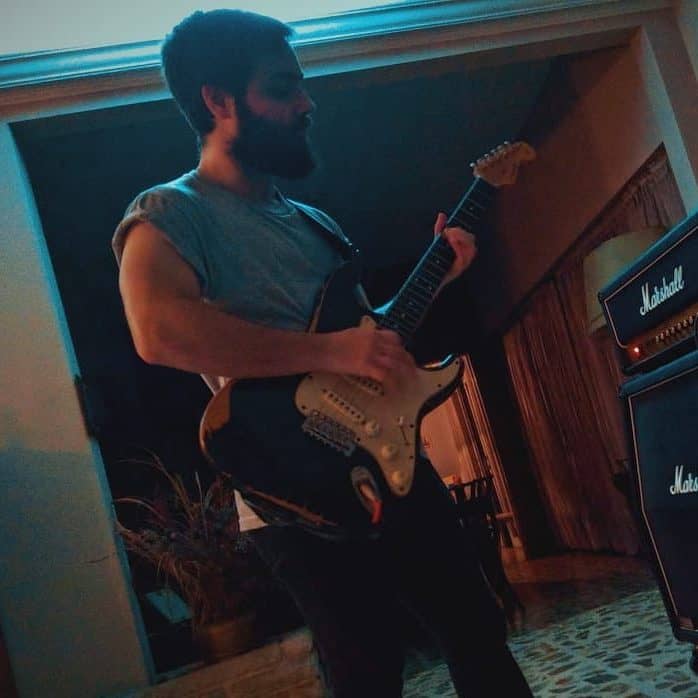 Hello there, my name is Ramiro and I've been playing guitar for almost 20 years. I'm obsessed with everything gear-related and I thought it might be worth sharing it. From guitars, pedals, amps, and synths to studio gear and production tips, I hope you find what I post here useful, and I'll try my best to keep it entertaining also.