If you are crushing on someone, it can sometimes be difficult to express that without coming across as awkward. 
Worry not though, because I have your back.
Here's a list of songs about crushes that you can send to your crush as an icebreaker or whatnot.
1. Can I Be Him – James Arthur
Can I Be Him was probably one of the songs I listened to the most when I was in my teenage "hopeless romantic" stage.
This song is all about crushing on someone when it's love at first sight and wishing you could be the one for them.
It's only made better by the warm and affectionate tone of James Arthur's voice.
If you're feeling brave, this is a really sweet song you could send to your crush.
Or you could play it while on a date and invite them for a dance and sweep them off their feet.
2. Treat You Better – Shawn Mendes
This song is all about crushing on someone who's already spoken for.
I would caution anyone who can relate to this song though to consider whether you really are a better match for your crush and whether it's not just the feelings getting the better of you.
However, if that's not the case, this is a relatable song about seeing the apple of your eye settle for another guy, and dreaming of taking his place.
3. Everything Has Changed – Taylor Swift Ft. Ed Sheeran
What a lovely song.
Ed Sheeran and Taylor Swift make a really great songwriting team.
This song reminds me of Swift's earlier writing when she still sang songs like "Love Story" which had an innocent spark of pure love.
Ed Sheeran's homely sound and voice just make this song next level. It's a perfect song for a love that has grown slowly and naturally.
It's a song about a love driven by pure motive, and frankly, I think that's the best kind of love.
4. Into You – Ariana Grande
This song is about being into someone and while it's reciprocal, the narrator wants things to heat up and is waiting for their partner to make a move.
This can often be the case when you're just starting to get to know someone and you're way more into them than they seem to be into you.
Take heart though, patience and love go hand in hand, but if you're wanting to set the mood or give your crush a clearer message, send them this song.
5. Crush – David Archuleta
This song is quite a throwback to 2008 when David won American Idol and produced this song.
It's an interesting one because Archuleta didn't write it himself and said that he didn't understand why people related to the song until he came out the previous year and kissed a man he was affectionate toward.
The song is typical of that 2008 pop sound, but its heartfelt lyrics and catchy composition make it a cut above the rest.
It's a perfect song to listen to when you're going through that odd stage in a relationship where you're more than friends but it hasn't been put out in the open and you're both waiting for the other to make the first move.
6. Call Me Maybe – Carly Rae Jepsen
Carly Rae Jepsen really made a banger when she released this song.
Call Me Maybe was the sound of 2011, topping its Canadian home charts and later American ones too.
This song is all about having a heated crush on a stranger and wanting to approach them and "make a move."
In fact, this song is kind of a hype song for that very purpose, and if you're afraid to approach your crush, you can try doing what the hook of the chorus says and just give them your number and say "Call me maybe."
7. You Belong With Me – Taylor Swift
This song is another hit from Taylor Swift. It's all about crushing on someone who's already taken, as can often be the case.
This song speaks of having intimacy with that person and knowing them, perhaps from having been friends for a long time, but now having feelings begin to grow.
This song is perfect for a star-crossed love.
8. Teenage Dream – Katy Perry
This song is all about young love and the rush of first love.
Katy Perry hearkens back to the feelings of youth that she had in this song and how her new lover inspires the same passion.
This song is not so much about unrequited love, but about being really into someone and wanting to take it to the next level.
9. Can't Help Falling in Love – Elvis Presley
The love song of love songs, "can't help falling in love" is about that irresistible magnetism you feel toward someone.
Elvis laments that he knows it's foolish to rush in, but he can't help himself either and when it comes to passion, I think for many of us that's often the same.
10. I Want To Hold Your Hand – The Beatles
Another oldie, the Beatles released this song way back, and it's been a lover's staple ever since.
It definitely is a sound of a bygone era though, but it doesn't mean that the words can't be related.
This song is about the desire to be physically close to your crush and just hold their hand and feel their presence.
It's a much more innocent kind of love expression than most modern music, which I quite like.
11. Things I'll Never Say – Avril Lavigne
When you're feeling down or like you missed out on an opportunity to express your love for someone, this is a good go-to song.
Avril Lavigne was really something back in her prime and this song is from that era. She's still good now, but she was better back when punk was her scene.
Anyway, "Things I'll Never Say" is a bit of a heartbreaker because it's about being in love with someone but knowing you'll never have the courage to admit it.
12. Stacy's Mom – Fountain Of Wayne
This one is for when you have that weird crush that's not on someone your age, but rather on their mom.
I think for many teenage boys, we had that one friend whose mom was a bombshell and our head was filled with teenage fantasies about her.
This song is about having a crush on your friend's mom.
13. Girl Crush – Little Big Town
Girl Crush is also an unusual track, but it's why it had to be on the forefront of this list.
This is about that unique crush feeling where you're not crushing on someone specifically, but you're more focused on the person they like.
This song is about envying the features of another and wishing you had what they had so that you could also have the person they have.
However, if you feel a relation to this song, I gotta say, don't dwell on this feeling.
At the end of the day, we're all unique and attractive in our own ways, and changing your appearance won't make you happier unless you do it from a point of self-acceptance first.
14. Bad Liar – Selena Gomez
Something more recent and memorable, Bad Liar is all about having someone on your mind and not being able to hide your feelings for them.
When you crush on someone, it's often pretty obvious and near impossible to conceal, and that makes you a "bad liar."
15. Check Yes or No – George Strait
Now, this is another unusual one, but I found it really sweet. It's a country track and starts off in the first verse with the singer calling back to the first time he fell in love. 
The song progresses from the innocence of childhood love to the maturing of adult love and the growth from one to the other.
George does a great job of tying both together and this is really a song for when you have someone that you've loved since before you knew what love was.
It's about the very rare kind of love that most people never get to experience, which is getting to marry someone you loved since you were kids.
10 More Songs About a Crush
| | |
| --- | --- |
| Title | Artist |
| I've Got a Crush on You | Frank Sinatra |
| Stuck like Glue | Sugar Land |
| Crush | Mandy Moore |
| Yeah Boy | Kelsea Ballerina |
| Jessie's Girl | Rick Springfield |
| Smile | Uncle Kracker |
| Beautiful Soul | Jesse McCartney |
| Clumsy | Fergie |
| Uptown Girl | Billy Joel |
| Crush | Jennifer Paige |
| Can't Get You Out Of My Head | Kylie Minogue |
| Teenage Dirtbag | Wheatus |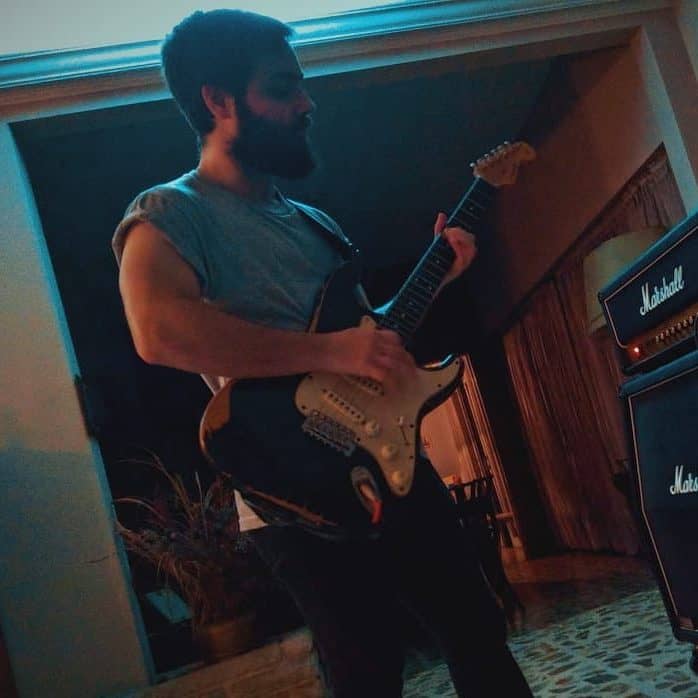 Hello there, my name is Ramiro and I've been playing guitar for almost 20 years. I'm obsessed with everything gear-related and I thought it might be worth sharing it. From guitars, pedals, amps, and synths to studio gear and production tips, I hope you find what I post here useful, and I'll try my best to keep it entertaining also.