Musical diversity characterized this strange decade.
New bands and artists appeared out of nowhere and quickly reached the top in their respective genres: pop, rock, metal, rap, and country.
However, the 2000s also presented a combination of these genres.
Metal bands added rap to their songs, and pop artists experimented with country. 
Indeed, there were plenty of fantastic songs at the beginning of the new millennium, and here we have gatherers some of the best.
1. How You Remind Me – Nickelback
Nickelback is a polarizing band: you either love them or hate them.
However, I believe it's fair to mention that How You Remind Me is an exception for the hater's side.
2. The Pretender – Foo Fighters
Dave Grohl has some kind of magic to write hits on every Foo Fighters album.
In the case of Echoes, Silence, Patience & Grace from 2007, we can mention Long Road To Ruin, and this one.
3. Seven Nation Army – The White Stripes
Most legendary guitar riffs were written in the late 60s and throughout the 70s. There are also some relevant ones in the 80s and 90s.
But in the 2000s? Well, I believe there is more quality than quantity.
In plain 2003, Jack White wrote one of the best riffs in history; one that it's catchy, instantly recognizable, and even easy to learn.
4. In The End – Linkin Park
I dare say that the greatest artist of the 2000s is Linkin Park; but not because of personal preference.
Linkin Park took nu-metal to a different level. It blended it with pop and electronic elements and gave birth to a musical hybrid that no other group had done before.
Not to mention, Linkin Park provided refuge to thousands of hopeless adolescents who struggled with depression and suicidal thoughts.
5. Poker Face – Lady Gaga
Preferences aside, Lady Gaga is the most influential female pop star after Madonna.
Although her career truly skyrocketed in the 2010s, she gave us a little sample of what was about to come with this song.
6. Feel Good Inc. – Gorillaz
An incredible and memorable bass line that everyone recognizes.
Gorillaz released Demon Days in 2005, which also contains fabulous hits like Kids With Guns, Dare, and Dirty Harry.
7. Hung Up – Madonna
Madonna took a sample from a famous ABBA song and, oddly enough, made another renowned song of her own.
The Queen of Pop demonstrated she still had the ability to make radio hits despite being far from the 80s.
8. Stan – Eminem
Similar to the Madonna case, this song features a sample from a different one.
Eminem took a part of Thank You by Dido, and the rapper added his own lyrics.
The result was this outstanding, chill-out masterpiece, that shows the relevance of combining forces.
9. Back To Black – Amy Winehouse
Amy Winehouse barely released two studio albums during her short musical period.
Nonetheless, this teaches (once again) that quality is better than quantity.
Of all her hits, I think this one is the most popular.
10. Hips Don't Lie – Shakira
One of the best Shakira songs in her career.
The title is a reference to an internal joke between Shakira and her band musicians.
If Shakira didn't move her hips at the sound of the band, then it meant that there was something off.
Contrarily, if the hips did move, then the music was top-notch.
11. Fluorescent Adolescent – Arctic Monkeys
Do you know what happens when you gather a group of mobsters and make them fight against a gang of clowns?
If you don't, then you haven't checked this video that appeared on every music TV channel during the 2000s.
12. Like A Stone – Audioslave
Like A Stone achieved the goal of 1B+ views on Youtube not long ago, making it one of the very few Rock songs that have done it.
13. It's My Life – Bon Jovi
Bon Jovi added two "easter eggs" (or more precisely, references) to two songs in the lyrics for It's My Life.
One is Sinatra's My Way, which more or less, shares the same message than It's My Life.
The other one is Bon Jovi's Livin' On A Prayer, where Tommy and Gina, the protagonists of the song, make a comeback.
14. Boulevard of Broken Dreams – Green Day
Green Day reinvented itself with American Idiot, an opera-punk packed with hits.
It's almost impossible to pick one song, but I believe Boulevard of Broken Dreams earned more fans from every genre.
15. In Da Club – 50 Cent
50 Cent's first single was In Da Club, from the 2003 album Get Rich or Die Tryin'.
Needless to say, 50 Cent tried it and succeeded. This success was, in part, thanks to this song.
16. Bring Me To Life – Evanescence
Evanescence started out with a fantastic song, which, funnily enough, ended up as a meme with the passing of time.
The music video has some goofy parts that didn't stand the test of time, and the chorus is just too epic not to be used in jokes.
Oh, but don't misunderstand me. This song is awesome!
17. Decode – Paramore
Paramore provided a handful of hits in this decade, such as Brick by Boring Brick, That's What You Get, Misery Business, and Ignorance.
Decode, however, could be the highlight thanks to the movie Twilight from 2008.
18. Chop Suey! – System of A Down
Chances are, Toxicity is in the top five metal albums of the 2000s.
Aerials, Prison Song, Psycho, Deer Dance, and our pick for this list make the record earn its place.
19. Drop It Like It's Hot – Snoop Dogg
Featuring Farrell Williams and produced by The Neptunes, Drop It Like It's Hot was an instant success.
It peaked at the top of the US Billboard Hot 100 for three consecutive weeks.
20. Jaded – Aerosmith
21. Gold Digger – Kayne West
22. Hey Ya! – OutKast
23. Sorry – Buckcherry
24. Welcome To The Black Parade – My Chemical Romance
25. Mr. Brightside – The Killers
26. Can't Stop – Red Hot Chili Peppers
27. Kids – MGMT
28. Yellow – Coldplay
29. No One Knows – Queens of The Stone Age
30. This Is The New Shit – Marilyn Manson
31. Toxic – Britney Spears
32. Crazy – Gnarls Barkley
33. Take Me Out – Franz Ferdinand
34. Ruby – Kaiser Chiefs
35. Hella Good – No Doubt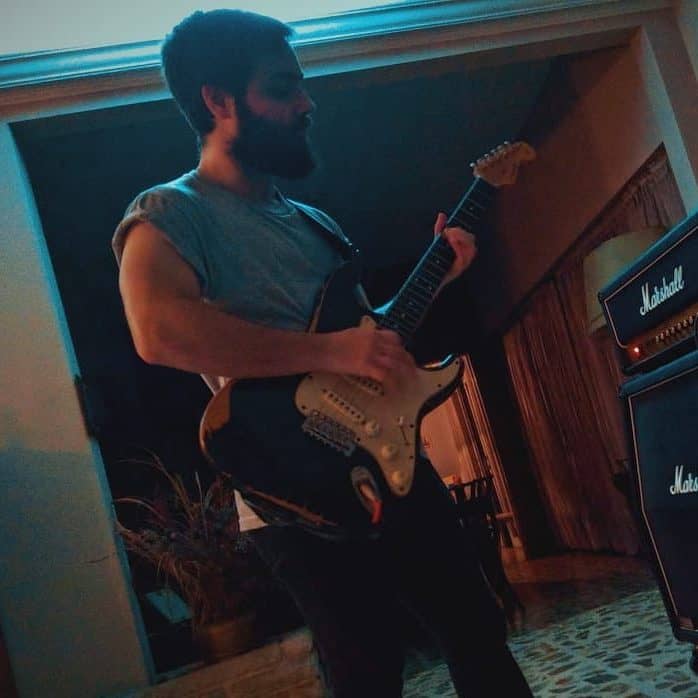 Hello there, my name is Ramiro and I've been playing guitar for almost 20 years. I'm obsessed with everything gear-related and I thought it might be worth sharing it. From guitars, pedals, amps, and synths to studio gear and production tips, I hope you find what I post here useful, and I'll try my best to keep it entertaining also.