Faith is a universal human experience that has been explored in music for centuries, inspiring countless songs that touch the hearts of millions around the world.
From rock to gospel, pop to country, and everything in between, faith has been a recurring theme in all genres of music.
These songs capture the essence of what it means to have faith, to believe in something greater than ourselves, and to draw strength from that belief.
They explore the struggles and triumphs of faith, the doubts and questions that come with it, and the hope and joy that it brings.
In this article, we will explore 19 of the most powerful and moving songs about faith. We will look at the stories behind these songs, their cultural significance, and the impact they have had on listeners around the world.
Whether you are a person of faith, someone seeking inspiration and guidance, or simply a music lover, these songs are sure to touch your heart and leave a lasting impression.
So sit back, turn up the volume, and let these songs of faith speak to your soul.
1. Faith – George Michael
Released in 1987 and included in the album of the same name, Faith is a wonderful pop song that reached massive commercial success.
Although this wonderful song has been interpreted as a metaphor for faith and religion, its message is ambiguous.
The track might also reference George's experience struggling with religious beliefs as a gay man.
The piece's catchy chorus became an iconic pop culture reference.
2. Learn To Fly – Foo Fighters
Faith is not always a visible sign and as this hard rock song suggests, we can find it far beyond religious issues.
Released in 199o from the album There Is Nothing Left To Lose, Learn To Fly is primarily about perseverance, self-improvement, and the desire to rise above difficult circumstances.
Through his singing, Dave Grohl encourages the listener to make a move and take action towards achieving their goals, even if the path forward may be challenging.
3. Keep the Faith – Bon Jovi
Faith is always a synonym for hope and perseverance and this song encourages everyone never to give up.
Included in the 1992 album of the same name, this strong track is a must for the group when playing live.
The lyrics express that no matter the challenges you face, you have to believe in yourself to overcome them.
4. Hallelujah – Leonard Cohen
Most people remember this song from the Shrek soundtrack but in fact, it is a Leonard Cohen hit from all time.
Released in 1984 this folk rock song took part in the album Various Positions and uses religious language and imagery to explore themes of love, loss, and redemption.
Although its meaning is open to interpretation and can vary depending on the listener's perspective, the song has a strong connection with faith.
In addition to that, the word "Hallelujah" is a Hebrew word meaning "praise the Lord."
5. Give Me Faith – Elevation Worship
Released in 2010 and being the seventh track in the album Kingdom Come, this song expresses a heartfelt desire for a deeper connection with God and a greater trust in His plan.
This track asks for a sign of spiritual guidance and a willingness to surrender to a higher power.
6. Personal Jesus – Depeche Mode
In 1989, the British group Depeche Mode released a single called Personal Jesus, which served as a preview for their 1990 album Violator.
This song can be interpreted in many different ways.
On the one hand, it can be seen as a metaphor for the idea of a powerful figure who can provide support in difficult times.
On the other hand, it can be understood as a commentary on the nature of relationships and the way people can project their desires and needs onto others.
7. With Arms Wide Open – Creed
This rock song was a commercial success, reaching the top of the charts in several countries.
Released in 1999 as a single from their second studio album Human Clay, With Arms Wide Open won the band a Grammy Award for Best Rock Song in 2001.
The song connects to faith, expressing gratitude and wonder to a higher power for the gift of new life.
Through the lyrics, the song describes the experience of becoming a parent and feeling a sense of awe and reverence for the miracle of creation, which can also be seen as a reflection of some religious or spiritual beliefs.
8. The Prayer – Céline Dion
This beautiful song performed by Celine Dion and Andrea Bocelli was released in 1999 and included in the album These Are Special Times.
The track can be seen as a reflection of some religious or spiritual beliefs about the importance of prayer and the role of a higher power in providing comfort and guidance.
Besides, it describes a longing for spiritual connection and a belief in the power of faith to overcome adversity and bring people together.
The combination of Dion and Bocelli's voices creates a powerful and emotive sound that captures the essence of the song's message and becomes the piece in a timeless classic that continues to inspire listeners today.
9. Factory Of Faith – Red Hot Chili Peppers
Released in their 2011 album I'm With You, this catchy funky song appears to be about the search for meaning and connection in life.
In this track, the narrator expresses his desire to find a partner who shares his values with.
The singer suggests that he has spent his life chasing after superficial pleasures and material success but has ultimately found emptiness in these pursuits.
In general, the piece is about the search for spiritual fulfillment and how important are both love and faith.
10. Walk by Faith – Jeremy Camp
Walk by Faith, is a very well-known Christian song published in 2002.
Included in the album Stay the track was created while the author and his wife were enjoying their honeymoon.

The song encourages the listeners to have faith in God and his guidance, even through adverse situations.
Besides, it emphasizes the importance of walking by faith and not by sight and relying on God's promises instead of our own understanding.
11. I Believe I Can Fly – R. Kelly
12. Faith – Kendrick Lamar
13. This Little Light of Mine – Traditional Gospel Song
14. Full Of Faith – Cody Carne
15. Great is Thy Faithfulness – Thomas Chisholm
16. Higher Love – Steve Winwood
17. Lost My Faith – Seal
18. Faith of the Heart – Rod Stewart
19. Have a Little Faith in Me – John Hiatt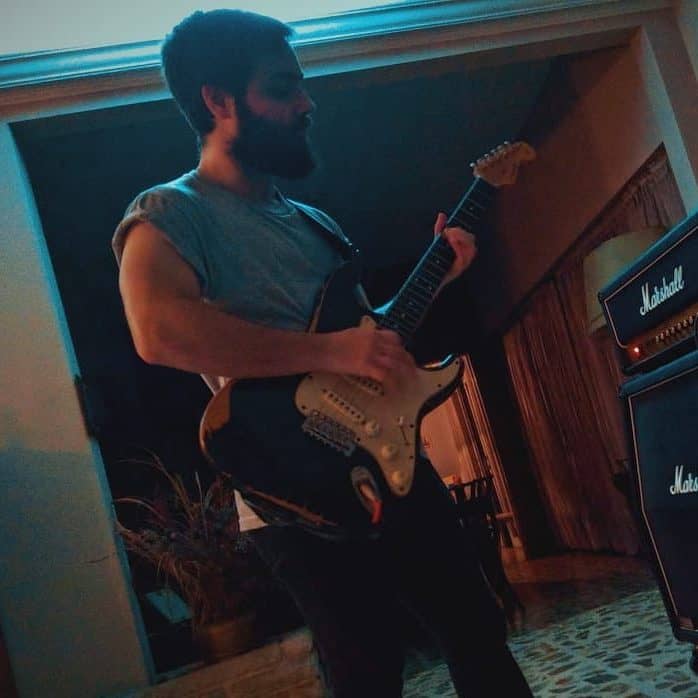 Hello there, my name is Ramiro and I've been playing guitar for almost 20 years. I'm obsessed with everything gear-related and I thought it might be worth sharing it. From guitars, pedals, amps, and synths to studio gear and production tips, I hope you find what I post here useful, and I'll try my best to keep it entertaining also.