Nick Drake.
A British singer-songwriter that made introspective and hauntingly songs. He released three studio albums during his lifetime between 1969 and 1972.
Unfortunately, Nick struggled to find commercial success and largely remained unknown while he was alive. It was only after his death that his music gained widespread recognition.
Today, Nick Drake is considered a seminal figure in the development of British folk genres and many other artists.
So, it is wise to pay respect to his legacy and influence with his very best songs.
1. Hazey Jane II
Hazey Jane II is the perfect combination of calming, yet moving music and witty poetry.
This song is, in part, about the ending of friendships and worrying about the future.
Nick constantly wonders "What will happen when…" over and over again. It seems that the best answer to that question was simply to create a song, and wait for things to unfold.
2. Time Has Told Me
This song is important not only because it's a perfect example of how to play folk beautifully.
It's also relevant because, thanks to Time Has Told Me, British alternative Rock group The Cure found a name for the band in the lyrics.
More precisely, the line that says "A troubled cure for a troubled mind"
3. Fruit Tree
The song's lyrics reflect Nick's personal anxieties and worries regarding his musical career. More precisely, he was thoroughly afraid of becoming a forgotten artist.
One could say that the fruit from this tree is bittersweet. After all, Nick Drake is a well-known cult artist; admired by colossal acts such as Blur, R.E.M., Elton John, Opeth, and The Black Crowes.
However, this recognition came after his death at the age of 26.
What do you say? Do you think it was worth it anyway?
4. River Man
River Man features Robert Kirby providing a splendid string arrangement.
The song appears on the debut album Fives Leaves Left from 1969. A great song to have on a first album, indeed.
5. Hazey Jane I
The contrast between Hazey Jane I and II is quite noticeable.
The second has a more upbeat melody, while this one is blatantly relaxing.
Choosing the best between the two is a matter of personal preferences.
6. From The Morning
Compared to other songs in this list, From The Morning takes Drake's sensitivity and leads it in the opposite direction.
There is no gloomy metaphor whatsoever. On the contrary, it reveals a heart-warming hope and appreciation for experiencing another day in this lifetime.
7. Sunday
Naturally, a song titled Sunday had to transmit serenity and peace.
What's fascinating about it is that no words were used to express these emotions. As usual, one must let the music do the talking.
8. Fly
Fly presents Drake's delicate acoustic guitar picking and introspective vocals.
The lyrics, like so many other songs, are poetic and almost dreamlike. They describe a craving to escape from this world, flying to a place where peace and freedom teem.
9. Time of No Reply
The opening verse provides a vivid image of a changing of seasons.
Summer is gone and fun is over. Now, autumn is here to stay.
The fall emptied the streets and the roadside; everything sharing a landscape that has been seen before.
It's incredible, but two lines into the song and the lonely atmosphere of a windy autumn day can almost be smelt.
10. Pink Moon
Pink Moon is a mysterious song. All in all, we could argue that it's a mysterious album as well.
Naturally, the record Pink Moon got Nick Drake playing along on an acoustic guitar and a piano – no accompanying band whatsoever.
But going back to the song, we claim it's mysterious simply because it's hard to deduce what the pink color moon represents in real life.
Each one to its interpretation, then…
11. Parasite
This song expresses a self-damaging emotion that most people have dealt with at any time.
Believing that one's a parasite is soul-consuming and a consequence of low self-esteem.
It seems that Nick Drake struggled with this belief and found a refugee in pouring his thoughts on a song.
12. Black-Eyed Dog
Ironically, Black Eyed Dog saw the light of day after Nick Drake passed away.
Some state that this creation is one of the darkest songs Drake has ever written.
After all, we find the songwriter yearning for leaving to somewhere else; yearning for a home.
It makes the lyrics gloomier considering that Drake died not long after recording the song.
13. Place To Be
Place To Be is a clear example of Nick's talent to write poetry and blend it into music.
It appears in the 1972 album Pink Moon.
14. Northern Sky
A poetic romantic song that focuses on the emotions that come after falling in love.
If you ask me, this is a great selection to dedicate to your crush the next Valentine's day. Food for thought…
15. Which Will
A moving song that reflects upon the passing of time and the choices we make.
Living in the present moment is a difficult task for many. Our heads are always busy with unexplored ideas and future plans that need to be tackled.
However, I strongly believe that we need to consciously make an effort not to forget about the present. After all, it's the only thing we got.
Maybe listening to this song will help you master this exercise.
16. At the Chime of A City Clock
17. Things Behind The Sun
18. Know
19. Cello Song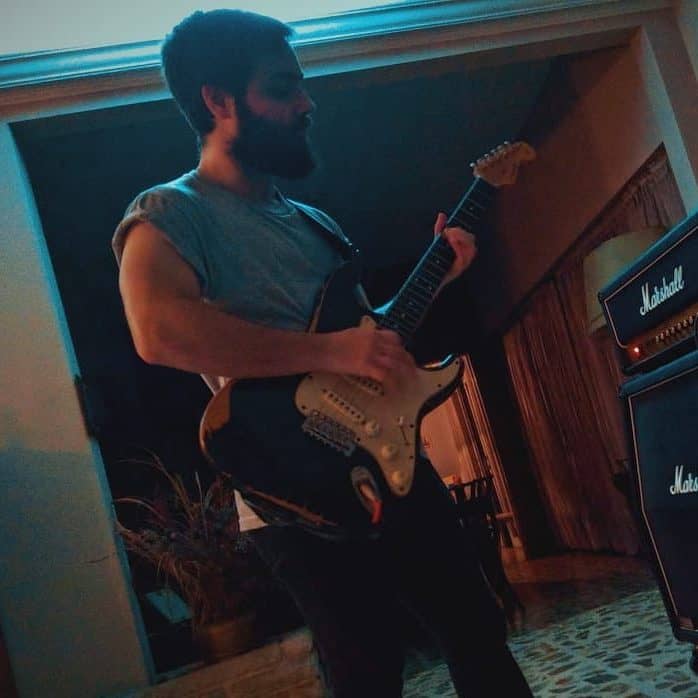 Hello there, my name is Ramiro and I've been playing guitar for almost 20 years. I'm obsessed with everything gear-related and I thought it might be worth sharing it. From guitars, pedals, amps, and synths to studio gear and production tips, I hope you find what I post here useful, and I'll try my best to keep it entertaining also.