In some form or another, the idea behind what modern guitarists think of as slide guitar has been around for a long time in different parts of the world.
But it is probably the lap steel guitar that is usually thought of as its main predecessor.
Like most of you reading this though, I don't have that instrument. So the closest thing I can do is use a slide on an acoustic or electric guitar.
And there are plenty of musicians and songs to learn from, with a rich history going back one hundred years to the first recorded slide guitar.
There are some key players who got the ball rolling in the Blues genre and many guitarists will know players like Muddy Waters, Elmore James, and Earl Hooker.
But Rock guitarists soon gave the idea a try too with George Harrison, Duane Allman, and Bonnie Raitt all using a slide to enhance their sound.
These days it is Derek Trucks of the Tedeschi Trucks Band that is usually hailed as the torchbearer of the style.
And in interviews of him that I have seen, he is very humble about his talent and says he mostly owes his musical prowess to trying to play like Duane Allman.
But there are other applications beyond Blues and Classic Rock, with many Shoegaze and Indie / Art Rock artists using slide guitar to create harmonic noise.
So if you want to explore this style and learn how to play some great tunes, this list will explore some songs that are based almost entirely on using a slide as well as some songs that use it sparingly in famous or interesting ways.
The good news is that a metal or glass slide is one of the cheapest guitar accessories you'll probably ever buy!
Just be warned that it takes some practice to get the Midas touch that makes the vibrato sound alive and a large number of slide guitar songs involve open tunings too!
1. My Sweet Lord – George Harrison
While all of the Beatles boys had solo careers after the band broke up, George Harrison's writing abilities really took some people by surprise.
He had written some beautiful songs like Something, While My Guitar Gently Weeps, and Here Comes the Sun while in the Beatles, but Lennon and McCartney were supposedly pretty selfish when it came to who could write the songs.
And when he was finally on his own, Harrison started to make more use of slide guitar for some very tasty licks.
This song, which deals with his religious affiliation with the Hare Krishna movement (he was a strong believer in chanting) has some very memorable slide parts that give the song an "Eastern" flavor.
The credits on this song are pretty impressive, but it's a great introduction to anyone looking to play slide guitar, even if you don't have Eric Clapton, Peter Frampton, and Ringo Starr playing along with you.
And here's a lesson:
2. Bad to the Bone – George Thorogood and The Destroyers
If you've heard some of George Thorogood's songs about alcohol such as I Drink Alone and One Bourbon, One Scotch, One Beer, you know he's not the type of guy to do something halfway.
So on this track where he plays slide guitar, it's the driving force behind the song rather than being limited to a riff or solo.
The song uses an open D tuning of DGDGBD so the whole fretboard is available for some old-fashioned Swamp Blues jamming.
So if you don't mind changing the tuning of your guitar this is another one that beginners may find approachable as the main riff is quite simple.
And here's a lesson:
3. When the Levee Breaks – Led Zeppelin
Zeppelin's fourth album was a mind-blowing experience with what many people consider to be some of the band's greatest songs.
And the last track didn't disappoint either, as the band played a cover of a much older song from the 1920s.
It's a pretty complicated rendition with a tuning of CFCFAC, harmonica, and some recording studio tricks that meant the song wasn't often part of their live shows.
But some tab versions just tune the 1st through 4th strings differently to play it (EACFAC).
Whichever you choose to do, this is an incredibly fun song to play.
And once you have the vibrato mastered, it's also one that sounds decent if you're playing solo.
And here's a lesson:
4. 100 Percent – Sonic Youth
There's a whole other side to slide guitar that deals with bands that are associated with Shoegaze, Art Rock, Noise Rock, and other styles.
Because what might sound like sloppy playing to some people sounds like wonderful chaos to others.
This is one of Sonic Youth's biggest songs and guitarist Thruston Moore makes use of a slide for some extra harmonics.
And it's a natural fit for this band that famously used dozens of different tunings, which is where slide guitar really shines.
But using slide guitar in a nontraditional way was just the tip of the iceberg for Sonic Youth, who even used power drills as instruments in some of their songs!
And here's a cover where you can get a closer look at how to play the song.
5. End of the Line – Traveling Wilburys
For a star-studded cast of players, you'd have a hard time putting together a better super group than the Traveling Wilburys.
The band was made up of Tom Petty, Bob Dylan, Roy Orbison, Jeff Lynne, and George Harrison, of which sadly, only two members still survive today.
This famous song has a catchy "feel good" vibe with all of the maestros cooperating in harmony and none of the tension between members that so often plagues bands.
And it's not a tune that is dominated by slide guitar but you can catch George Harrison using a slide to add some twangy goodness to the song, a lesson in the benefits of moderation and knowing when to stay in the pocket.
Importantly, you can play the song with D A, and G chords, all of which can be done with three fingers leaving your pinky finger free to use a slide as Harrison does in the video.
And here's a lesson:
6. Seven Nation Army – The White Stripes
Jack White really is a phenomenon when it comes to making guitar, vocals and drums sound absolutely huge.
Not only did the White Stripes forget about having a bass player, but Jack White also famously played "cheap" Silvertone / Japanese import-type guitars that usually look better than they play in my experience.
There were some effects doing some of the heavy lifting for sure, but I think raw energy and stage presence helped too.
Everyone knows this song and it's obviously famous for being one of the easiest guitar songs to learn, but most lessons skip the simple but powerful slide guitar solo.
And here's a lesson:
7. How Soon Is Now? – The Smiths
Link to tab (chords)
(The slide hook is going from the 14th to the 13 frets on the second and third strings with the second string tuned down a half step to Bb).
8. Something to Talk About – Bonnie Raitt
Link to tab (chords)
9. Midnight in Harlem – Tedeschi Trucks Band (Derek Trucks)
Link to tab (chords)
Link to tab (slide solo)
10. Breathe in the Air – Pink Floyd
Link to tab (full tab)
Link to tab (slide sections only)
11. Lookin Out My Back Door – Creedence Clearwater Revival
Link to tab (chords)
Link to tab (detailed slide tab)
12. In My Time of Dying – Led Zeppelin
13. Sweetest Perfection – Depeche Mode
14. The Joker – Steve Miller Band
Link to tab (chords)
Link to tab (detailed slide tab)
15. Loser – Beck
16. Victim of Love – Don Felder (song by The Eagles)
17. Back Door Man – Willie Dixon
18. Radio Ga Ga – Queen
19. George Harrison – Give Me Love (Give Me Peace on Earth)
Link to tab (whole song)
Link to tab (slide guitar tab)
20. Dust My Broom – Elmore James
21. Feelin' Bad Blues – Ry Cooder
22. Rocky Mountain Way – Joe Walsh
Link to tab (tab for full song)
Link to tab (slide guitar parts)
23. Don't Keep Me Wondering – The Allman Brothers
Link to tab (chords)
24. I Can't Be Satisfied – Muddy Waters
25. Statesboro Blues – The Allman Brothers
Link to tab (chords)
Link to tab (slide guitar tab)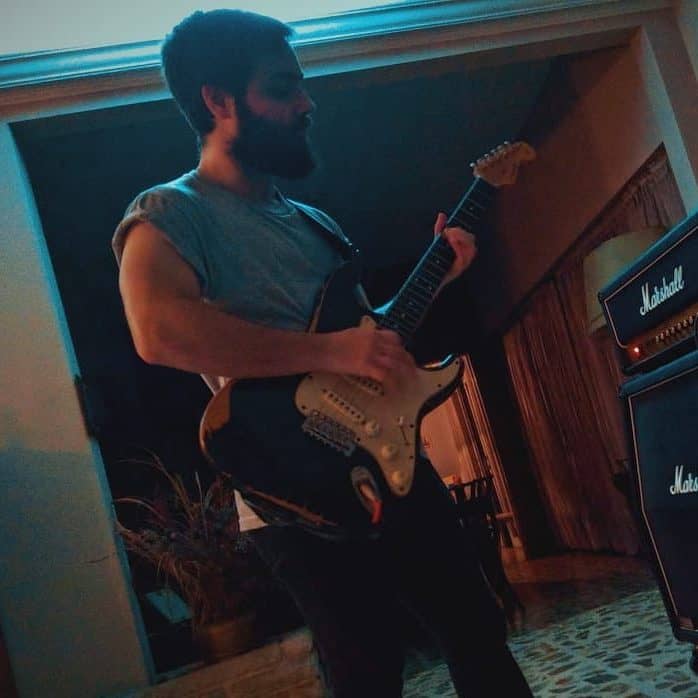 Hello there, my name is Ramiro and I've been playing guitar for almost 20 years. I'm obsessed with everything gear-related and I thought it might be worth sharing it. From guitars, pedals, amps, and synths to studio gear and production tips, I hope you find what I post here useful, and I'll try my best to keep it entertaining also.