If someone calls you a Hippie do you feel offended or take it as a compliment?
Since you're here and want to learn some cool Folk songs, I'm going to assume it's the latter.
But Folk music is a funny term to define. It is supposed to mean any country or culture's traditional music that deals with folklore or uses traditional instruments.
These days, however, I think it is used more to describe the style of music than the actual content.
And in English-speaking countries, it is inseparable from the mostly acoustic music of the 1960s and 1970s.
With acoustic guitar as the most popular Folk instrument, the genre is ripe with songs waiting to be learned by eager young guitarists.
But wait… There is often a lot of finger-picking involved as part of the sound.
Well, some of that can be sidestepped for now, but we're definitely not going to be exploring any Roy Harper songs today.
But be warned that if you really want to play Folk music guitar you must tackle fingerpicking at some point!
So grab some patchouli and your trusty acoustic (or electric) and let's take a look at some songs that party like it's 1969.
1. Season of the Witch – Donovan
Donovan was a master of Folk / Psychedelic Rock and one of my personal favorites.
This song obviously has more than just acoustic guitar to give it some atmosphere but this is a prime tune to perform solo too.
The chords are really simple, but you need to listen to the song until you know it well to be able to play the song with accuracy.
And you can hit the bass note of each chord before strumming the full chord to give it a nice chugging rhythm.
Here is how the song goes.
Intro: A7 D7 (four times)
Verse: A7 D7 (six times, but sometimes less)
Chorus: A7 D7 (four times) D7 E7 A (3 times)
And here's a lesson:
2. Brand New Key – Melanie
This song is another gem from the early 70s, that just seems to sound better with time.
Although I think the reference to roller skates that need a key might have young people scratching their heads these days!
You can strum it or use a more complex picking approach depending on your ability.
Put a capo on the first fret if you want to match the recording.
Here is the song:
Verse: C G7 C F G7
Chorus: C F G7 C
Bridge: C F G C
And here's a lesson:
3. Sugar Man – Sixto Rodriguez
Like a lot of people, I never knew about this guy's music until the documentary Searching for Sugar Man came out.
But I'm so glad that I discovered this stuff and I recommend checking out his albums and watching the movie if you haven't seen it.
A lot of the most famous Folk music was obviously influenced by "substances" and the songs often referenced it by way of euphemism.
But this song didn't try very hard to mask what the song was about, with the sugar man being a drug dealer.
Here are the parts of the song.
Intro: Am E Dm7 E
Verse: Am E Dm9 E Dm7 E Am (two times) – Dm9 is like D7 but with the high E string open
Chorus: C Am D7 F C Am F Bb E
And here's a lesson:
4. All Along the Watchtower – Bob Dylan
I don't think it's ethical to discuss Folk music guitar songs without including at least one Bob Dylan song. Even to this day, he remains the face of the genre for many.
Although Jimi Hendrix took this one to dizzying new heights, the original song's guitar part is quite simple, relying on harmonica to round out the sound.
You'll need a capo on the fourth fret for this one to match the recording.
Here is the song: Am G F G
(Or you can just play C#m B A B if you don't have a capo to use.)
And here's a lesson:
5. Give Peace a Chance – Plastic Ono Band
This is the ultimate "Make Love Not War" protest song written by John Lennon and performed in a live sing-a-long with Yoko Ono and friends.
The song is just two chords and most people use D and A, although some people opt for C and G instead.
Basically, you stay on the D chord for the verse and then go to D A D for the chorus refrain.
And I feel like this is a great song to adlib the verses rather than try to remember the exact lyrics, so update it to reflect the social issues of today and have fun with it.
And here's a lesson:
6. The Sound of Silence – Simon and Garfunkel
Simon and Garfunkel were powerhouses of the Folk movement, but unfortunately, a lot of their songs aren't really easy for beginner guitarists.
Their song Cecelia needs only three open chords, but since we can't keep avoiding fingerstyle guitar forever, let's turn up the difficulty with The Sound of Silence.
The video tutorial below simplifies the song a little and can help you learn the picking pattern so don't worry!
Here is the chord progression for the song (put a capo on the sixth fret to play along with the recorded track).
Intro: Asus2
Verse: G Am F C F C F C C/B Am C G Am
It may look like a lot of chords but it is easy to do if you know the melody of the song by heart!
And here's a lesson:
7. When I'm Gone – Phil Ochs
8. Can't Find My Way Home – Blind Faith
9. Trouble – Cat Stevens
https://www.youtube.com/watch?v=kCrCtE4WBjU (barre chords)
Link to tab (played with open chords)
10. Big Yellow Taxi – Joni Mitchell
11. Teach Your Children – Crosby, Stills, Nash, and Young
12. Fast Car – Tracy Chapman
13. Diamonds and Rust – Joan Baez
14. Cold Cold Ground – Tom Waits
15. Drunken Angel – Lucinda Williams
16. Take Me Home Country Roads – John Denver
17. I Got a Name – Jim Croce
18. The Weight – The Band
19. Song to the Siren – Tim Buckley
20. Mellow Yellow – Donovan
21. Don't Think Twice It's All Right – Bob Dylan
22. Scarborough Fair – Simon and Garfunkel
23. Redemption Song – Bob Marley and the Wailers
24. Now That I Know – Devendra Banhart
25. Kumbaya – Peter Paul and Mary
(Key of D)
Link to tab (Key of C)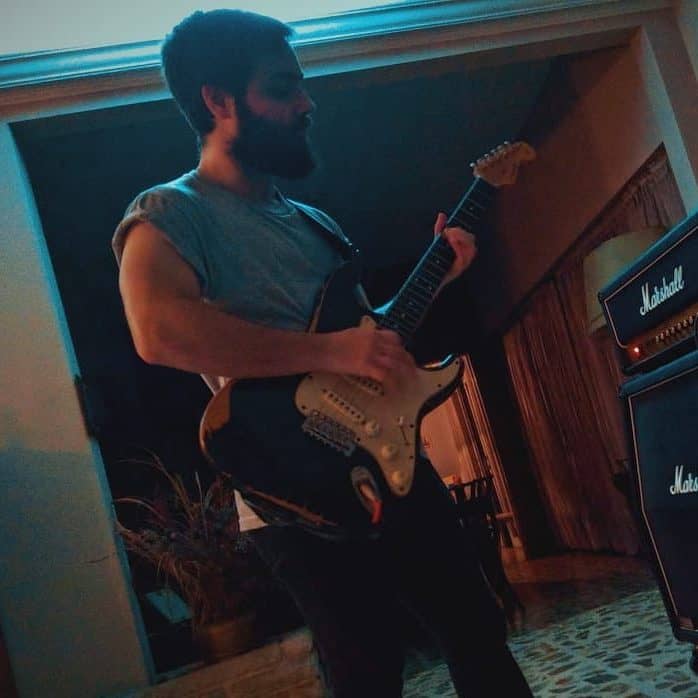 Hello there, my name is Ramiro and I've been playing guitar for almost 20 years. I'm obsessed with everything gear-related and I thought it might be worth sharing it. From guitars, pedals, amps, and synths to studio gear and production tips, I hope you find what I post here useful, and I'll try my best to keep it entertaining also.