Learning to play an instrument such as the guitar can be a lifelong journey.
And it's one that can net you a lot of fun and satisfaction along the way, even if you never play sold-out concerts at stadiums.
But many players who start don't make it past the first year…
And I know that it can be frustrating to build momentum at first, especially if you are trying to teach yourself via resources on the web.
If you're anything like me, you may find that practicing scales and exercises isn't very exciting.
Yes, of course, they're useful, but it's all about the music, right? And the songs are what will keep you inspired to keep going.
But don't think for a second that you're going to pick up a guitar and start playing something like Playing God by Polyphia. That's a long way off!
So here is a cool collection of songs that will help you get started.
Just pick a handful of songs that pique your interest and you can build your strumming, cowboy chord, and barre-chord abilities while having fun.
1. Leaving on a Jet Plane – John Denver
This song is simple, classic, and beautiful, making it a perfect song to learn for beginners.
It's definitely one that most people will know, whether they're young or old.
The song is fingerpicked in the recording but you can just focus on strumming the chords because training your fretting hand to comfortably change chord shapes is the first step.
Here is how the song is played.
Intro: D
Verse: G C G C G C D (two times)
The chorus uses the same chords!
Just rest on the D chords at the end of the chorus a little longer to match the vocals.
And here's a lesson:
2. Wonderful World – Sam Cooke
This song ups the ante to six chords, which include some 7th chords.
But none of them are difficult to play. And if you still haven't started using your pinky finger, this is a perfect tune for you.
Plus it's a good one to learn for Valentine's Day or your significant other's birthday too.
You should use a capo at the fourth fret to match the actual recording.
But you can play it without one, especially if you plan on singing along and can't match Sam Cooke's vocal range.
Here is the layout of the song.
Intro: G Em
Verse: G Em C D (two times)
Chorus: G C G C D G (the final chorus adds an extra D G at the end)
Bridge: D G D G A7 G A7 D7
And here's a lesson:
3. Jesus Don't Want Me for a Sunbeam – Nirvana
During Nirvana's famous Unplugged in New York concert, the band added several cover songs to their set list, including this one by a Scottish band called The Vaselines.
This song uses very basic chords and offers an opportunity for beginner players to practice something I'll call "economy of movement" for lack of a better term.
For myself and probably most players, learning chords is a painful thing.
And you do have to force your fingers to develop muscle memory by being able to perform each chord shape.
But if you start thinking outside of the box, you can notice that sometimes some fingers stay on the same string(s) and even the same fret.
First, let's look at the song and then apply that knowledge.
Intro and Verse: E D(sus 2) A Asus4 A (play two times for Intro and four times for Verse)
Chorus: E Dsus2 (two times)
E Dsus2 A Asus4 A
So switching from the E chord to the Dsus2, your index finger can slide from fret 1 to 2 on the third string and vice versa, without ever leaving the string.
And then apply this trick from Dsus2 to A to Asus4 etc…
You can actually play this whole song while keeping at least one finger on the strings the whole time. See if you can do it!
And here's a lesson that covers The Vaselines and Nirvana versions:
4. Louie Louie – The Kingsmen
For an introduction to using barre chords, this groovy old Rock and Roll hit will do the trick.
Or you can simply use power chords (three strings) if you aren't yet ready for the full barre chord experience.
Either way, this is a song that you can learn in a few minutes!
Just remember that the strumming rhythm changes between the verses and choruses.
Here are the chords for the whole song.
A D E(m) D
And here's a lesson:
5. Sittin On The Dock Of The Bay – Otis Redding
https://www.youtube.com/watch?v=WNvoNPbmREY (with open or barre chords)
6. The Seeker – The Who
7. You Belong with Me – Taylor Swift
8. Peaches – Presidents of the United States of America
9. Heartbreak Hotel – Elvis Presley
10. Brown Eyed Girl – Van Morrison
11. Highway to Hell – AC/DC
12. Love Me Do – The Beatles
13. When I Come Around – Green Day
14. Blowin' in the Wind – Bob Dylan
15. Bitch – Meredith Brooks
16. Perfect – Ed Sheeran
17. Smells Like Teen Spirit – Nirvana
18. Sunshine of Your Love – Cream
19. Amazing Grace – Traditional
20. Have You Ever Seen the Rain? – Creedence Clearwater Revival
21. Smoke on the Water – Deep Purple
22. Thank God I'm a Country Boy – John Denver
23. What a Wonderful World – Louis Armstrong
24. When a Man Loves a Woman – Percy Sledge
25. Dead Leaves and the Dirty Ground – The White Stripes
26. Wonderwall – Oasis
27. Eye of the Tiger – Survivor
28. Dirty Deeds Done Dirt Cheap- AC/DC
29. Mellow Yellow – Donovan
30. Despacito – Luis Fonsi feat. Daddy Yankee and Justin Bieber
31. Jesus Freak – DC Talk
32. Wild Horses – The Rolling Stones
33. Knocking on Heaven's Door – Guns 'N Roses
34. What I Got – Sublime
35. Iron Man – Black Sabbath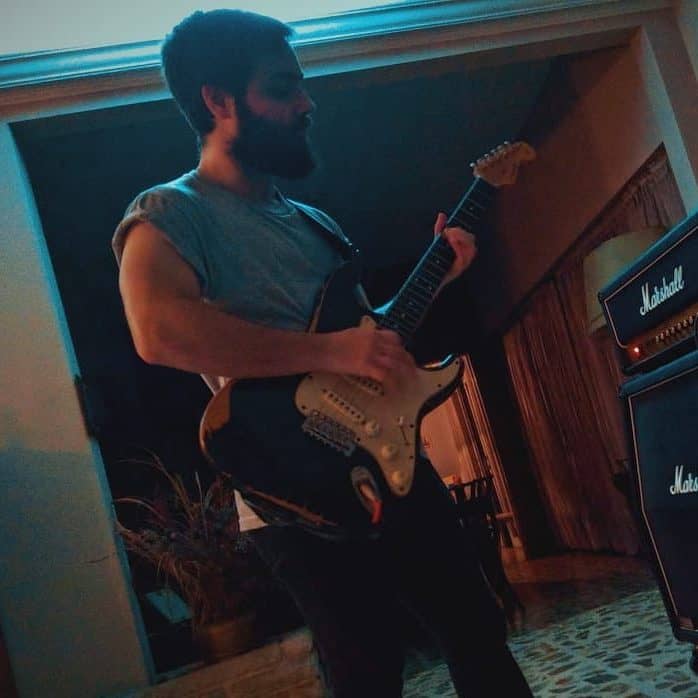 Hello there, my name is Ramiro and I've been playing guitar for almost 20 years. I'm obsessed with everything gear-related and I thought it might be worth sharing it. From guitars, pedals, amps, and synths to studio gear and production tips, I hope you find what I post here useful, and I'll try my best to keep it entertaining also.