There was a time when Country music usually meant just one person singing and playing guitar, but these days the genre offers so much more.
And what was once a style that often revolved around tales of the "Old West" about whiskey, gambling, and violence has finally been tamed. Or has it?
There are still some musicians such as Sturgill Simpson and Chris Stapleton that remind me of the older stuff.
But often the simpler arrangements have given way to a poppier, slickly produced style, especially with artists like Faith Hill.
But whether you like old, new, or all of it, one thing is for sure: it's a piece of American history.
So if you want to discover some Country songs that you can learn to play on guitar but you're not sure you have the necessary chops, don't worry!
These songs sound fine without any of that crazy chicken-picking stuff, so grab some Tennessee whiskey and let's get started.
1. Folsom Prison Blues – Johnny Cash
Starting with a classic from the man in black we have a song that will help you develop a cool strumming technique.
To get Cash's sound accurately, you have to alternate between the bass note of the chord with the thinner strings and the video below offers a detailed explanation that is super helpful.
But the chords that make up the song are easy as pie.
Here is the breakdown of the song.
Verses: E E7 A E B7 E (use the B7 open chord rather than barre chord)
Backing chords for solo sections: E E7 (two times) A E B7 E
There's no chorus to learn although there is a short little intro and outro riff that you should be able to easily play by ear.
Lastly, I definitely recommend following the video lesson's advice about learning how to reach over the top of the guitar neck to mute unplayed strings with your thumb. It's a pro move and will make you a better player in the future.
And here's a lesson:
2. Whose Bed Have Your Boots Been Under? – Shania Twain
It turns out that Canadians like to get in on the action too, with one of the hottest Country music stars coming from the land up north.
This honky tonk tune with a driving rhythm is a great and simple song for beginners with only a handful of chords being used.
If you are playing it by yourself, you can add some extra rhythm by alternating chords with lifting your index and middle fingers to hit open strings (on the top strings).
For example, on the G chord, you can do this with the fifth and sixth strings.
Check out the video if you need a visual example; it's a cool trick that is used in many Rock songs too.
Here is how the song is played (capo at the third fret to match the recorded version)
Verse: G C Am D F C G
D G D G Em C G D G
Chorus: G C Am D C D
G C Am D F C G
Instrumental break: C G (two times)
Bridge: G Em C G D G
Half Chorus: G C Am
And finally, the Chorus is played up one full step like this.
A D Bm E D E
A D Bm E G D A
And here's a lesson:
3. Tennessee Whiskey – Chris Stapleton
This song was originally done by David Allan Coe in the early Eighties and got an updated treatment for the new millennium.
And wow does it sound incredible with Chris's amazing voice.
There are some simple licks you can learn if you want, but other than that, this is an easy (and pretty recent) song to have in your arsenal.
Here are the parts of the song.
Intro: Check out the tab below for a detailed breakdown (it's not difficult)
Verse: G Am G C/G G (C/G is a standard C chord with the sixth string fretted at the third fret)
Most of the song is just this chord progression repeated but Verse 2 and the final Chorus do not add the C/G and G at the end of the progression.
And here's a lesson:
4. 9 to 5 – Dolly Parton
One of the most famous songs by the legendary Dolly Parton can be mastered quickly on guitar.
And while the song's lyrics may be about the hopelessness of the daily grind, I think most of us could learn something from Dolly's own work ethic.
Because she's still active and making new music (though I highly doubt she needs to keep working).
Here is how to play the song (put a capo on the 2nd fret).
Verse: E A E B
E A E B E
Chorus: A E A F# B
A E A F# B E
After verse 2, just omit the E chord at the end of the following choruses.
And here's a lesson:
5. The Thunder Rolls – Garth Brooks
There was a time when Garth Brooks was basically a money-printing machine, selling millions of albums and filling stadiums all over the country.
While Friends in Low Places may be the more well-known hit, I think this one deserves a listen too.
This song involves some picking if you have learned that skill already, but you can just strum the chords if you're an absolute beginner.
And because of that, this song is a great choice to use as a step ladder, from basic to intermediate skill levels.
Here is how to play it.
Intro: Dm Dm7 (two times)
Verse: Dm Bb/F A Dm (two times)
Cadd9 G/B A A7sus4 A7 Dm Dm7 Dm Dm7
Verse 2 and 3: the same except play Dm C Dm after the A7 chord
Verse 4: only play Dm after the A7 chord
Chorus: Bb C Dm C Dm
Bb C A Asus A
Bb C Dm C Dm
Bb C Dm
All of the chords that may look scary are very easy to finger if you already know your basic chord shapes, so give it a try!
And here's a lesson:
6. Jambalaya (On the Bayou)- Hank Williams
For some real old-timer twang, you can't beat Hank Williams.
And this song starts with a G chord (or G7) then a C Chord.
From there the verses and choruses just follow C then G(7) throughout the song.
And its simplicity is perfect to allow you to focus on your strumming skills to get the correct shuffle feel by using an upstroke between the third and fourth downstrokes.
And here's a lesson:
7. Bless the Broken Road – Rascal Flatts
8. She's in Love with the Boy – Trisha Yearwood
9. On the Road Again – Willie Nelson
10. How Do I Live – LeAnn Rimes
11. A Thousand Miles from Nowhere – Dwight Yoakam
12. Humble and Kind – Tim McGraw
13. When I Call Your Name – Vince Gill
14. Grandpa (Tell Me 'Bout the Good Old Days) – The Judds
15. Coal Miner's Daughter – Loretta Lynn
16. You Can Have the Crown – Sturgill Simpson
17. Big Iron – Marty Robbins
18. I'm Gonna Miss Her – Brad Paisley
19. As Good As I Once Was – Toby Keith
20. There You'll Be – Faith Hill
21. Before He Cheats – Carrie Underwood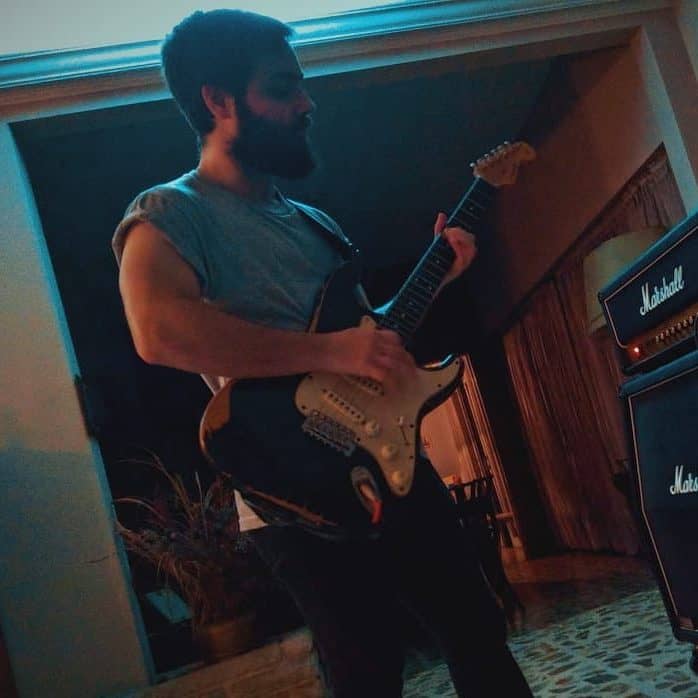 Hello there, my name is Ramiro and I've been playing guitar for almost 20 years. I'm obsessed with everything gear-related and I thought it might be worth sharing it. From guitars, pedals, amps, and synths to studio gear and production tips, I hope you find what I post here useful, and I'll try my best to keep it entertaining also.