So you're trying to find a song about silence? Now that sounds like an oxymoron if there ever was one…
But there are quite a few amazing songs about silence and how important it is in this crazy world we live in.
Because sometimes you just need to chill out without any distractions.
Or sometimes there are situations where words just aren't necessary and will end up doing more harm than good. In other words, as the proverb says "speech is silver and silence is golden".
Like in the song Somethin' Stupid, crooner Frank Sinatra sang "And then I go and spoil it all by saying something stupid like 'I love you'".
So put some duct tape over your mouth and let's check out some cool songs that explore the beauty of silence.
1. Enjoy the Silence
It would be a crime not to start with this one.
This one is about how unreliable communication can be, stating that "words are meaningless and forgettable".
This was a fun pop song but the questions it raises are similar to old philosophical essays on just how effective communication can really be between people who have had different life experiences.
For example, if you are talking to someone and use the word "childhood", the other person may have had a completely different childhood than you did.
But to get back to the song itself, the video/single ends with the line "Enjoy the silence" and then a few seconds of silence while the album version has a short instrumental song after the silence (before the next listed track).
Written by: Martin Gore
Year Released: 1990
Album: Violator
2. I Think We're Alone Now
Here we have silence being used to mean being alone… alone together that is.
This classic song is about love between two young people but no one around seems to approve, somewhat similar to Romeo and Juliet.
So to escape the nagging and prying eyes of everyone telling them they shouldn't be together and that they're too young for love, they run off until they're alone and "The beating of our hearts is the only sound".
The song even has a little breakdown section after the chorus when drums simulate heartbeats and crickets are chirping. No, it's not complete silence but I think it's close enough.
This song has been covered by many artists over the years but the Tommy James & The Shondells version still sounds the best to me. How can you improve on perfection?
Written by: Ritchie Cordell
Year Released: 1967
Album: I Think We're Alone Now
3. Corcovado
This is a beautiful song and a Jazz standard in the Bossa Nova style.
Corcovado is a mountain in Rio de Janeiro, Brazil, and the singer is enjoying some good old-fashioned peace and quiet. Okay, so she is actually playing a guitar but she's playing it quietly.
This track is from the same album as the song The Girl from Ipanema, which was hugely popular and introduced many people to the style of Bossa Nova.
Written by: Antônio Carlos Jobim
Year Released: 1964
Album: Getz/Gilberto
4. Don't Speak
Here's another song about a situation when communication isn't wanted or needed and will in fact just be painful.
During a breakup, the character of the song would rather have silence than listen to her ex-lover try to rationalize or lie about why he is leaving her ("Don't tell me 'cause it hurts").
And apparently, it was based on a real-life breakup between Gwen Stefani and another member of No Doubt.
This one was hugely popular and helped make Ska music mainstream in the 1990s.
Written by: Gwen Stefani and Eric Stefani
Year Released: 1995
Album: Tragic Kingdom
5. In a Silent Way / It's About That Time
Now how can an instrumental song be about silence you may ask.
It's a valid question but I think that Miles Davis can convey more with his trumpet than some people can with words. And with no language barriers either.
If you listen to the song, it will quickly become apparent how silence fits the mood. It's very chill and different from Jazz styles such as Hard Bop or Big Band.
This track is actually split into three parts with In A Silent Way being the first and last 4 minutes with It's About That Time sandwiched in between.
And the other track on the album, Shhh / Peaceful, follows this same structure.
This album is usually ranked among Davis' best and is a close contender for the top spot along with 1959's Kind of Blue.
Written by: Joe Zawinul (In a Silent Way) and Miles Davis (It's About That Time)
Year Released: 1969
Album: In a Silent Way
6. Silence Kid
Also known as Silence Kit due to an inkblot, this song perfectly serves up the awkwardness and shyness that some people experience growing up.
Well, that's how I interpret it anyway. Some people say that the lyrics of Pavement songs are indecipherable or just nonsense.
But any way you look at it, it's an awesome song from one of Alternative Rock's best eras.
Written by: Stephen Malkmus
Year Released: 1994
Album: Crooked Rain, Crooked Rain
7. Voices Carry
With this one-hit wonder, we're back to our theme of times when words simply aren't necessary.
Just kidding! This song is about a woman who is developing strong feelings for her lover and he's trying to keep it casual ("When I tell him that I'm falling in love, why does he say… Hush hush, keep it down now, voices carry").
I wonder if this one was inspired by that Frank Sinatra song since it's the same basic idea.
As for the video for the song, I don't think Aimee Mann's hairstyle has aged very well. Yikes. But at least the song still sounds good.
Written by: 'Til Tuesday
Year Released: 1985
Album: Voices Carry
8. When You Say Nothing at All
Another example of staying silent is this song, which has been performed by many Country music artists.
And in this version by Allison Krauss, the lyrics even say "Old Mr. Webster could never define
what's being said between your heart and mine".
Instead, communication takes place through "the smile on your face", "a truth in your eyes" and "the touch of your hand".
Written by: Paul Overstreet and Don Schlitz
Year Released: 1994
Albums: Keith Whitley: A Tribute Album and Now That I've Found You: A Collection
17 More Great Songs about Silence
| | |
| --- | --- |
| Title | Artist |
| So Quiet in Here | Van Morrison |
| The Sound of Silence | Simon & Garfunkel |
| Silence | Marshmello |
| The Sound of Silence | Disturbed |
| I Better Be Quiet Now | Elliot Smith |
| A Song for the Deaf | Queens of the Stone Age |
| Silent Night, Holy Night | Written by Franz Xaver Gruber and Joseph Mohr |
| Quiet on the Set | N.W.A. |
| Hush | Deep Purple |
| It's Oh So Quiet | Bjork |
| The Quiet One | The Who |
| Silent Shout | The Knife |
| Our Lips Are Sealed | The Go-Gos |
| The Misinterpretation of Silence and Its Disastrous Consequences | Type O Negative |
| Shut Up and Kiss Me | Mary Chapin Carpenter |
| Out of the Silent Planet | Iron Maiden |
| Quiet in My Town | Civil Twilight |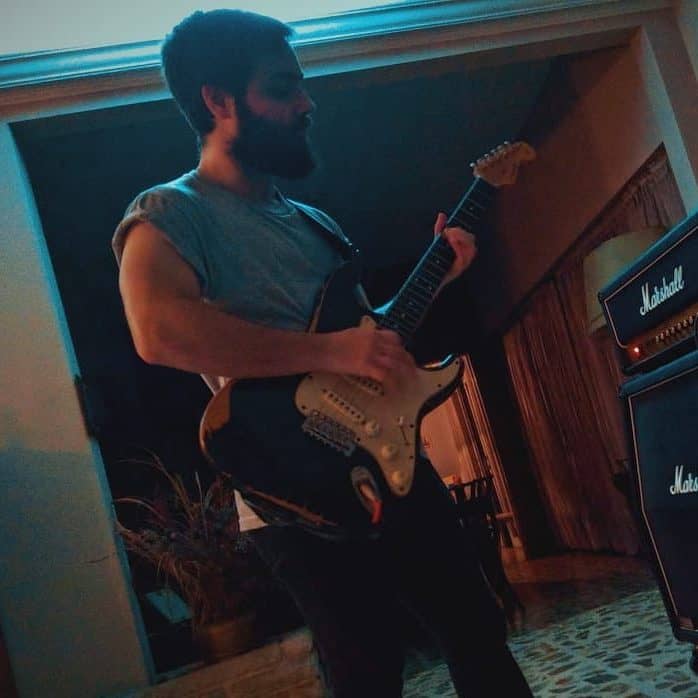 Hello there, my name is Ramiro and I've been playing guitar for almost 20 years. I'm obsessed with everything gear-related and I thought it might be worth sharing it. From guitars, pedals, amps, and synths to studio gear and production tips, I hope you find what I post here useful, and I'll try my best to keep it entertaining also.