Heavy Metal has been a driving force behind generations of guitar players.
And I say "generations" because let's face it, Metal is old!
At this point, a lot of the songs that many of us grew up listening to are considered Dad Rock, Boomer Music, or whatever you call it.
But it's been quite a journey, starting in the late 1960s, growing throughout the 1970s, and then becoming a mainstay of popular music throughout the 1980s and 1990s.
Then, for some reason it all but disappeared… You could blame Rap Metal / Nu Metal, Beavis, and Butthead, or just a natural change in cultural taste.
Of course, that's just on the surface of the popular music charts and awards ceremonies.
Metal is still a thriving scene; the hardcore Metalheads have just gone underground and become more of a subculture again.
And while I'm a fan of much of the music in the genre, I'm completely okay with it being underground!
After all, the "dark" themes such as evil and hatred that are prevalent in the music aren't for everybody.
And it's not just Metal's popularity that has evolved over the years either.
Going back to early bands such as Black Sabbath and some of Led Zeppelin's heavier songs, they can seem slow and simple compared to styles such as European Death Metal or Grindcore.
The distortion has gotten heavier and many Metal bands since the late 90s have started down-tuning their instruments and/or using guitars and basses with extra strings for ultimate chugging Djent riffs.
But if you want to learn some cool Metal songs, where should you start?
Unless you want to restring your guitar and possibly have your nut modified for heavier gauge strings, I think the sweet spot is between the 1970s and 1990s.
And luckily there are some amazing songs to check out that you can learn in under an hour as long as you have the basics of playing already mastered.
(There are some down-tuned and open-tuned songs featured here, but I will focus on the ones that don't get too crazy).
Let's get started!
1. Paranoid – Black Sabbath
Although Black Sabbath's self-titled debut album is often hailed as the first Heavy Metal album, it was their second album Paranoid that was their commercial breakthrough with the songs Paranoid, Iron Man, and War Pigs.
And I believe they were the first band that a music critic referred to by the term Heavy Metal, so it's hard to argue they weren't the primordial slime that all the other bands evolved from.
So whether directly or generationally, every Heavy Metal guitarist is beholden to Tony Iommi.
And taking a look at one of their most famous songs, it's clear that early Metal usually wasn't that difficult.
This song only uses four chords!
But take note that the E power chord is played at the 12th fret though.
Most players should be able to figure out the famous intro riff and you can check out the video if you need a little help.
Here is how to play the song.
Intro Riff
Verse: E5 D5 G5 D5 E5 (play two times)
Em C D then repeat first section two more times
Bridge / Chorus: E5 D5 E5 D5
E5 D5 G5 D5 E5
Put it all together and you've already mastered one of Heavy Metal's most iconic songs!
And here's a lesson:
2. Mother – Danzig
Glenn Danzig made a name for himself as the frontman for the Horror Punk band the Misfits and then Samhain before lending his deep baritone to a Bluesey Metal style.
And he had a hit song in the late Eighties with this track off of his solo career debut album.
And although it's in a different key than Paranoid, you will notice that the chord progression is very similar to parts of the Black Sabbath song.
There are embellishments in the playing, but basically, the song goes like this.
Verse: Bm G A (play three times per verse)
Chorus: G A Bm A (three times)
Then G A F#
And if you like this stuff and aren't offended by some really evil lyrics, I recommend checking out his Danzig 4P album, which is crammed full of tasty riffs and some impressive pinch harmonics.
And here's a lesson:
3. Breaking the Law – Judas Priest
This song from the early 1980s is incredibly easy to learn with a simple but classic riff played on the top two strings.
But it's a good tune to work on embellishments such as the vibrato that makes the riff feel more alive.
And the whole song is perfect for beginners because there's no solo to learn (or usually ignore if you're like me).
Here is the song.
Intro Riff
Verse: A C G A (two times)
F C F E
Chorus: Chug on the open A string
And then hit the 9th and 10th frets on the 3rd and 4th strings…
Bridge: B power chord then open A string (four times)
D F C D D F G (two times and all played with the power chord root on the 5th string)
That's mostly it except for another simple outro riff. Just listen to the song or use the video tutorial for the riffs and timing if needed!
And here's a lesson:
4. Nothing Else Matters – Metallica
5. The Beautiful People – Marilyn Manson
6. Black Sabbath – Black Sabbath
7. Iron Man – Black Sabbath
8. Twist of Cain – Danzig
9. You've Got Another Thing Comin' – Judas Priest
10. Holy Diver – Dio
11. Black No. 1 (Little Miss Scare All) – Type O Negative
12. Pour Some Sugar on Me – Def Leppard
13. Sweet Dreams (Are Made of This) – Marilyn Manson
14. Crazy Train – Ozzy Osbourne
15. Dr. Feelgood – Mötley Crüe
16. This Is Now – Hatebreed
17. Destroy Everything – Hatebreed
18. Enter Sandman – Metallica
19. Master of Puppets – Metallica
20. Scars – Papa Roach
21. Symphony of Destruction – Megadeth
22. A Tout Le Monde – Megadeth
23. Down with the Sickness – Disturbed
24. Run to the Hills – Iron Maiden
25. Desolate Ways – Morbid Angel
26. This Means War – Avenged Sevenfold
27. Talk Dirty to Me – Poison
28. Rocker – Thin Lizzy
29. Punishment – Biohazard
30. Hammer Smashed Face – Cannibal Corpse
31. Aerials – System of a Down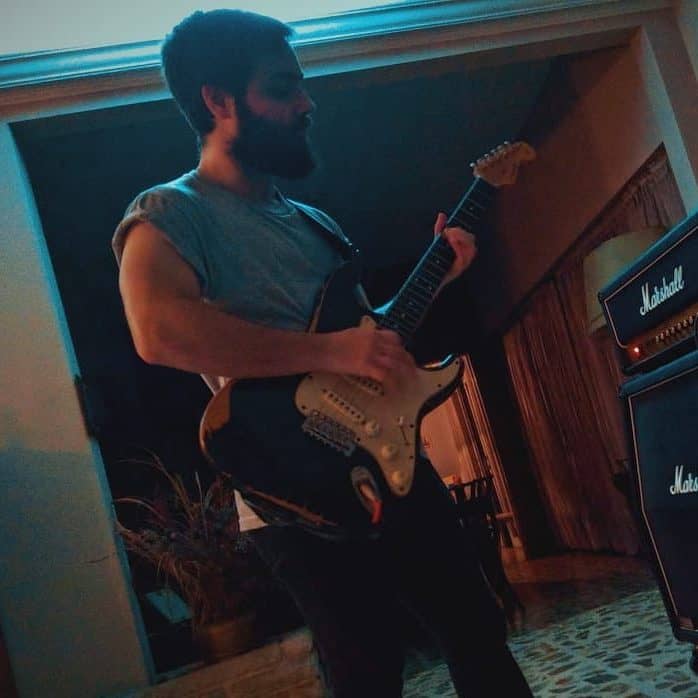 Hello there, my name is Ramiro and I've been playing guitar for almost 20 years. I'm obsessed with everything gear-related and I thought it might be worth sharing it. From guitars, pedals, amps, and synths to studio gear and production tips, I hope you find what I post here useful, and I'll try my best to keep it entertaining also.