Blues music may not be that popular in the mainstream spotlight these days (unless your name is John Mayer) but I think that's perfectly all right.
Because it is a genre that has plenty of fans of all ages. It's been going for about a century already and I don't think it's going to die out anytime soon.
So what is it exactly? Can it be pinned down to the lyrical content about being dealt a bad turn or a specific chord progression or scale?
At its heart, I think it's a combination of the two but its influence on other music genres can't be overstated either.
Rock, R&B, and Soul music all have roots in the Blues, even if the overall sound has evolved over the years.
So if you're a guitar player, it's worth spending some time getting to know the basics and I think it's more fun to learn real songs than "exercises".
But be warned. This is one of those situations where it can take an hour to learn something but a lifetime to master.
Because at the highest level, a Blues guitarist like B.B. King can make their instrument sing almost like a human voice with an emotional quality as effective as words.
But we all have to start somewhere, so here are some great tunes to cut your teeth on.
1. Hoochie Coochie Man – Muddy Waters
This is considered a Blues standard so it makes a great starting point. And it sounds fantastic!
And remember as you learn these songs that you don't have to be able to perform the solo to do a decent rendition.
On the technical side, it is written in a 16-bar Blues progression in the key of A, and alternates between the vocals and the guitar riff as many Blues songs do.
I highly recommend the excellent video tutorial linked below if you can't figure out the riff by ear.
Here is the chord structure for the song.
Verse: Main riff in A
Chorus: D riff, A riff, E riff, D riff, and then back to A
And here's a lesson:
2. Hound Dog – Elvis Presley
Good old Elvis became a superstar when he took what was usually thought of as an African American style of music and brought it to the masses
And we were blessed with this catchy song that uses 12-bar Blues in the key of C.
It's a tried and true crowd pleaser so work on it until you get the rhythm perfect and the rest is gravy.
Here is how to play the song.
Verses 1 to 5: C F C G F C
Verse 6: C F C G C#7 C7
Solo backing chords are the same as Verse 1!
And here's a lesson:
3. I Put a Spell on You – Creedence Clearwater Revival
You are more likely to know the version of this song by Screamin' Jay Hawkins but I find that this one is a little easier to play.
There is of course lead guitar in the mix as well but to play the 16-bar rhythm guitar you only need some basic chords.
And there's not really a chorus to worry about either, so if you just want to play this one solo you can just leave out the rhythm guitar during the solos.
Here is how the song breaks down.
Verse: Em Am Em Am B7
Em Am C Em B7 Em Am B7
Fast strummed interlude: Em Am B7 C F D G A
Chords during solos: Em Am Em Am B7 Em Am C Em B7 (a shorter version of the verse)
Outro: B7 C F D G A Em
And here's a lesson:
4. Roadhouse Blues – The Doors
I like a lot of traditional Blues artists such as Robert Johnson, Buddy Guy, and B.B. King. But I also like a little Rock and Roll attitude added to the genre.
And this is a great track in that style, with a pretty simple guitar arrangement.
You can learn the riff in the linked video, which was made by none other than The Doors' guitarist Robby Kreiger. How cool is that?
Here's the breakdown of the song.
Verse: E riff and then end on E7#9 (all strings open except the 5th string fretted at the 2nd fret)
Instrumental sections: E A (repeated) and simply E for the second one
Chorus 1: A A7 B7 C7 B7 E
Bridge E7
Chorus 2: A A7 B7
Outro: B7 C7 C#7 D D#7 E E9
And here's a very special lesson:
5. The Thrill Is Gone – B.B. King
Whenever someone mentions Blues music I always think of B.B. King and especially the album Live at the Regal.
This is one of his most famous tracks and though the licks aren't that complicated, they are very expressive due to excellent bending, vibrato, and B.B.'s impeccable timing.
Here is the basic chord structure of the song.
Am7 Dm7 Am7 Fmaj7 E7 Am7
The minor chords give the song a sad quality and you can fill it out with some of B.B.'s tasty Blues licks.
And if you can pull off a passable cover of this song, you are well on your way to being a Blues guitarist!
And here's a lesson:
6. Boom Boom – John Lee Hooker
7. Led Zeppelin – The Lemon Song
8. Bo Diddley – Bo Diddley
9. Killing Floor – Howlin' Wolf
10. Mannish Boy – Muddy Waters
11. Nobody Knows You When You're Down and Out – Eric Clapton
12. Farewell Daddy Blues – Ma Rainey
13. Lonely Boy – The Black Keys
14. Smokestack Lightnin' – Howlin' Wolf
15. Bad to the Bone – George Thorogood and the Destroyers
16. Mary Had a Little Lamb – Stevie Ray Vaughan and Double Trouble
17. Kind Hearted Woman Blues – Robert Johnson
18. Relax Your Mind – Leadbelly
Link to tab (Happy Traum cover version)
19. Yer Blues – The Beatles
20. Ain't No Sunshine – Bill Withers
21. One Bourbon, One Scotch, One Beer – John Lee Hooker
22. Hey Joe – Jimi Hendrix
23. The Things That I Used to Do – Guitar Slim
24. Born Under a Bad Sign – Albert King
25. Dust My Broom (slide guitar) – Elmore James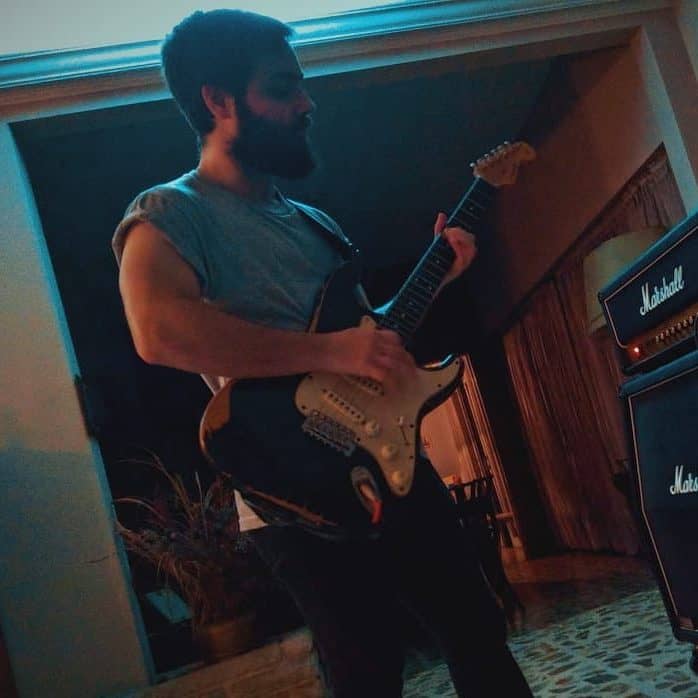 Hello there, my name is Ramiro and I've been playing guitar for almost 20 years. I'm obsessed with everything gear-related and I thought it might be worth sharing it. From guitars, pedals, amps, and synths to studio gear and production tips, I hope you find what I post here useful, and I'll try my best to keep it entertaining also.