In its early days, Rap music was defined almost as much by what it wasn't, as what it actually was.
In the Rap scene, it was all about creating something new that the community could call their own and that meant out with the old and in with the new.
The idea of music being played on actual instruments or even synthesizers was mostly forgotten. And rhythmic vocals replaced the idea of singing.
And I've heard a lot of people, both back then and now, complain that Rap isn't actually "real music".
But it's hard to argue with the cultural and commercial success that the genre has achieved over the last few decades.
Now if you're a guitar player and you're listening to Hip Hop, you may sometimes feel like something is missing… Fender Stratocasters and Gibson Les Pauls.
But I would say that the Technics SL-1200 turntables and Roland TR-808 drum machines are pretty much Rap's version of those instruments. And they're pretty awesome for making music if you know how to use them.
Also, there are plenty of Rap songs that use guitars too!
In my mind, these songs can be divided into four different categories and this list will include at least one of each type.
First, we have the classic Rap practice of using samples and scratching vinyl records on (magnetic drive) turntables that bring guitar sounds into the mix to create the instrumental track.
And for a while, this evolved into collaborations where instead of sampling and paying royalties, Rap songs were written over basically an entire (Classic) Rock song, and the Rock and Rap artists sometimes actually performed together.
Next, we have songs where the Rap artists either created their own guitar parts or brought in some studio musicians to lay down some guitar riffs for them.
And finally, there are songs where a Rapper and a popular "guitar-based" artist collaborate to write a brand new song together (the Rap genre loves songs that "feature" many different people).
So grab a gin and juice and let's see what happens when you add six strings to two turntables and a microphone.
(Not all of these songs have tabs for them but I'll link to one if it's available. You can try to figure out the others yourself)!
1. Walk This Way – Run D.M.C. feat. Aerosmith
The music video for this song starts out with the guys in the two bands antagonizing each other before turning into an amazing cooperative jam.
And it serves as a great example of the respect that some musical artists from totally different genres can have for each other.
This collaboration was rather early in the Rap movement too (1986).
For another example like this a little later in the early 90s, Ice-T and Body Count teamed up with Jane's Addiction to do a cover of Sly and the Family Stone's Don't Call Me ******, ****** (you can look it up if you want).
But interestingly enough, if you listen to the original Aerosmith song, you will notice that Steven Tyler's verses were already pretty similar to Hip Hop style vocals with only a little melodic variation in them.
And I think both versions of the song are great, but it brings up an interesting question for rappers: "Why sample instruments when you can have the real thing"?
Link to tab (original Aerosmith song)
2. Lose Yourself – Eminem
By 2002 Eminem had already been around for a while and some people were beginning to wonder if he had run his course.
At the time Hard Rock was also going through a bit of a personality crisis with many people turning to retro-influenced Garage Band Rock instead of the more mainstream Rock music that sounded pretty stale.
It just seemed like all of the good raps and Rock guitar riffs had already been written.
But then Eminem dropped this bomb with a simple but super-aggressive riff that I'm sure left a lot of guitarists scratching their heads.
The song was written by Eminem, Luis Resto, and Jeff Bass, but I don't count out the influence of Eminem's longtime mentor Dr. Dre, who had some huge Hip Hop hits that relied on very simple instrumental tracks.
I'm not saying the instrumental music for Eminem and Dre is easy to create either, just that those guys know how to come up with a great hook and then let it shine.
Of course, this song and 8 Mile, the semi-autobiographical film about Eminem's youth in Detroit that the song was featured, were both extremely successful.
And over twenty years later this guitar-driven Hip Hop masterpiece still sounds fresh and awesome.
3. I'll Be Missing You – Puff Daddy feat. Faith Evans and 112
Another song that went beyond sampling to basically rap over a complete song, this one features music from The Police's Every Breath You Take, with the chorus mostly intact except for some changed lyrics.
The person who is being missed in the song is none other than the then recently deceased The Notorious B.I.G. (Chris Wallace) and it's a heartfelt tribute from a friend and his widow Faith Evans.
So rappers obviously know some great Rock music, even if they want to do their own thing with the instrumentals. Puff Daddy also collaborated with Jimmy Page to rap over a Led Zeppelin song (see below).
But Every Breath You Take also has some interesting history according to an interview with Sting on Rick Beato's Youtube channel, with Sting saying that he was listening to a lot of Johann Sebastian Bach while writing music.
Supposedly the chords used in this song were influenced by music such as the prelude to Suite No. 1 in G Major (BWV 1007).
So the next time you're playing six degrees of separation and you need to connect Classical music to Rap just play this song!
Link to tab (Every Breath You Take by The Police)
4. Bulls on Parade – Rage Against the Machine
I'm not about to turn this into a study of Rap Metal / Funk Metal but this one merits some attention for a couple of reasons.
First of all, it was one of the songs that spearheaded the movement of rapping in Rock songs besides Beastie Boys and Faith No More.
The chorus might be screamed but the verses have the flow and delivery that is associated with Rap and Hip Hop.
And the guitar in the song is pretty simple with the main riff just going wild between the octave of an F# chord.
But the biggest reason to include this song is the "guitar solo".
I could be wrong, but this is the first time that I ever heard a guitarist use a wah pedal and some other nifty tricks to make their guitar emulate someone scratching on a turntable.
And the result is pretty darn accurate to my ears.
You can check out this video where Tom Morello himself shows how to do it.
5. Hey Ya! – Outkast
Outkast's first four releases were all Rap albums, but for each individual song, it was a grab bag as far as what you were going to hear…
You never knew if a song was going to be straightforward Rap or have Gospel, Rock, R&B / Soul, Electronic, or Funk influences.
And coming from more of a Rock background, they were one of the first Rap groups to really get my attention and turn me on to some great music in the scene.
But it wasn't until their fifth album Speakerboxxx / The Love Below that the stylistic division between the two emcees was really clear.
Because it was a double (CD) album with Andre 3000 and Big Boi both doing their own half.
And Big Boi's album was quite good while sticking mostly to traditional Rap styles but Andre 3000's release had a lot more success as far as radio, music video, Youtube, etc.
Because it turns out that Andre's The Love Below was the one that was really the more experimental half and his deep dive into Funk included Hey Ya!, a guitar-based hit song.
So fellas, "What's cooler than being cool"?
For me, it was seeing one of my favorite rappers laying down a groove with an acoustic guitar!
And he didn't stop there. He later went on to play the part of one of the most famous guitarists in Rock history in the film Jimi: All Is by My Side.
6. She Watch Channel Zero?! – Public Enemy
7. Ride Wit Me – Nelly feat. St. Lunatics
8. Come with Me – Puff Daddy feat. Jimmy Page
Link to tab (Kashmir by Led Zeppelin)
9. Rock Box – Run D.M.C.
10. River – Eminem feat. Ed Sheeran
11. 99 Problems – JAY-Z
Link to tab (sampled from The Big Beat by Billy Squier)
12. Maria Maria – Santana feat. The Product G&B
13. (You Gotta) Fight For Your Right (To Party) – Beastie Boys
14. Snowflakes – Just Jack
Link to tab (original song is Lullaby by The Cure)
15. Nada Cambia – Jedi Mind Tricks
16. Tramp – Blueprint
17. Gasoline Dreams – Outkast feat. Khujo
18. This Is America – Childish Gambino
Link to tab (intro)
Link to tab (chords for the whole song)
19. The Way I See Things – Lil Peep
20. Put Me On – Swollen Members feat. Everlast
21. Mind Playing Tricks on Me – Geto Boys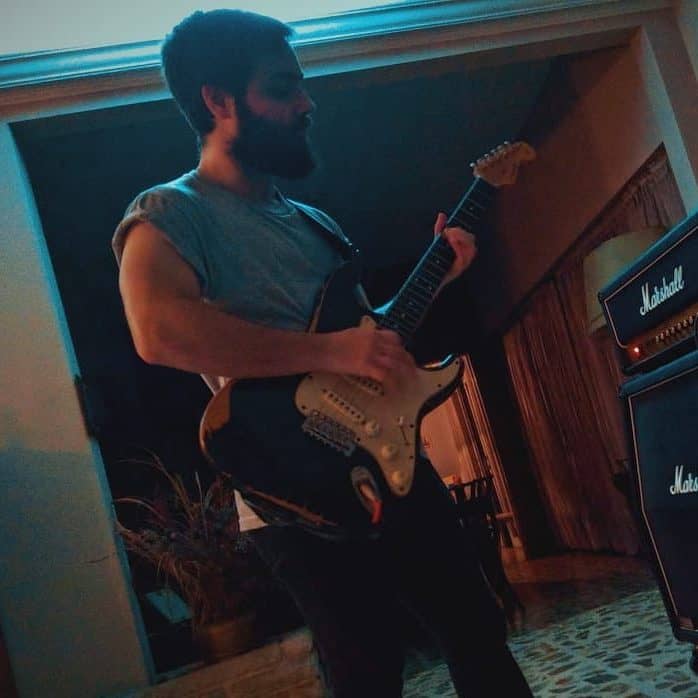 Hello there, my name is Ramiro and I've been playing guitar for almost 20 years. I'm obsessed with everything gear-related and I thought it might be worth sharing it. From guitars, pedals, amps, and synths to studio gear and production tips, I hope you find what I post here useful, and I'll try my best to keep it entertaining also.