Turning 21 means turning into an adult.
Turning into an adult means freedom.
But turning into an adult also means responsibility.
For some people, turning 21 feels like breaking out from a rusty cage; spreading the wings, and leaving the past in the past.
For others, turning 21 feels like being splashed with a bucket of iced water on the coldest winter's day.
The truth is the 20s are a fun but aggressive age in which there are experiences to spare, both pleasant and hideous.
One way or another, you'll find company in any of these 31 songs about being 21 years old.
1 – 21 Til I Die – Crazy Lixx
I believe a solid hard rock song connects pretty well with the vitality and youth of being 21 years old.
The Swedish sleaze rockers wrote an anthem to commemorate the never-ending adventures that can be experienced during this magnificent age.
Unfortunately, nothing lasts forever. You only have one full year to be 21.
However, who says you cannot 'feel' like a 21-year-old until you die?
2 – Twenty-One – Eagles
Twenty-One by Eagles contains a positive message.
The song focuses exclusively on the thousand possibilities that starting your 20s will bring.
Will you seize them all?
3 – 21 and Invincible – Something Corporate
We have a lot going on here.
On the one hand, we find a song that makes a parody of adult life: complaining about taxes, wishing to become famous, paying child support, etc.
On the other hand, we're in front of a witty representation of the passing of time, and of how monotonous one's life may turn if we never take action.
4 – Twenty One – The Cranberries
Here we have a song from The Cranberries' second studio album No Need to Argue.
Unfortunately, this song tends to be overshadowed by Zombie, The Cranberries' ultimate classic that, funnily enough, appears in the same album.
5 – Anthem – Blink182
Anthem is not about being 21.
It's, more precisely, about wishing to be 21. After all, in most parts of the world, reaching 21 years old means you are a legal adult who can buy alcohol and access pretty much any event, casino, or bar in the country.
For me, the core value of this song is yearning for freedom, which suits the teen spirit of Blink-182's target audience.
6 – Leaves That Are Green – Simon and Garfunkel
Leaves are green, but autumn will come, and those lively leaves will turn brown.
That's the metaphor for the passing of time found in this song.
It begins with the singer remembering that he wrote this song when he was 21 years old. All of a sudden, a whole year passed in front of his eyes, and now he is 22.
Moments fleet faster than lightning. We ought to make the most out of them.
7 – 21 – H.E.R.
Sex, alcohol, partying, music, traveling.
Being 21 has an undeniable wild side that can be a hell of a fun ride if you know how to control it.
8 – 21 – Gracie Abrams
"I missed your 21st birthday"
That's the very first line in this Gracie Abrams incredible song.
In my opinion, 21 is about a failed relationship.
We find the narrator doubting whether to congratulate his/her ex or not on this special day.
Regrets, anguish, and what-ifs drown this helpless mind, contrasting with the cheerful and unique essence of a birthday celebration.
9 – Mama Tried – Merle Haggard and The Strangers
Mama Tried is based on a true story.
Songwriter Merle Haggard served time in the infamous San Quentin prison after being charged with robbery.
Haggard not only wrote this song in jail, but he also 'celebrated' his 21st birthday there.
The title of this track comes from Haggard's mom's warnings.
In other words, she did her best to raise a law-abiding child. Haggar, however, would grow up to become a criminal.
10 – Twenty One – Khalid
I have already discussed how this age and alcohol consumption travel together on the front seats.
It's worth pointing out that this companion is not always portrayed as a good one.
More often than not, alcohol is used to cover up anxieties, fears, and to, ironically, bottle up emotions.
As the song implies: "Wasted on alcohol you chase to fight the feeling"
11 – Galveston – Glen Campbell
Let's travel all the way back to 1969 to hear about a sad tale.
Galveston presents a man lamenting his departure from (you guessed it!) Galveston, Texas.
The sorrow doesn't come much from leaving the city behind. Rather, it comes from leaving a woman behind.
Glen Campbell sings "She was 21 / When I left Galveston"
The question is, who misses who the most in your opinion?
12 – I Don't Want to Grow Up – The Ramones
I Don't Want to Grow Up was originally written by Tom Waits.
The Ramones covered it for their last studio album ¡Adiós Amigos! from 1995.
Both the song's lyrics and music video deal with the downside of turning 21 and its gradual downward toward apathy, depression, and stubbornness.
Let's face it. Growing up opens many a door, but it also shuts quite a number of windows!
13 – The 1 – Taylor Swift
Nostalgia is the key word for this tune.
In this song, Taylor Swift looks back to the old days when she was dating the love of her life.
Sadly, reality is far from being a "Happily ever after" fairy tale.
Despite the breakup, the songwriter still longs to be back with that person who she believes is the one.
It may not address directly the age of 21, but I do believe it suits the list.
After all, to turn 21 years old is to turn the page and start a brand new chapter.
While you might stare at the past all you want, you'll realize there's not much to do but to move forward.
18 More Songs About Being 21
| | |
| --- | --- |
| Song | Artist |
| Running on Empty | Jackson Browne |
| Royals | Lorde |
| Time to Pretend | MGMT |
| 21 Savage | Damier Legato |
| Twenty One | The Shirelles |
| 21 Forever | Punchline |
| 21 | The Starting Line |
| Woodchuck | Go:Audio |
| Tin Soldiers | Stiff Little Fingers |
| Captain Jack | Billy Joel |
| Twenty-Somethings | Judah & The Lion |
| 20 Something | SZA |
| Learning to Fly | Tom Petty |
| I Love College | Asher Roth |
| Inside of You | The Maine |
| He Thinks He'll Keep Her | Mary-Chapin Carpenter |
| When I Grow Up | NF |
| I'm a Man | Bo Diddley |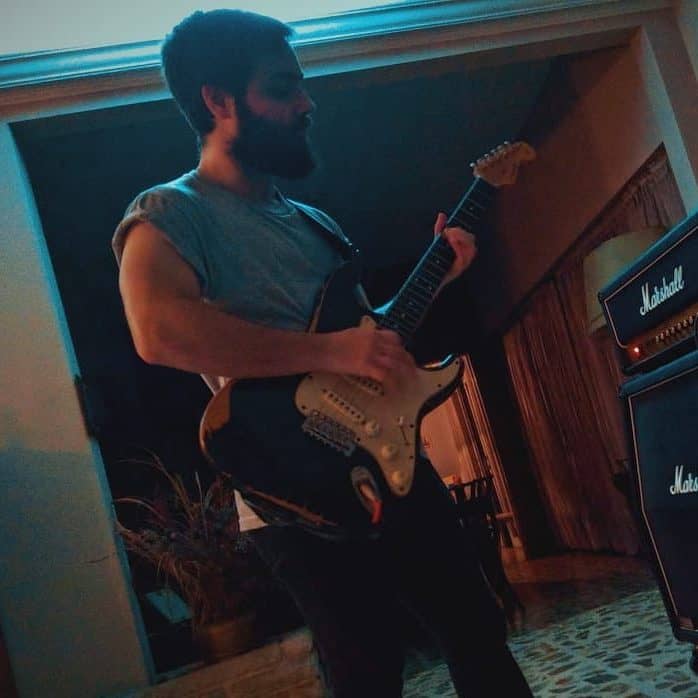 Hello there, my name is Ramiro and I've been playing guitar for almost 20 years. I'm obsessed with everything gear-related and I thought it might be worth sharing it. From guitars, pedals, amps, and synths to studio gear and production tips, I hope you find what I post here useful, and I'll try my best to keep it entertaining also.