Zombies are a fascinating popular phenomenon.
They have appeared in hundreds of cultural media creations, including comics, films, video games, and of course, music.
If an eerie atmosphere is needed to establish a proper zombie-themed creation, then, other than makeup, music is everything you need!
Here you'll find some examples of that.
However, most songs on this list won't be horror soundtracks from your favorite movies.
Sure, some of those compositions are of paramount quality, I won't deny that. But I do believe the importance of this collection is to understand the metaphoric use of zombies to give a message.
Either that or to have the greatest Halloween playlist!
1. Zombies Ate My Pirate Ship – Alestorm
Take zombies on one hand, and pirates on the other one. Put them together and you get either a wonderful concept for an indie video game or a gripping story for a song.
Luckily, Alestorm has already taken charge of the second idea. The result is this comical, dramatic, and scary tale of (you guessed it) zombies attacking a pirate ship.
2. Astro Zombies – Misfits
No other band has impersonated horror B-movies on the stage as accurately as The Misfits.
Mixing punk rock with Halloween-themed makeup, Misfits has created a handful of songs based on many classic horror films.
If you thought zombies were scary, wait to face zombies from outer space!
3. Zombie – The Cranberries
With over a billion views on Youtube alone, Zombies by The Cranberries couldn't miss its position on the list.
This song is a call for peace between Ireland and England; or in other words, a cease to the killings that result from war.
4. ZOMBIFIED – Falling In Reverse
ZOMBIFIED is not much about real living dead roaming the earth and having brains for dinner.
It's about the collapse of a mindless society at the hand of their own ignorance.
5. I Walked With A Zombie – Wednesday 13
Singer Wednesday 13 has followed Misfits' steps since day one.
He has also written songs based on horror classics, like this one, taken from the self-titled film from 1943.
6. Living Dead Girl – Rob Zombie
American singer Rob Zombie is not only obsessed with music but with movies as well.
He found a way to combine both passions into a single formula. After all, Rob has directed and co-directed plenty of his music videos, including the one for Living Dead Girl.
7. Black Zombie – Nas
Black Zombie deals with topics such as racism and ignorance.
It's a call to action for African-Americans who have been outcasted from society and deprived of proper education.
This call to action is to find themselves; to consciously become active and pursue their interests.
That's to say, to stop being a mindless zombie.
8. Thriller – Michael Jackson
Everyone knows this historical music video.
Having the King of Pop dancing with a gang of zombies in a 14-minute-long short movie was a big deal at that time. Oddly enough, it continues to be considered a masterpiece.
Thriller may not be only about zombies. Other atrocities are mentioned in the lyrics; but sure, zombies are one of them.
9. Anthem (Living Dead) – Black Uhuru
A chill-out reggae that reflects upon the lack of equality and the deprivation of basic human rights in certain areas.
10. Zombie Bastards – Weezer
Although Weezer released Zombie Bastards in their 2019 "Black Album", the track is way far from resembling Metallica or any other metal group.
On the contrary, it contains clear ska and reggae elements blended with a friendly-pop chorus.
Regarding the lyrics, they are about old-schooled fans that can't stand new experimental sounds, thus, criticizing every band's attempt to create something unique and original.
11. All You Zombies – The Hooters
Since All Your Zombies references The Bible several times, it caused quite a controversy back in the middle 80s.
Especially because, you know, it mentions the living dead.
Christian radio stations denied to play this song, which of course, created the opposite result: it increased the popularity of The Hooters' single.
12. The Turning of Our Bones – Arab Strap
Unlike other entries on this list (especially the reggae songs), Arab Strap managed to create a slightly unnerving and quite mysterious song.
Bleak piano notes, discreet beats, and a "gothic" accent make The Turning of Our Bones a gloomy masterpiece.
13. Zombie Stomp – Ozzy Osbourne
Poor Ozzy seems like a zombie after so many decades of debauchery, alcohol, addiction, and who knows what else… Still, he's been able to stand up in front of a mic and sing his lungs out all these years.
Congrats Ozzy!
Zombie Stomp is easily forgotten and for a fair reason.
While the song is a party anthem with a lifting chorus, it appears on the same album as other classics, including Desire, Hellraiser, No More Tears, and I Don't Want To Change The World.
14. Unicorn Zombie Apocalypse – Borgore & Sikdope
Okay, this one's an instrumental.
Nonetheless, its title is enough to earn the spot on the list.
Naturally, songs that lack lyrics let imagination run freely; sometimes, better than songs that do contain a message.
On top of that, the title is already providing enough information for us to create vivid images in our heads.
17 More Songs About Zombies
| | |
| --- | --- |
| Title | Artist |
| Zombies | Lacuna Coil |
| Zombie Eaters | Faith No More |
| Living Dead | Duck Soup |
| She Was A Teenage Zombie | Murderdolls |
| Zombies Ate My Neighbors | Single File |
| Zombie Boy | The Magnificent Fields |
| All My Friends Are Zombies | The Priscillas |
| Zombie | The Pretty Reckless |
| Braineaters | Misfits |
| Zombie Zoo | Tom Petty |
| Zombie Jamboree | Harry Belafonte |
| She's A Zombie Now | The Meteors |
| My Body's A Zombie For You | Dead Man's Bones |
| The Walking Dead | Dropkick Murphys |
| Zombie Dance | The Cramps |
| Zombie Autopilot | Unearth |
| Zombie Apocalypse | King Mas |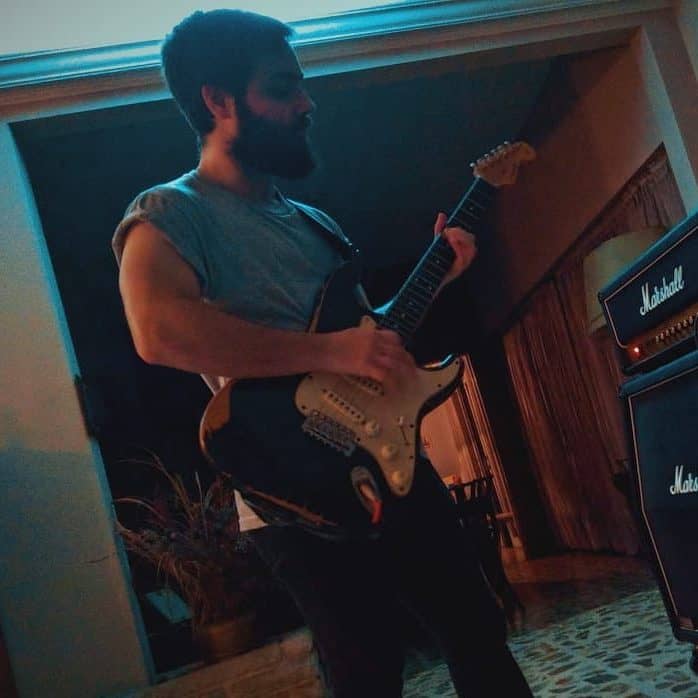 Hello there, my name is Ramiro and I've been playing guitar for almost 20 years. I'm obsessed with everything gear-related and I thought it might be worth sharing it. From guitars, pedals, amps, and synths to studio gear and production tips, I hope you find what I post here useful, and I'll try my best to keep it entertaining also.