Everybody ages and we've all heard the birthday song, but as you get older, that song tends to get old too.
In fact, at this point, I've opted for skipping birthday parties altogether just to avoid having to sing that song.
Luckily for those of us who like change and variety in our lives and would like to have a somewhat unique birthday, there are plenty of unconventional birthday songs out there.
From songs that are fresh takes on the tired old birthday song, to songs about what you do on your birthday.
Point is, there's a track for every occasion and we'll take a look at a few today.
1. Birthday – Katy Perry
Primarily a disco song, birthday is an uptempo song with a fun feel and a lot of double entendres.
The song was written for Perry's fourth studio album, Prism, which was released in 2013.
After being released, the song reached number one on the US Billboard Dance Club Songs chart along with some other charts too.
This song makes for a far better alternative to the traditional birthday song, but fair warning, it's not kid-friendly and it's more catered toward singing for a male audience.
Fair enough, kids won't understand the lyrics and the tune itself is light and fluffy, but don't think too hard about the words.
2. Happy Birthday – Stevie Wonder
This song is a pretty happy and straightforward one, but it comes with a politically charged history to it.
Written, produced, and performed by Stevie Wonder for the Motown label, Wonder wrote this song as part of a campaign to have the birthday of Martin Luther King Jr. become a national holiday.
He created this song to promulgate the cause.
The song has since become a pretty standard modern birthday staple, particularly within African-American culture.
Happy Birthday was released as Wonder's fourth single on his Hotter than July album in June 1981
It wasn't released in the United States but is still considered one of his signature songs
3. Birthday – The Beatles
What a cool birthday song! Released in 1968 on their double album "The Beatles"- also known as "the White Album."
The song opens up with punchy drums and dives right into the song's riff, which was written up mostly by Paul McCartney and partly by John Lennon.
During the recording session, the Beatles and the recording crew went to go watch a movie at McCartney's house called The Girl Can't Help It, which was being shown for the first time on British television. After the movie, they returned to record "Birthday."
They wrote and recorded the whole song in one night and finished it by 5 am the next day.
4. Never Grow Up – Taylor Swift
Never Grow Up is a song that Taylor Swift wrote for the little girls who are fans of her songs.
The song has a bit of an undercurrent of sadness as she reflects on childhood innocence, but it's a beautiful, gentle sadness.
The song is a nice break from Taylor's industrial pop, with a sound reminiscent of her country roots and a gentle lullaby feel to it.
I don't know if it would be a birthday party song, but it's definitely a song to play for your daughter or at least something that gets you thinking about her growing older.
5. Birthday Song – 2Chainz ft. Kanye West
If you know of 2Chainz, you know this is definitely not your average birthday song.
This song has an infectious feel to it though and will have you quickly chanting along to the chorus hook.
2Chainz and Kanye West sing about being extravagant on their birthday in this song, sparing no expenses and going all out to have exactly what you want, since it's your birthday.
In 2Chainz's case, that would be "a big booty ho."
6. It's My Birthday – Will.i.am ft. Cody Wise
Released in 2014 and released as a single in Australia for some reason, the song is about celebrating every day as if it's your birthday.
The song samples an Indian song called "Urvasi Urvasi" from a 1994 film called "Kadhalan."
A hip-hop birthday song makes for a pretty catchy party event. With this song, you can be certain that you won't just be standing around a table blowing out candles, you'll be setting the roof on fire.
Cody Wise is best known for this song, he is actually Will.i.am's protege, whom the rapper spotted after a performance of "Who's Lovin You" that Wise did when he was 13 years old.
The song received mixed to negative reviews for the most part with most critics calling it unoriginal and cringe, but Will.i.am sort of planned this, apparently
7. Birthday Cake – Rihanna
Birthday cake is an R&B interlude that lasts for just over a minute and appeared as the sixth track on the album "Talk That Talk" in 2011.
The song is definitely not a birthday song for kids, it's for you once you've grown older and have grown tired of conventional birthday music and have also become corrupted by the world.
The lyrics are very explicitly sexual and received both positive and negative receptions due to this.
A lot of the lyrics are mainly a metaphor for spontaneous sex and devouring certain… organs.
It's quite on the nose in those parts, but with the rest of the song just being Rihanna chanting "cake."
8. Happy Birthday – "Weird Al" Yankovic
Happy Birthday by "Weird Al" is about as far from happy as it gets on this list.
The lyrics bemoan the miserable state of the world and the impending disasters to come.
This is only a great song to have if you intend on having a cynical birthday where everyone agrees with the song.
Happy birthday was released in 1982 and runs for a total of 2 minutes and 24 seconds
The song is in the style of Tonio. K who is one of Yankovic's favorite artists
This song is a reference to the album it was released on with a birthday hat on the cover
The Elvis Presley song "In the Ghetto" may be being referenced when Al sings "There's a Mother in the Ghetto with another mouth to feed."
9. Birthday – Selena Gomez
Released on her solo debut album, "Stars Dance" in 2013, Birthday combines deep electronic dance beats and police sirens with elements of trap music to give its own unique take on the party tune.
Like many pop songs today, Birthday also can't seem to get away from sexual topics as the song progresses through its lyrics.
With words discussing topics such as sex appeal, self-entitlement, and "girl power," its risque lyrics speak of a night of hard partying.
The song was released n July 22, 2013, to coincide with Gomez's 21st birthday
10. Dethklok – Birthday Dethday
This song is actually from the animated series, "Metalocalypse" and is centered around Murderface's birthday party, which he is not happy with.
The band tries to get him a present, along with many others and everyone falls short until the end of the episode when the band surprises him with a gift so great, he cries a single tear of blood.
One thing to say about this song is that it's for metal fans and fans of the series.
The lyrics are growled and are almost unintelligible at times, while the music video is a series of intensely flashing lights.
What I love about this song is the opening line: "Many years ago, something grew inside your mother.
That thing was you." It's so different from the common birthday wish statement that it makes it an instant classic for me.
11. Happy Birthday – The Click Five
Happy birthday is the second single from Click Five that was released for Thailand and the Philippines and the third single for Singapore and Malaysia.
The song is a power-pop birthday song, with elements of rock and punk to it, but with an overall feel-good vibe to it.
It makes for a fun birthday song for young adults, even though it centers around the singer being late for the subject of the song's birthday.
The song seems to be more of an apology for wishing someone a late happy birthday but makes for a good happy birthday song nevertheless.
Happy Birthday is off of their Modern Minds and Pastimes album
The song also topped the Philippines MYX Hit Chart and peaked at no.3 in Singapore
12. Happy Birthday, Johnny – St. Vincent
Happy Birthday, Johnny isn't the first song to feature St. Vincent's perhaps figurative friend Johnny.
This song features the character Johnny as part of a trilogy narrative of him and his self-destructive ways.
While this may be a song about a birthday, it's not so much a celebratory tune as it is one for reflecting on.
Annie Clark gives her thoughts on Johnny's character stating "Prince Johnny (her first song about him) is about a mixture of compassion and hopelessness that you feel for a friend who's being very self-destructive, but you also know that you can't save them, but you can't cast any judgment because you're equally self-destructive."
13. It's My Life – Bon Jovi
It's my life makes for a great birthday song despite not mentioning the words happy birthday, because it characterizes the exact spirit of birthday celebration.
It's a song about living your life to the fullest and taking every opportunity you can.
The lyrics "Like Frankie said, I did it my way" are a reference to Frank Sinatra who was hugely successful, touring til he was 80 years old.
Bon Jovi and Richie Sambora apparently disagreed about those lines, with Bon Jovi recalling "He (Sambora) said, 'You can't write that damn lyric. Nobody cares about Frank Sinatra but you.' And I wrote it anyway."
The song became a fan anthem due to the lyrics "It's my life" resonating strongly with everyone from every walk of life wanting to take control of their lives and live it their way.
14. Forever Young – Rod Stewart
Stewart wrote this song with two of his band members: guitarist Jim Cregan and keyboardist Kevin Savigar.
The song was the first released on his 1988 album Out Of Order.
The song was a top 20 hit on the Billboard Hot 100, peaking at No.12 and No.9 on the Canadian RPM Magazine charts.
"Forever Young" was written for Stewart's children, when he suddenly realized they were growing up so fast and without him there.
He had missed five years of their life because he was too busy touring.
Forever young really makes for a great anthem about staying young at heart despite aging, which is a really important thing to remember as you celebrate your birthday.
15. Death For My Birthday – Say Anything
This song is all about appreciating the life you have at the moment, despite its surface message at least.
The song focuses on a person who's so obsessed with death and the supposition that it will set them free from the sufferings of life.
The song is a lyrical story about a morbidly obsessed man, but by the end he changes his mind on his deathbed, asking for just one more day.
Death for my birthday is meant to remind us not to get spiritually obsessed with the idea of death and to not forget to live while we're here.
10 More Songs About Birthdays
| | |
| --- | --- |
| Title | Artist |
| B-Day Song | Madonna |
| Happy Birthday | Loretta Lynn |
| Unhappy Birthday | The Smiths |
| It's My Party | Lesley Gore |
| Older | They Might Be Giants |
| In da Club | 50 Cent |
| 16 Candles | The Crests |
| We Can't Stop | Miley Cyrus |
| Birthday | Anne-Marie |
| Birthday | Kings Of Leon |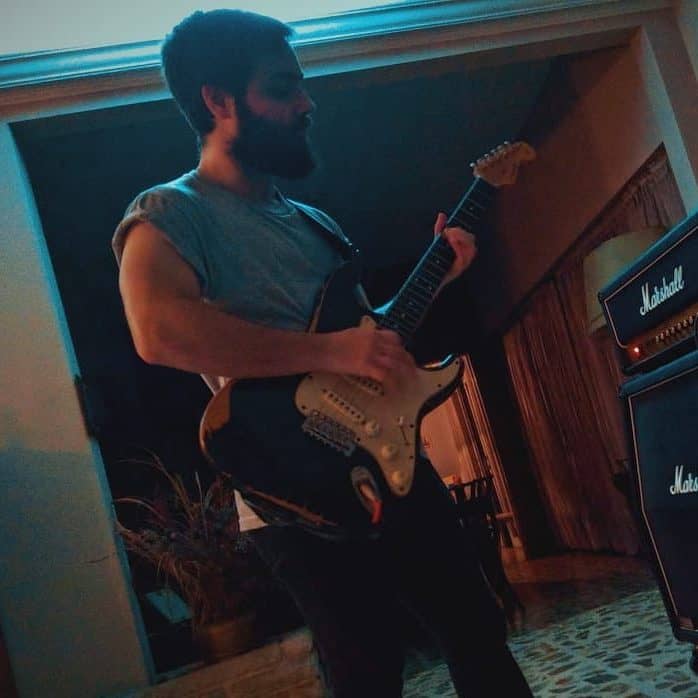 Hello there, my name is Ramiro and I've been playing guitar for almost 20 years. I'm obsessed with everything gear-related and I thought it might be worth sharing it. From guitars, pedals, amps, and synths to studio gear and production tips, I hope you find what I post here useful, and I'll try my best to keep it entertaining also.