Canada has produced a wealth of extraordinary musical talent that has not only dominated the charts at home but also gained international acclaim.
From pop sensations like Justin Bieber and Céline Dion to rock icons like Neil Young and Bryan Adams, this diverse group of artists has left an indelible mark on the music world.
Join us as we explore the fascinating journeys, chart-topping hits, and curious facts behind these 17 famous Canadian music legends who continue to inspire and captivate audiences around the world.
Let's celebrate the extraordinary musical heritage of the Great White North!
1. Justin Bieber
First up is the Canadian pop sensation, born on 1 March 1994, who shot to fame in 2009 after being discovered on YouTube.
With 6 studio albums under his belt, Bieber has proven himself to be a versatile artist, transitioning effortlessly from teen heartthrob to mature performer.
Justin Bieber has also won major awards, including a Grammy and a Latin Grammy, adding to his impressive career.
An interesting fact about Justin is his early dedication to mastering multiple instruments before his big break, demonstrating his genuine passion for music and setting the stage for his extraordinary success.
2. The Weeknd
Abel Tesfaye, better known as The Weeknd, was born on February 16, 1990.
He made his debut in 2011 and has since become a prominent figure in contemporary R&B and pop.
With 4 studio albums, The Weeknd's distinctive blend of soulful vocals and dark, moody beats has earned him critical acclaim and a slew of Grammy Awards.
Few may know that his stage name was a reflection of leaving behind his past life.
It was chosen as a tribute to the time when he left school, took his mattress, "went away for a weekend and never came back", dedicating himself entirely to his music.
This transformation has undoubtedly captivated audiences around the world.
3. Drake
Born on 24 October 1986, Drake has made an unforgettable impact on the music scene since his debut in 2010.
With 6 studio albums to his name, his introspective and emotionally charged rap style has struck a chord with audiences of all generations.
Beyond his multiple Grammy Awards, Drake has also earned the prestigious title of Billboard Artist of the Decade.
What adds a fascinating dimension to his journey is that before he became a rapper, he was an actor.
Drake showcased his artistic range and versatility on the Canadian teen drama series Degrassi: The Next Generation.
This unique background has undoubtedly influenced his storytelling skills and contributed to his unprecedented success in the music industry.
4. Neil Young
Born on 12 November 1945, Neil Young is a Canadian legend with a career that spans decades.
Since his debut in 1968, he has released more than 40 studio albums, with Harvest (1972) being considered his best.
As a multi-Grammy Award winner, Young's music often incorporates social and environmental themes, reflecting his passion for advocacy.
Outside of music, he co-founded the Farm Aid charity concert, underlining his commitment to supporting family farmers.
5. Céline Dion
Born on March 30th 1968, Céline Dion is one of Canada's most successful artists of all time, and her 1981 debut marked the beginning of a prolific career that spans an impressive 28 studio albums.
In addition to her multiple Grammy Awards, Céline has received the prestigious Order of Canada, an honor that reflects her profound impact on the music industry.
Interestingly, she comes from a large musical family, and her early exposure to performing as part of Dion's Family laid the foundation for her later success.
Céline's powerful voice and outstanding performances have transcended borders, making her a global sensation across generations.
6. Michael Bublé
Born on 9 September 1975, Michael Bublé is a Canadian singer known for his smooth voice and classic, jazz-inflected sound.
His 2001 debut paved the way for 8 studio albums celebrating the Great American Songbook.
Bublé's charismatic vocals have earned him multiple Grammy Awards and Juno Awards.
Fascinatingly, before making it big in music, he began his journey performing in local clubs and bars, a testament to his dedication.
7. Bryan Adams
What can we say about this Canadian rock icon that hasn't already been said?
Born on the 5th of November 1959 and beginning his career in 1980, Adams has left a lasting mark on the rock music landscape with an impressive discography of 14 studio albums.
He has won several Juno Awards and was nominated for an Academy Award for his hit song (Everything I Do) I Do It for You included in the film Robin Hood: Prince of Thieves.
His gravelly voice and ability to craft timeless rock anthems have made him a beloved figure but Bryan Adams is not only a successful musician but also a talented photographer who has published several books of his work.
8. Leonard Cohen
Leonard Cohen was born on September 21, 1934, and his debut in 1967 marked the beginning of a legendary music and poetry career.
With an extensive catalog of 14 studio albums, Cohen's profound and introspective lyrics have touched the souls of countless listeners.
His contributions to music have earned him multiple Grammy Awards and the prestigious Order of Canada.
What some may not know is that before his musical success, Cohen was a prolific novelist, showcasing his multifaceted artistic talents.
9. Alanis Morissette
Born on 1 June 1974, Alanis Morissette burst onto the music scene in 1991, marking the start of her extraordinary career.
With 9 studio albums to her name, Morissette's emotional and raw songwriting has struck a chord with audiences around the world.
Her groundbreaking album "Jagged Little Pill" earned her multiple Grammy Awards, including Album of the Year.
Alanis Morissette's authentic approach to music and willingness to share her personal experiences continue to inspire fans and solidify her position as a trailblazing female artist.
10. Avril Lavigne
Born on 27 September 1984, Avril Lavigne's 2002 debut catapulted her to fame as a punk-inspired pop sensation.
With 6 studio albums to her name, Lavigne's rebellious image and catchy anthems have resonated with a generation of young fans.
She has won multiple Juno Awards and has been nominated for Grammy Awards.
Notably, Avril Lavigne's path to stardom began as a young talent performing in church choirs and local shows, setting the stage for her future success.
11. Joni Mitchell
12. Neil Peart
13. Deadmau5
14. Shania Twain
15. Chad Kroeger
16. Nelly Furtado
17. Shawn Mendes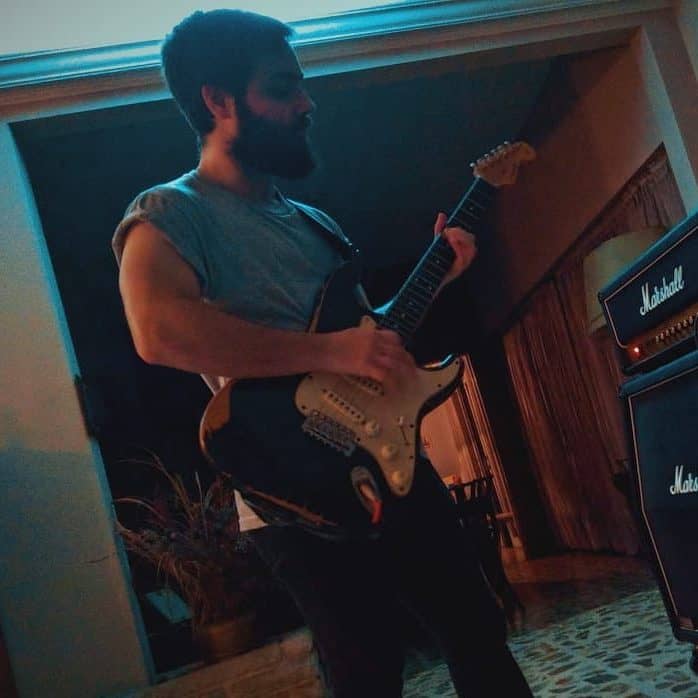 Hello there, my name is Ramiro and I've been playing guitar for almost 20 years. I'm obsessed with everything gear-related and I thought it might be worth sharing it. From guitars, pedals, amps, and synths to studio gear and production tips, I hope you find what I post here useful, and I'll try my best to keep it entertaining also.