If someone asks you to think of a musical instrument, most likely the first thing that comes to your mind would be the guitar.
In popular music, this stringed instrument is undoubtedly the best known, we can see it in countless genres and cultures.
However, as there are a lot of models of electric guitars available which provide unidentical outcomes, they are used for different styles.
But have you ever wondered which of them is the most versatile?
Which one offers the most tonal options?
Which one is best suited for various genres?
When it comes to versatility, the Stratocaster is quintessential thanks to its numerous tones. However, the Telecaster and Les Paul provide great adaptability and are better suited to a wider range of musical genres. So are the 335s, and that's why they have a cult-like following.
If you are looking for a guitar that covers several styles this article is for you.
Here we will explain what a guitar must have to be versatile and we will also provide a list of the most versatile models.
What makes a guitar versatile?
As mentioned in the introduction, the guitar itself is an instrument that adapts to almost any musical genre, but what characteristics are taken into account when talking about a versatile guitar?
First of all, we have its sound, since this is what leads musicians to choose one model or another.
An electric guitar can be called versatile when it covers several tonal ranges making the instrument useful for a wide range of styles.
Another reason to highlight is the features that the guitar may have, by this we refer to floating bridges, whammy bars, split coils, and even locked tuning pegs among others.
These components will add more sonic options when playing such as altering the pitch of the notes, different tonal options on the pickups, and better stability for example when changing the tuning.
Aspects such as the wood play an important role but each model generally presents several versions of the instrument employing different tonewoods in their construction.
Therefore, taking this aspect into account is important but not a concluding factor.
Top 7 most versatile electric guitars ever
Having already explained what is considered a versatile guitar, we want to help you choose the instrument that best suits your preferences.
That's why below is a list of the 7 most adaptable guitars on the market.
1. Fender Telecaster
To begin with, we have what was at the time the first electric guitar in history: the Fender Telecaster.
What can we say about this instrument that has not been already said?
It is an extraordinary piece of wood, providing a great variability in tone thanks to its configuration featuring dual single coils, one in the neck and one in the bridge position.
In addition, it features a three-position switch that provides wonderful tones for a wide variety of styles.
With the Tele, you can get classic jazz tones with a muddy sound, killer funky tones thanks to its prominent treble frequencies, and hard rock sounds too.
In addition to that, this electric guitar is desired by country musicians and even math rockers praise this wooden piece as well.
Besides, you can also find it in pop, reggae, modern rock, and neo-soul. As you may notice, a widely versatile guitar that works in almost any context.
Check out some tones:
2. Parker Fly
This guitar is well known perhaps not for its name, nor its tone, but rather for its particular shape.
Although it may be quite ugly to look at, the Fly is a guitar used by many musicians of various styles, Matt Bellamy, Pete Townshend, and Gustavo Cerati are some of them but the list goes on and on.
This piece was born as an experimental creation that implements carbon fiber in some sections of the neck and fretboard.
But perhaps its most interesting feature is that it was one of the first guitars to combine traditional magnetic pickups with Piezo pickups which allows it to achieve both acoustic and electric tones.
In addition to the Piezo pickup, the Parker Fly features a dual humbucker configuration that can be split into single coils plus some versions also present a MIDI built into them.
Moreover, this piece presents a special tremolo system designed to offer three different variants: a fixed-bridge mode, a bend-down-only mode, and a free-float mode.
Likewise, the bridge is specifically designed to maintain stability and tuning.
In short, a very complete and versatile electric guitar to cover the acoustics sections without needing a second guitar.
Check out some tones:
3. Fender Stratocaster
When we hear the phrase "versatile guitar" probably the first thing that comes to mind is the glorious Fender Stratocaster.
This instrument needs no introduction, used by both great legends in the history of music as well as today's musicians.
One of the reasons Strat is able to adapt to a wide range of genres lies in its pickups.
The tone of the three single coils offers a wide variability in sound.
Thanks to the five-position pickup selector we can have the three pickups isolated or also combined in positions 2 and 4.
That added to the tone controls provides countless options to choose from.
Although it doesn't have as much punch in the high frequencies as its sister the Telecaster, the Strat will work great in jazz, rock, pop, punk, and even fusion.
It is popularly chosen to achieve vintage tones but will adapt to just about anything, plus its characteristic quacky sound is unique and hard to replicate on other guitars.
Check out some tones:
4. Gibson Les Paul
In this place, we have an iconic instrument, the Gibson Les Paul, a very famous guitar in the rock scene.
When we talk about Les Paul it is synonymous with rock n roll but it is not the only genre that you can play with this beautiful instrument.
This wooden piece has clean defined tones free of interference as it features two humbucker pickups.
That's why high-gain styles like metal, grunge, and hard rock often use these guitars.
However, it is also possible to use a Les Paul to play punk, pop, and even classic styles like jazz and blues.
In addition, some models come with a coil split option which widens the sound variables to punchy funky tones.
Check out some tones:
5. PRS Custom 24
PRS is an American brand known for its high-end premium guitars.
These guitars have amazed hundreds of musicians by taking the highly desirable vintage sound and combining it with the best of modern sounds.
It is said that Paul Reed Smith was inspired by both Fender and Gibson guitars and appropriated the best elements of each.
As you can see, the PRS Custom 24 is a guitar designed for professional musicians and is excellent for any genre, from classic sounds like blues, rock, or jazz to funk and pop.
Regarding the electronics, it is a unique guitar, featuring two PRS pickups that recreate two humbuckers but with improved clean tones.
In addition, it offers five unmatched pickup positions.
In some positions, you will find pure humbuckers, in others a single coil combined with a bucker and also two single coils with parallel winding.
The reason for such a curious configuration is the intention to get the best tones from both single coils and humbuckers.
Check out some tones:
6. Gibson ES-335
Almost reaching the end of the list, we find another Gibson model but in this case a hollow-body guitar.
The Gibson ES-335 is famous for adapting to vintage rock and masterfully achieving beautiful jazz tones.
As with most Gibson guitars, the ES-335 features one humbucker in the neck position and another in the bridge position.
Being a hollow body, its higher resonance in combination with the pickups makes it great for playing blues, country, and also RnB.
In addition to that, it has a three-position pickup selector, and two individual volume and tone knobs for each pickup which further enhances its sonic capabilities.
Like all of the guitars mentioned above, this is a great choice for many genres but perhaps those who are looking for a more versatile guitar for classic styles will be able to squeeze the most out of it.
Check out some tones:
7. Shuriken Variax by Line6
Last but not least, there is a rather strange guitar that some players call "the guitar of the future".
Many musicians will say that adding this instrument to the list is cheating, but we couldn't ignore this amazing invention.
This is the Shuriken Variax, a guitar featuring digital electronics.
To configure it, it is connected to a computer and presets are loaded from a program.
It has a tone and volume knob like all guitars, but the interesting thing about this piece relies on the remaining knobs.
One of them is used to change between twelve different tunings while the other one is in charge of launching the presets.
Regarding the pickup selector, it has five positions, and depending on the configuration it can function as a switch or trigger other presets previously set.
You will have not only the sound of all the guitars but also a sitar or a banjo.
Check out some tones:
Conclusion
Although these guitars will help anyone to have an approach to numerous genres, you should know that depending on your intention and preferences you should choose what best meets your expectations as a musician.
Some guitars work better or are intended for certain genres, for example, if your goal is to play metal and derivatives, it is better to get an instrument meant for the genre rather than a versatile one.
Another aspect that many musicians argue is that the tone is in the fingers so it is important not only to pay attention to our instrument but also to the technique.
To conclude, be clear about your goal and desired tone, and choose what satisfies your preferences.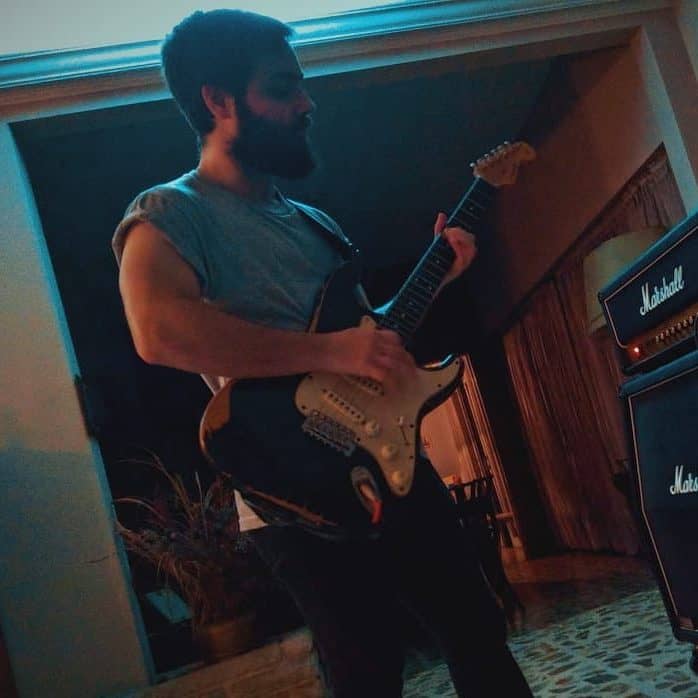 Hello there, my name is Ramiro and I've been playing guitar for almost 20 years. I'm obsessed with everything gear-related and I thought it might be worth sharing it. From guitars, pedals, amps, and synths to studio gear and production tips, I hope you find what I post here useful, and I'll try my best to keep it entertaining also.