Are you looking for a playlist that celebrates the courage, bravery, and resilience of heroes?
Look no further than our list of 25 Songs About Heroes!
Whether you're a fan of rock anthems that inspire us to never give up, ballads that pay tribute to the unsung heroes who make a difference in our lives, or songs that highlight the extraordinary feats of human audacity, this collection has something for everyone.
From classic tunes that have stood the test of time to modern hits that speak to the issues of today, these songs are sure to uplift your spirits and remind you of the power of the human soul.
Whether you're looking for inspiration during tough times or simply want to celebrate the heroes in your life, these songs will take you on a journey of empowerment and inspiration.
These 25 songs are a testament to the fact that heroism comes in many forms and that we all have the power to be heroes in our own lives.
So sit back, turn up the volume, and let these songs remind you of the incredible strength and resilience that lies within all of us.
1. Heroes – David Bowie
To begin with, we have this iconic song by the late David Bowie which is a true masterpiece that has stood the test of time and gives the name to the album.
Released in 1977 as part of Bowie's Berlin Trilogy, this track is a soaring, epic anthem that celebrates the triumph of human tenacity.
The story told in this song is about a couple from Germany who were extremely committed to their relationship, and as a result, they would meet every day under a gun turret located on the Berlin Wall.
With its soaring guitar riffs and haunting vocals, this song captures the sense of hope and defiance that defined the 70s era.
2. My Hero – Foo Fighters
From the opening notes of its driving guitar riff, this Foo Fighters track is a powerhouse of a rock song.
Released in 1998 as part of their second album The Colour and the Shape this track is a tribute to everyday heroes who inspire us to be our best selves.
The track is from the perspective of a little kid but in fact, reflects Dave Grohl's beliefs.
In short, My Hero was written to celebrate the common man and his extraordinary potential.
3. Heroe – Mariah Carey
This track is a timeless ballad that speaks to the hero within each of us.
Released in 1993 and included in the album Music Box, this song is a testament to the power of inner strength and resilience.
With Carey's soaring vocals and heartfelt lyrics, this song has become an anthem for those who face adversity with courage and grace.
Whether you're facing a personal challenge or striving to make the world a better place, this piece will inspire you to be your own hero.
4. Flash – Queen
If you're a fan of science fiction, you already know this amazing song by Queen.
Included in the Flash Gordon movie soundtrack released in 1980, this track is a high-energy, guitar-driven anthem that captures the adventurous spirit of the film.
5. We Don't Need Another Hero – Tina Turner
Just like in the previous position, this song was released as part of a movie soundtrack.
Released in 1985 in the film Mad Max Beyond Thunderdome, this song is a rallying cry for those who refuse to be defeated by adversity.
This track is not only a powerful statement about the resilience of the human spirit but also a vindication against war and violence.
Thanks to that, We Don't Need Another Hero continues to inspire fans around the world still nowadays.
6. Batdance – Prince
Following the line of films, we have Batdance by Prince, a funky, danceable track that was released in 1989 as part of the Batman movie soundtrack.
Of course, this song is a tribute to the Caped Crusader and captures the playful, irreverent spirit of the film.
Whether you're a die-hard Prince fan or a casual Batman enthusiast, this song is sure to get you on your feet.
Besides, in the music video, Prince is disguised as Two-Face, a villain from Batman's comics.
7. Waitin' for a Superman – The Flaming Lips
This track is a heartfelt tribute to the everyday heroes who inspire us to keep going, even when times are tough.
Released in 1999, this song was included in the acclaimed album The Soft Bulletin.
This haunting, introspective track goes on themes of loss, hope, and longing.
In short, a beautiful song that encourages the listeners to keep on trying even though things get too heavy.
8. We Didn't Start the Fire – Billy Joel
Just by listening to its opening notes, you will instantly recognize this energetic song which guides you on a historical tour through the main events of the 20th century and mentions important figures of all times.
Released in 1989 and included in the album Storm Front, this song contains references to important political, cultural, scientific, and sporting events that took place between 1949 and 1989.
9. Not All Heroes Wear Capes – Owl City
This track is a heartwarming tribute to the unsung heroes who make a difference in our lives every day.
Released in 2018 as part of the band's Cinematic album, this song is a reminder that heroism comes in many forms, from the everyday acts of kindness that make the world a better place to the extraordinary feats of bravery that capture our imagination
10. Holding Out for a Hero – Bonnie Tyler
If you need courage and determination, by listening to this song you will feel empowered to do whatever you want.
From the 1984 album Faster Than The Speed Of Night, this track has become an anthem for anyone who refuses to settle for less than they deserve.
Although it was released and famous during the 80s, still nowadays is a true classic that inspires people to stand up and fight for their dreams.
In addition, the piece was included in the 2004 animated film Shrek 2.
11. Superman's Song – Crash Test Dummies
12. Heroes And Villains – The Beach Boys
13. One Call Away – Charlie Puth
14. Heroes and Friends – Randy Travis
15. Superman (It's Not Easy) – Five for Fighting
16. Everyday Superhero – Smash Mouth
17. Hero of War – Rise Against
18. Hero – Enrique Iglesias
19. Hero Takes a Fall – The Bangles
20. Heroes (we could be) – Alesso
21. Kryptonite – 3 Doors Down
22. Hero in Me – Jeffrey Gaines
23. Batman & Robin – Snoop Dogg
24. Working Class Hero – John Lennon
25. No More Heroes – The Stranglers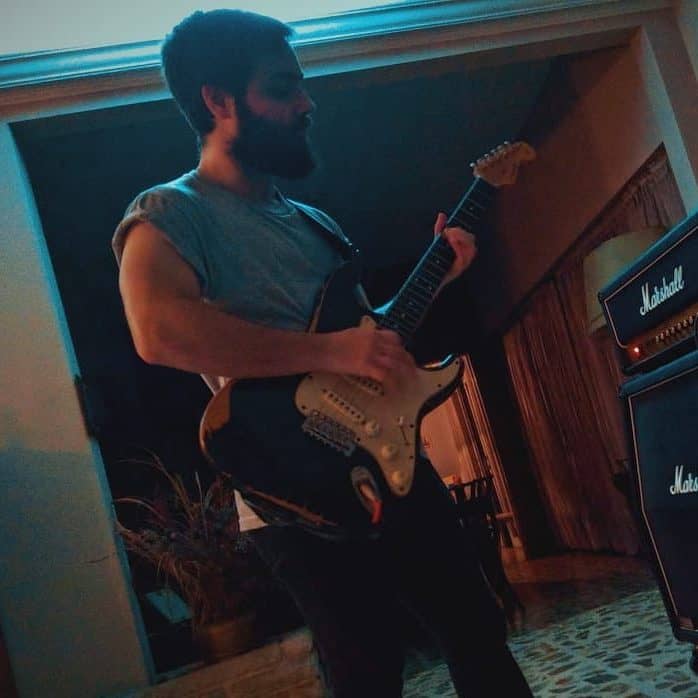 Hello there, my name is Ramiro and I've been playing guitar for almost 20 years. I'm obsessed with everything gear-related and I thought it might be worth sharing it. From guitars, pedals, amps, and synths to studio gear and production tips, I hope you find what I post here useful, and I'll try my best to keep it entertaining also.