The musical landscape changed a lot in the 1980s owing to the increasing popularity of synthesizers in popular music.
There was obviously a lot going on in music with the Hip Hop / Rap, Heavy Metal, Punk, and Gothic Rock genres getting more attention.
But what songs do you think defined the 80s as a time period? What songs would you include in a time capsule to represent the decade?
For me, it is mostly a mix of Pop and New Wave music, exactly the sort of stuff you might hear on an 80s radio station or streaming service playlist.
And there are bound to be some songs that sound cheesy in retrospect, but there are some absolute gems too.
This list is obviously just the tip of the iceberg but if you have an itch for 80s music, these songs will definitely bring you some relief.
Oh, and you don't have to worry about getting Rickrolled. I promise Never Gonna Give You Up isn't on here!
1. Everybody Wants to Rule the World – Tears for Fears
I think Tears for Fears only had 4 or 5 big hits but when they wrote a good song it was a masterpiece as is the case here.
I mean, even the change from the intro riff to the synth chords that are the basis of the verses shouldn't work, but somehow it does and it draws you further in.
And the chorus is huge! Listen to the space between the notes, not the timing but the big changes in tone; it's just so infectious.
I also appreciate that although they can hit the high notes, they do it sparingly. For me too much high-pitched singing can really ruin a song but these lads exhibit good taste.
Written by: Roland Orzabal, Ian Stanley, and Chris Hughes
Year Released: 1985
Album: Songs from the Big Chair
2. Kidney Bingos – Wire
This beautiful track is everything an 80s song should be to me: it's smooth with plenty of effects used to enhance the sound.
And the slow vocals for the verses with the sped-up meter for the chorus gives the song a sense of momentum.
Believe it or not, this band started out as a Punk Rock band about 10 years earlier… and not just any Punk band but one of the best!
Written by: Wire
Year Released: 1988
Album: A Bell Is A Cup
3. Let's Dance – David Bowie
David Bowie was obviously very talented musically but another of his talents was being able to adapt to the times.
And he had huge success with this album in the early 1980s, trading in his raspier singing for a crooning variety. And it really worked for him as he showed much more of a trained vocal style.
And with Stevie Ray Vaughan on lead guitar, you have what many people consider to be Bowie's best album of the 1980s.
Written by: David Bowie
Year Released: 1983
Album: Let's Dance
4. Total Eclipse of the Heart – Bonnie Tyler
While this is considered a one-hit wonder and Bonnie Tyler didn't write this song, her performance was enough to get her a place in music history.
The song is really dramatic with lots of layered vocals that give it a "call and response" feel and Bonnie puts some real emotion into her voice, even letting it "crack" for emphasis.
And although I could usually care less about music videos, I always find myself watching this one because it's just so strange!
Written by: Jim Steinman
Year Released: 1983
Album: Faster Than the Speed of Night
5. Bizarre Love Triangle – New Order
After the suicide of Joy Division's singer Ian Curtis, the rest of the band picked up the pieces, added one new member, and regrouped as New Order.
But they didn't just change their name, they changed their style too: from Post-Punk to New Wave / Electronica.
In fact, they said it was originally Ian Curtis that had suggested using more synthesizers in their music and it turned out to be sound advice.
Because of the popularity of rave culture and dance clubs in the 1980s, New Order met with huge success!
Written by: Gillian Gilbert, Peter Hook, Stephen Morris, and Bernard Sumner
Year Released: 1986
Album: Brotherhood
6. The Things You Said – Depeche Mode
Depeche Mode was another band that was showing chameleon-like skills in the 1980s.
Because they started off with songs that were fun but also really cheesy in retrospect.
But by 1987, their sound had evolved a lot with slower percussion and more complex hooks.
The lyrics had also become more introspective and mature with this song about feeling betrayed providing a great example.
And they didn't stop there either, putting out some of their best work in the following decade.
In my experience, a lot of bands tend to go downhill after a while so kudos to Depeche Mode for flipping the script.
Written by: Martin L. Gore
Year Released: 1987
Album: Music for the Masses
7. You Spin Me Round (Like a Record) – Dead or Alive
8. Bad to the Bone – George Thorogood and the Destroyers
9. Girls on Film – Duran Duran
10. Beat It – Michael Jackson
11. Who's That Girl – Madonna
12. Tarzan Boy – Baltimora
13. Break My Stride – Matthew Wilder
14. Dancing with Myself – Billy Idol
15. Down Under – Men at Work
16. Drive – The Cars
17. If You Leave – Orchestral Manoeuvres in the Dark
18. True – Spandau Ballet
19. I Want Candy – Bow Wow Wow
20. Call Me – Blondie
21. Danger Zone – Kenny Loggins
22. Take My Breath Away – Berlin
23. Africa – Toto
24. Take On Me – A-ha
25. Chains of Love – Erasure
26. What Have I Done to Deserve This? – Pet Shop Boys with Dusty Springfield
27. Eye of the Tiger – Survivor
28. Bette Davis Eyes – Kim Carnes
29. Lips Like Sugar – Echo and the Bunnymen
30. Just Like Heaven – The Cure
31. Get Down on It – Kool and the Gang
32. Obsession – Animotion
33. Burning Down the House – Talking Heads
34. The Promise – When in Rome
35. Girls Just Want to Have Fun – Cindi Lauper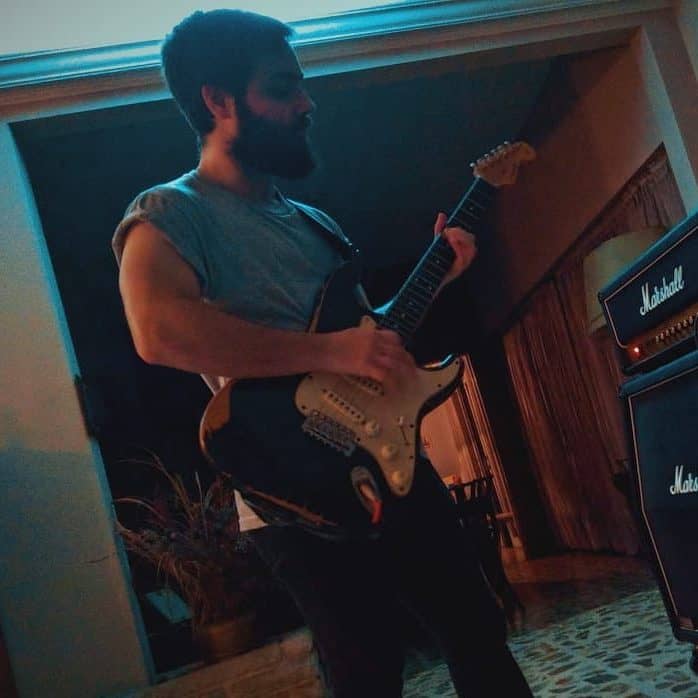 Hello there, my name is Ramiro and I've been playing guitar for almost 20 years. I'm obsessed with everything gear-related and I thought it might be worth sharing it. From guitars, pedals, amps, and synths to studio gear and production tips, I hope you find what I post here useful, and I'll try my best to keep it entertaining also.