Some people may prefer the Classic Rock bands of earlier decades or the muddy sound of Grunge, but the 1980s were undeniably a breeding ground for Rock bands.
So the big question is which ones still deserve a coveted spot in your playlist?
There are some obvious choices, but it's also nice to discover ones that may have slipped under your radar or that you've forgotten about over the years.
So this list won't just be "meat and potatoes" Rock bands but will include some Metal, Punk / Hardcore, Rockabilly, and Indie rockers too.
However, we will only be focusing on music from those that market themselves as groups.
And that means no Bruce Springsteen, Bon Jovi, Billy Idol, Joan Jett, Ozzy Osbourne, or David Bowie.
But I'm going to make an allowance for Van Halen since the group isn't named after the singer/frontman.
So grab a can of hairspray and a denim jacket because it's time to find out just how loud those Marshall stacks can really go.
1. Mean Street – Van Halen
A lot of great Van Halen songs were from the 1970s but the band still had plenty of ammunition left.
And the influence that their earlier work had on 1980s music cannot be overstated!
Songs like Jump, Panama, and Hot for Teacher rocked the decade but I think the classic Van Halen sound was diluted a little bit by the "80s sound".
And their earlier Fair Warning album is one of my favorites with tracks like this one, Dirty Movies, and So This Is Love?
Written by: Van Halen
Year Released: 1981
Album: Fair Warning
2. Alone – Heart
The 80s may have seemed heavy on testosterone but Rock goddesses Heart could hold their own with songs like Barracuda.
And this track (a cover from a band called i-Ten) has great energy and showcases Heart's amazing vocals along with the obligatory 80s guitar solo.
Celine Dion would even do a cover of it later and I'm pretty sure that wouldn't have happened without Heart's version.
Written by: Billy Steinberg and Tom Kelly
Year Released: 1987
Album: Bad Animals
3. Hells Bells – AC/DC
Some people were ready to write off AC/DC after the death of their original singer Bon Scott.
But the Australian spitfires came back and absolutely crushed the naysayers with what most people consider their best album ever!
Hells Bells and the other songs from the album were a masterclass in rhythm guitar for aspiring musicians and new singer Brian Johnson turned out to be the perfect frontman for the band.
Back in Black is still one of the best-selling albums ever and these guys have been playing sold-out stadium concerts ever since.
Written by: Brian Johnson, Malcolm Young, and Angus Young
Year Released: 1980
Album: Back in Black
4. Stray Cat Strut – Stray Cats
One of the best Rockabilly bands also came out during the decade of excess.
And I mention "excess" specifically because while a lot of bands from this period were flouting money, fast cars, and beautiful women, here's a song about a cat who remains suave while getting his dinner from a garbage can.
And though singer/guitarist Brian Setzer often gets a lot of credit for his musical chops, the whole band was on point.
Written by: Brian Setzer
Year Released: 1981 / 1982
Album: Stray Cats (UK) / Built for Speed (US)
5. Teenage Riot – Sonic Youth
I confess that I don't love every Sonic Youth album but Teenage Riot starts off with Daydream Nation, a double (vinyl) album that is all killer and has no filler.
This group just sounded unique, using a lot of interesting time signatures in their riffs and tons of alternative tunings to craft their sound.
And they also get a nod for having a female presence in the band, which was so rare in the 1980s, with vocals shared between guitarist Thurston Moore and bassist Kim Gordon.
Do yourself a favor and listen to the whole album!
Written by: Sonic Youth
Year Released: 1988
Album: Daydream Nation
6. The Kiss – The Cure
When you're in the mood for something a little on the dark side, look no further than The Cure.
This song is featured because it really shows that the band holds their own in the Rock genre though they traditionally wrote more in a Gothic Rock style.
But I could just as easily have chosen a song off of Pornography, The Head on the Door, or Disintegration.
Because The Cure's finely crafted songs along with Robert Smith's unique voice still sound good today in a way that a lot of "over the top" 80s Rock doesn't.
Written by: The Cure
Year Released: 1987
Album: Kiss Me, Kiss Me, Kiss Me
7. With the Quickness – Bad Brains
I could easily tell you this song was from the mid to late 90s and you'd believe me, right?
It was definitely before its time and was a harbinger of future Rock music.
Bad Brains is a bit of an anomaly themselves too.
While this song is sort of Alternative Metal, the band is known for super aggressive Hardcore Punk with some Rastafari-inspired Reggae tracks thrown in. It's quite a combination!
Written by: Darryl Jenifer, Earl Hudson, and Gary Miller
Year Released: 1989
Album: Quickness
8. Rosanna – Toto
9. Welcome to the Jungle – Guns N' Roses
10. TV Party – Black Flag
11. Orange Crush – R.E.M.
12. For Whom the Bell Tolls – Metallica
13. Killing Is My Business… and Business Is Good! – Megadeth
14. King of Pain – The Police
15. Who Can It Be Now? – Men at Work
16. I Still Haven't Found What I'm Looking For – U2
17. Tom Sawyer – Rush
18. New Mind – Swans
19. Electric Eye – Judas Priest
20. One Thing Leads to Another – The Fixx
21. Angel of Death – Slayer
22. Hallowed Be Thy Name – Iron Maiden
23. Where Is My Mind? – Pixies
24. Shake It Up – The Cars
25. Hungry Like the Wolf – Duran Duran
26. Rock n' Roll Is King – Electric Light Orchestra
27. Rock You Like a Hurricane – Scorpions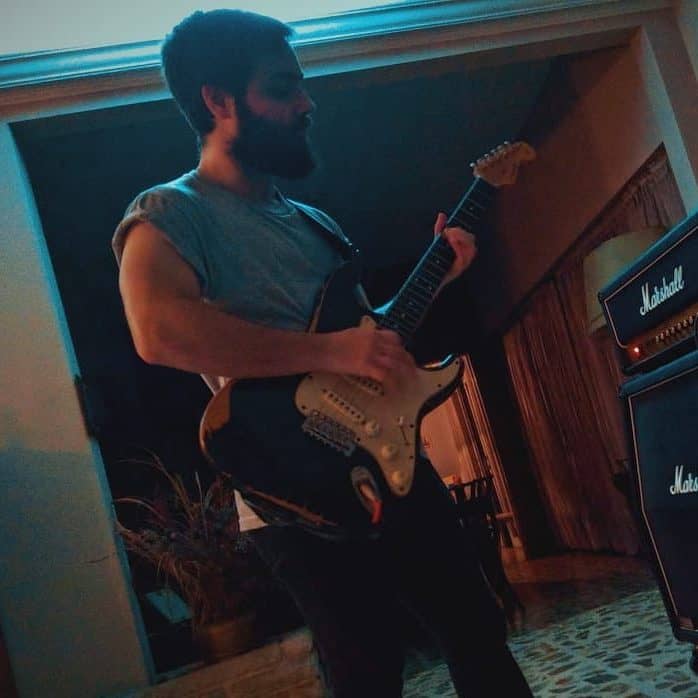 Hello there, my name is Ramiro and I've been playing guitar for almost 20 years. I'm obsessed with everything gear-related and I thought it might be worth sharing it. From guitars, pedals, amps, and synths to studio gear and production tips, I hope you find what I post here useful, and I'll try my best to keep it entertaining also.