The dad-sibling relationship is often overtaken by stormy weather. Yet, whenever the rain seems endless there's always sunshine coming ahead.
This bittersweet bond, full of rebellion and learning, has been a great inspirational source for countless artists.
Here they are, rockstars pouring their hearts into hits that have surely been the soundtracks of our history.
These are just 31 of the best songs ever written for one of the most influential people in our lives: our dads.
1. My Father's Eyes – Eric Clapton
"My Father's Eyes" was released as a single in 1998 and also featured in Eric Clapton's album Pilgrim. It was written and performed by the English singer and guitarist.
Eric Clapton was brought up by his grandparents but he didn't know about this until he was in his teen years.
Clapton's dad only looked for him when Eric got really famous and this song shows the sadness of not having a father-son relationship.
2. Dance with my Father – Luther Vandross
"Dance with My Father" is the title track of Luther Vandross' thirteenth studio album (2003).
After surviving a stroke (that would take him two years later), Luther Vandross got help from Richard Marx to write this song as a tribute to his late father. This was to be one of Luther's last songs.
Although the song won the Grammy Awards for Song Of The Year and Best Male R&B Vocal Performance, Vandross couldn't get on the stage to receive the honors because of his illness and Marx did it for him with a bittersweet feeling.
3. The Living Years – Mike + The Mechanics
Mike Rutherford's British-based rock band called Mike + The Mechanics released this rock ballad as their album Living Years' second single.
This song represents a conflictive relationship between a father and a son. It is written from the son's perspective and pictures the realization of the strong nature of their bond once the dad passes away. Moreover, it speaks about the regrets of not talking about these important feelings when the dad was alive.
This is not a song written by a single artist in one go but written in blocks by various members of the band. Robertson wrote verse one before his dad's death in 1986. Rutherford lost his dad the same year and that's when the pair composed the music around verse one. Finally, Robertson came up with the second verse, and the song was eventually finished.
When the call about his dad's passing reached Robertson, he was with Rutherford, working. This is reflected in the verse's opening lines:
"I wasn't there that morning
When my father passed away"
4. Father and Son – Cat Stevens
"Father and Son" is a hit song by Cat Stevens, a singer-songwriter also known as Yusuf Islam. The song belongs to the artist's 1970 album, Tea for Tillerman.
"Father and Son" is a song that represents a conversation between a father and his child in which the dad offers some life advice to his son, encouraging him to "find a girl and settle down" as if this was the path to happiness.
Although the song is not factual, Stevens has said in interviews that his relationship with Stavros Georgiou, his father, was a big influence when writing this song.
"Father and Son" was created using an unusual structure that doesn't rely on a repeating chorus but goes from verse to verse using louder or softer singing to emphasize the sections. The son's part being sung louder works as a hook for the listener.
5. Winter – Tori Amos
"Winter" was released as a single in March 1992. It is a song written and performed by Tori Amos.
Amos is a master piano player and the song was constructed around a soft piano melody with the use of a string quartet and Amos' powerful vocals. She sings about her father and failed aspirations.
The song was inspired by a conversation between Tori Amos and her father. The singer claims her father asked her to accept she was good enough for herself.
The music video, released originally in 1992, features Tori dancing with kids in costumes, playing the piano, and singing to the camera in a very close take of her face.
6. Papa Was a Rollin'Stone – The Temptations
"Papa Was a Rollin' Stone" was originally performed by a band called The Undisputed Truth in 1972. That being said, the most famous version of the tune came from the Grammy-Award-winning cover The Temptations did later in 1972.
The song's lyrics tell the story of a mother that opens up to her children about their dad being a disreputable womanizer who was also lazy, and itinerant.
This song's album version goes for well over eleven minutes. This was too long for a hit single; therefore, the song was divided into an A-side with a vocal performance that goes for almost seven minutes. The B-side is all instrumental and goes for almost five minutes.
This song was the last big hit that the utterly famous Studio A in Motown Records ever gave to music history. Furthermore, although the Motown studio was already moved to Los Angeles, this tune was recorded by The Temptations in its original building in Detroit.
7. Monsters – James Blunt
"Monsters" is part of Once Upon a Mind (2019), James Blunt's sixth studio album.
James Blunt's dad was diagnosed with stage-four chronic kidney disease. He's a former helicopter pilot and colonel in the Army's Air Corps. Blunt wrote a minor-key piano ballad that could represent the sadness he felt about his sick father.
James Blunt explained in interviews that it took years to stop idolizing his dad and that shift in perspective helped him become friends with the real man behind his idolized image.
After the song was released and the news about Blunt's father was known, a handful of fans offered his dad a new kidney. This enormous love gesture reached the army colonel who ended up in tears.
8. Papa Don't Preach – Madonna
"Papa Don't Preach" is a song included in Madonna's third studio album, True Blue (1986). It was written, performed, and recorded by Madonna.
This song addresses a very complicated matter: teenage pregnancy. Madonna embodies the voice of a confused teenager who asks her father for some advice amid difficult times.
Although Madonna refused to take a stance on the issue, the line "I've made up my mind, I'm keeping my baby" made anti-abortion groups praise the singer and the song, and abortion-rights movements criticize her.
Madonna hadn't released any controversial songs before this hit which would mark a new direction in her artistic career. Other, previous hits like "Borderline", "Holiday", and "Lucky Star" conveyed no controversy at all.
9. Daddy Lessons – Beyoncé
10. Go Gentle – Robbie Williams
11. Daddy Come and Get Me – Dolly Parton
12. Seein' my Father in Me – Paul Overstreet
13. Father of Mine – Everclear
14. First Man – Camila Cabello
15. The Wing Beneath My Wings – Bette Midler 
16. My Father's House – Bruce Springsteen
17. Song for Dad – Keith Urban
18. The Best Day – George Strait
19. JBC Song – Nizlopi
20. Father to Son – Queen
21. He Didn't Have to Be – Brad Paisley 
22. I Learned From You – Miley and Billie Ray Cyrus 
23. Daddy Could Swear, I Declare – Gladys Knight & the Pips
24. Like Father Like Son – The Game
25. I'm Already There – Lonestar
26. Father to Son – Phil Collins
27. Color Him Father – The Winstons
28. They Don't Make 'em Like My Daddy – Loretta Lynn
29. I'm Her Daddy – Bill Withers 
30. The Greatest Man I Never Knew – Reba McEntire
31. Papa Don't Take No Mess – James Brown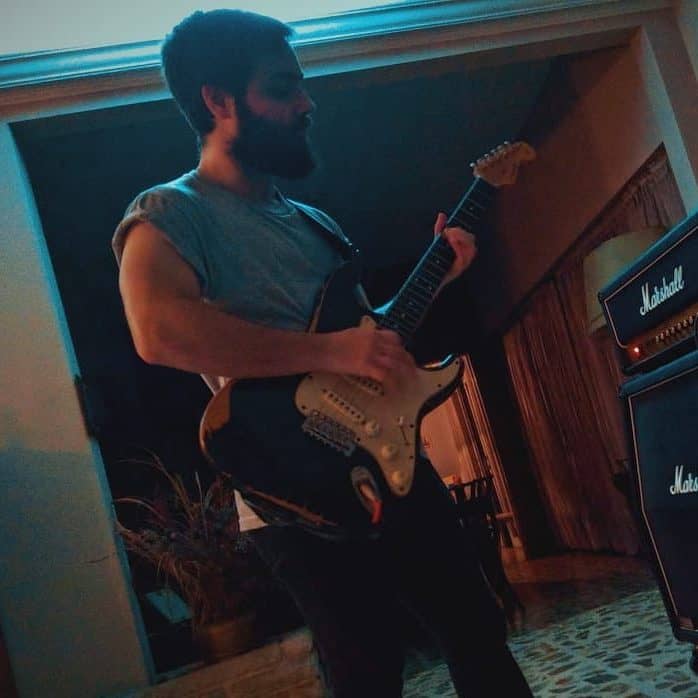 Hello there, my name is Ramiro and I've been playing guitar for almost 20 years. I'm obsessed with everything gear-related and I thought it might be worth sharing it. From guitars, pedals, amps, and synths to studio gear and production tips, I hope you find what I post here useful, and I'll try my best to keep it entertaining also.