There's no place like home, and one of the things most people can say they look forward to is coming back home after a time away.
Whether it's coming home after a hard day's work or coming home after a long time away, returning to your roots has a way of settling our hearts.
For many of us, having songs to go along with that return trip home makes it all the better, so I've put together a list of songs to accompany you.
The songs in this list will help put your feelings about returning home into words while making for a nice background to your daily life.
1. I'm Coming Home – The Spinners
Starting this list with some soul, I'm Coming Home by the Spinners was the seventies hit with a lot of funk and happiness to it.
It's a kind of uplifting American dream song, reminiscent of family road trips and RVs.
The Spinners released this back in 1974 and it's a song about returning to your roots after being burnt out by exploitative men who try to "pick your brain clean".
2. Sweet Home Alabama – Lynyrd Skynyrd
Sweet Home Alabama might be a song mainly for the South, but it's also a song about returning home and you'd be lying to yourself if you said you didn't like the catchy riff that runs throughout.
Funny enough, the song was written as a response to Neil Young's Southern Man, which described the racism of the south.
Young recanted it years later, saying it was "accusatory and not fully thought out."
The song is a staple of the Classic Rock and AOR radio formats and something of an anthem for the state and its various sports teams, even making its way onto a recent Alabama license plate design!
3. Coming Home – Diddy
I think it's safe to say everyone knows this song, with Skylar Gray having originally written it and Diddy featuring on it giving the song more context.
Coming Home is actually somewhat of a song about coming home to face your family and reflecting on moments in your life.
For Diddy, it was a song about reflecting on the loss of his close friend The Notorious B.I.G.
Fun fact about the song, it was originally written for another artist, T.I. but was swapped around with T.I. getting another of Skylar Gray's songs: Castle Walls.
4. Home – Jack Johnson
The last song on Johnson's Sleep Through the Static, Home is about how "home" isn't a place, but it's the people you're with.
It's a simple acoustic song, stripped down and raw and it's a beautiful listen if you're wanting a peaceful afternoon.
5. Home – Daughtry
Oddly enough, Daughtry wrote Home while sitting at home, believing it was bound to be a good pop hit.
He was right it turns out because when it was released back in 2006, I don't think you could get away from this song for a time.
It's a song instantly recognizable and it's all about returning home from being somewhat lost in the world.
Some have interpreted it as a Christian song, but I don't see it.
Unless you think of coming home as a metaphor for death or returning to a place where you can connect with God, I suppose?
6. Mama, I'm Coming Home – Ozzy Osborne
Ozzy's only top 40 hit in the US, "Mama, I'm Coming Home" is a song dedicated to his wife and manager, Sharon Osborne, who Ozzy would call Mama, as a pet name.
The song has a strange structure, and sings about facing the dark past you leave behind at home.
7. Our House – Madness
Our House is a classic 80s pop song about family life for a working-class British family.
Oddly enough, it's the only top 10 hits for Madness in the US, but in the UK they were huge, with multiple singles lining up in the top 20 between 1979 and 1985.
The song was mostly written by band singer and multi-instrumentalist Chas Smyth, who stated that the original idea was that everyone in the band would write about their family for the song, but only he did and so they used his lyrics.
8. My Hometown – Bruce Springsteen
"My Hometown" was the seventh single from Springsteen's blockbuster 1984 album, Born in the USA. It reached the top 10 in the US (along with all other six singles from the album).
This is a fictional story but some parts were inspired by some actual events that happened during Springsteen's early life in Freehold, NJ.
The song was also Internationally successful, reaching the top 40 in several other countries, which is no wonder, considering Springsteen was an industry giant back in the day.
This song encompassed the entire sound of the mid-80s.
With the synth, the heavy reverb, and even the way Springsteen delivered his vocals.
9. Lights – Journey
Originally, Journey had intended to write a song about Los Angeles but were more drawn to writing about their hometown instead.
Light is a bit of a departure from their bigger song, like Don't Stop Believin' and it tends to be a quiet 80s nighttime vibe.
What I will say surprises me every time is the sweet guitar solo delivered by Neal Schon.
10. Take Me Home, Country Road – John Denver
Also simply known as Country Roads, this song was released back in 1971 and became one of Denver's biggest and most successful songs.
The song has even become a symbol of West Virginia, with it becoming one of their four official state anthems.
The song was written by Bill Danoff, Taffy Nivert, and John Denver together, with the original idea of the song originating from Danoff while he was driving down a small road in Maryland.
In fact, the song is filled with a rich history of its writing and I recommend looking it up if you're a fan of this song and trivia too.
11. Moonlight Mile – The Rolling Stones
One of McJagger's more poetic songs, Moonlight Mile tells the story of a train passenger thematically expressing their sense of solitude.
The narrator's loneliness is evoked by the absence of a lover, symbolized by the moonlight, untouchable yet illuminating.
McJagger stated that he wrote it while they were out on the road and he was feeling road-weary and homesick.
12. Take The Long Way Home – Supertramp
A classic Supertramp hit, I can still remember growing up listening to this song.
The song was written by Supertramp member Roger Hodgson, and is about going home is a double-edged sword, where you miss the place, but maybe don't miss the people or how they treat you, but at the same time, the journey home is also a journey about finding yourself.
13. I'm Already There – Lonestar
A nice bit of country for going-home music. I think no list of homecoming songs is complete without at least some country music in it.
I'm Already There is a song about a man missing his family and his family missing him, but he responds by letting them know he's there in spirit, even though he can't be there in person.
14. Castle On The Hill – Ed Sheeran
Ed Sheeran pays homage to his upbringing in this song, singing about his childhood and racing down the country roads to get back to the place he grew up (Framingham, Suffolk in this case).
15. Coming Home – John Legend
John Legend's soulful voice tells of a young man out in the world and his journey while his family longs for him to return home.
It's a beautiful piano ballad with Legend's grainy vocals driving the song through and tugging on your heartstrings.
16. Home – Machine Gun Kelly
17. In the Stars – Icona Pop
18. Georgia On My Mind – Ray Charles
19. I Feel Home – O.A.R
20. New York City's Killing Me – Ray LaMontagne
21. Our House – Crosby, Nash, and Young
22. Lord, I'm Coming Home – Don Gibson
23. I'm Coming Home – Lionel Richie
24. Small Town – John Mellencamp
25. Homeward Bound – Simon & Garfunkel
26. Let Me Take You Home – Boston
27. Coming Home – Avenged Sevenfold
28. Comin' Home – City and Colour
29. Happy 'Cause I'm Going Home – Chicago
30. Two Of Us – The Beatles
31. Coming Home – Leon Bridges
32. Solsbury Hill – Peter Gabriel
33. House Of The Rising Sun – The Animals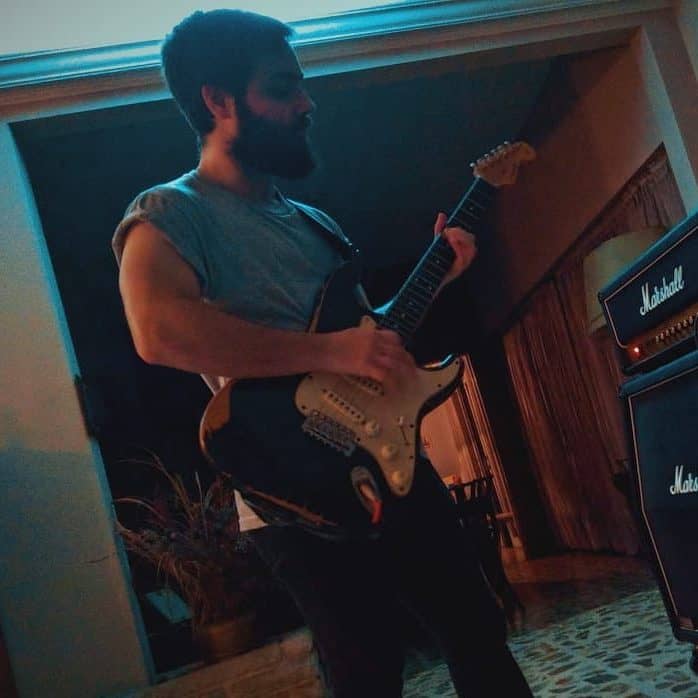 Hello there, my name is Ramiro and I've been playing guitar for almost 20 years. I'm obsessed with everything gear-related and I thought it might be worth sharing it. From guitars, pedals, amps, and synths to studio gear and production tips, I hope you find what I post here useful, and I'll try my best to keep it entertaining also.