There are few things more refreshing than a nice swim on a hot Summer's day.
Here's a list of songs about swimming that you can splash around to next time you're out by the pool, or maybe use it for a fun-filled pool party.
1. Nightswimmng – REM
Nightswimming is more than just a song about taking a dip in the lake at midnight.
It's a song about the tragedy of lost teenage freedom; the long-gone rebellious nature that you long for as adulthood erodes your spirit.
The song sits atop a bright and bouncy piano melody while Michael Stipe recalls, fondly, his youth and how he has changed.
2. Jump In The Pool – Friendly Fires
Jump In The Pool makes for a great nighttime party song if I'm being honest.
It's definitely an aqua-themed club-feeling song, with the droning, almost-single-note melody in the chorus along with odd and tribal drum rhythm.
Jump In The Pool is one of the songs where the band felt they first started finding their sound, along with "Kiss of Life".
3. Swim – Jack's Mannequin
Swim is a motivational song, and quite a calmed-down one, a song about remaining strong despite life's difficulties.
Andrew McMahon uses the metaphor of swimming as a reminder for the listener to keep their head above the waves, which is adequate because swimming can be difficult and tiring.
All of this is delivered over the angsty vocals and punchy guitars, which makes it a nice in-between song for any playlist.
4. My Friend has a swimming Pool – Mausi
A bit of UK Party pop to blast off your speakers.
This song is definitely a pool party song, it sets the tone for the evening and provides an energetic background to sink into.
My Friend has a Swimming Pool that is perfect for swimming too.
5. Swim Good – Frank Ocean
This is the tenth track on Frank Ocean's debut album, and it's kind of dark, considering it's about trying to get away from something bigger than you.
Despite the theme, the song has a resilient tone to it about staying strong despite the rising current.
6. Swimming Pool – Emmy the Great
Swimming Pool is pretty on the nose about what it's about, but Emmy takes the theme of a swimming pool and makes it a song about longing for love.
The song is centered around wanting to be in the warmth of a sunny swimming pool, with this being a metaphor for knowing real love.
However, it's sung in a way that gives you a sense of longing, as if it's a distant memory, rather than a current experience.
Definitely not a pool party song, but it's a song about swimming through the oceans of love.
7. Swim Until You Can't See Land – Frightened Rabbit
Frightened Rabbit gives us this happy folk-pop song about getting away from your problems or from who you are, to cross into the unknown.
It's happy and upbeat while delivering a deep message, which is pretty common for European folk songs.
It's perhaps a good song for when you're trying to resist swimming in a bottle of alcohol.
8. Me Swimming – Mary Epworth
I recommend that if you're listening to this song for the first time, you don't watch the music video, it's really weird.
I didn't get the pleasure of enjoying the song without the imagery of some stranger in a butterfly body suit standing in a forest, but once I was able to tear my eyes away, the song came through as pretty cool.
There's a reason why it's one of the most popular songs about swimming on the web, it's a uniquely delivered song about empowerment.
9. Channel Swimmer – Corbin Murdoch & The Nautical Miles
This poetic song tells the story of a man swimming the English Channel and the loneliness of it.
The song's instrumentation and delicate vocals help to evoke a sense that the man's swim is drawing a parallel with the journey we take in life.
It can be long, tiresome, and lonely, but we all have to get to the end of our swim.
10. Swimming In Your Ocean – Crash Test Dummies
An odd song about a number of things painted in a metaphor about swimming in someone's "Ocean".
The lyrics discuss the idea of feeling overwhelmed while in the throes of passion with someone and using mental distractions to keep yourself from getting too sucked in.
The song has also been interpreted as a message about ED, but I digress.
11. I Go Swimming – Peter Gabriel
An upbeat and eccentric 80's song from when Peter Gabriel was still a young pop star.
If you're unfamiliar with the singer, he's the guy who wrote Father, Son, a really touching piano ballad.
This song is a far cry from that, clearly, he's grown and changed since the 80s.
This is just a fun song about swimming and following dreams and I quite like the upbeat attitude of it all.
12. Five Feet High and Rising – Johnny Cash
This song is about a natural disaster, shown through the eyes of a child, Johnny Cash also wrote a number of other songs about counting and measuring; one even for kids to learn on sesame street.
This song tells of how as the torrential rains rise, they begin to change the environment, destroying crops, homes, and lives, albeit hidden in an upbeat and cheerful display.
13. Into The Ocean – Blue October
Blue October is easily one of my more enjoyed bands, Justin Furstenfield's vocals and lyrics brought me through much of my teen years.
Into the Ocean is no exception to the anxious and often sad themes of their music, with Furstenfield using the middle of the ocean as a metaphor for being lost in your own mind.
14. Night Swimmers – Foals
An anxious dance track. Night Swimmers is a song about escaping out into the night and swimming with friends.
Foals manage to capture a youthful rebelliousness in their composition, with wiry guitar and the lead vocals reverberating out in what seems to be a sonic distance far from the listener's ears.
15. Swimming – Breathe Owl Breathe
Back in time to 2010, Swimming is what you call spirit Rock (if it's your first time hearing of that genre, you're in for a pleasant surprise).
Frankly, this song reminds me of Lo-fi music, but without the scratchy vocal mixing.
Swimming is a relaxing musical journey into the forests and lakes of the wilderness for your ears.
16. Let's Go Swimming Wild – Sweet Baboo
There are a lot of British singers on this list, I guess they like water and swimming metaphors. It's a really relaxed, yet fun song for anyone.
It oscillates between being a downbeat slow song to something a little more free and bright, and yet it never loses that sense that it's a song about relaxing.
17. Swimming In the Flood – Passion Pit
A song about feeling hopeless in a relationship, due to deception and lies.
Swimming in the Flood really tries to capture what it's like to try swimming while you're drowning.
The song uses an electronic beat with heavily reverbed vocals to give us a driving sense of the music, as if, like in a hopeless relationship, you're being swept away.
18. Interlude(Crawled Out of The Sea) – Laura Marling
Something short and sweet.
Laura Marling spends a minute and seventeen seconds singing about something that crawled out of the sea.
I suppose, if you're an unknown eldritch monster, this song is about swimming to you.
19. Swimming Horses – Siouxsie and the Banshees
20. Underwater – Mika
21. Swimming Ground – Meat Puppets
22. The Anchor Song – Bjork & Brodsky Quartet
23.The Goldfish – Laurie Berkner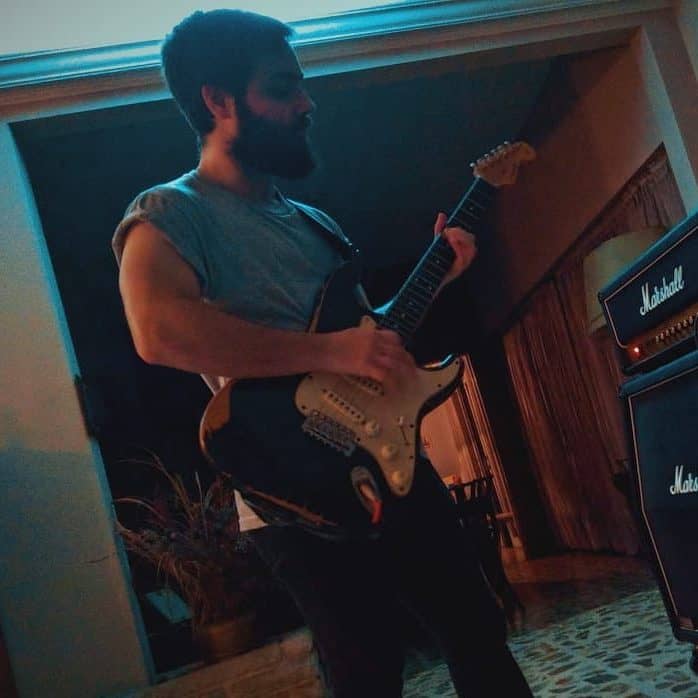 Hello there, my name is Ramiro and I've been playing guitar for almost 20 years. I'm obsessed with everything gear-related and I thought it might be worth sharing it. From guitars, pedals, amps, and synths to studio gear and production tips, I hope you find what I post here useful, and I'll try my best to keep it entertaining also.