Recently, my friend Hiba from 7azafazar asked me for some tips on how to reduce exam stress and it inspired me to come up with a playlist to go with them.
It is nothing new to start looking up our favorite songs once our mood is down.
Exam periods are great examples of times any student would need a pat on the shoulder, and luckily, music can do this job in a perfect fashion.
As much as music helps reduces stress levels and be a great companion in long studying sessions, we can get lost in the ocean of options.
So let's cut our options down to the best!
Here is a compilation of 9 different songs and tracks that will help you reduce exam stress, and create the perfect playlist to play when you study.
Songs to Calm You
If you are overwhelmed, stressed out, and need to take a breath, calm songs are more likely to help you stop for minutes, lay back, and get back on track.
1. Strawberry Swing – Coldplay
Although the lyrics of this song have nothing to do with exams or studying, it is a great piece to choose to calm down and take a deep breath from the ongoing.
Symbolizing nostalgia in its lyrics, Strawberry Swing renders us a feeling that is soothing and relaxing in ways one cannot explain, not to mention Chris Martin's inspiring vocals as well.
British Academy of Sound Therapy shares that "Strawberry Swing" is one of the most psychologically relaxing songs ever recorded.
2. One Day – Imagine Dragons
As its name suggests, One Day is a song that looks into the future, making it a perfect match for students looking for a light at the end of a tunnel.
Lying on a slow relaxing guitar beat, it portrays hope and the obstacle-ridden road humans need to walk.
"I know they're telling you things that you're putting in your head. I promise you that you are better off without them," is indeed an inspiring line that all students want to hear during exam periods and throughout their study sessions!
Written over the course of 3 years, members of Imagine Dragons revealed the song revolves around themes like reflections on survival and the fragility of life.
3. Blue and Grey – BTS
Guitar-led and performed by 7 angelic voices, Blue and Grey is the kind of song that feels like a resort, especially for those dealing with burnout feelings, aka students.
Even if you do not understand Korean, you will effortlessly feel how tender and heartwarming it gets when you play this song.
Knowing that the lyrics have also been written during hard times for BTS members, adding Blue and Grey to your study playlist will console you that others experienced the same feeling as you.
BTS Artists shared with the world that Blue and Grey speaks up about depression, burnout, anxiety, and pandemic-induced loneliness.
BTS's V said the song name was derived from symbolism: Blue being the universal symbol for sadness, and grey being the color his bandmate RM uses to convey the same feeling.
4. Gonna Be Okay – Brent Morgan
If you are looking for one comforting song to listen to before any exam, let it be Gonna Be Okay by Brent Morgan.
With its very much-needed messages, it brings a sparkle of hope and inspiration to students, inspiring them to achieve what they think they cannot.
Put this song on repeat, and it will be fairly capable of ditching all the negative failure thoughts and replacing them with the urge for achievement and confidence.
Released in May 2021, Brent dedicated this song to all who are suffering in unprecedented times of the pandemic.
5. River Flows In You – Yiruma
A musical composition rather than a song, it was a bit difficult to exclude River Flows In You from the list.
Its hesitant yet smooth tempo can help a ton with striking your feelings and then putting you at peace with whatever emotions you are dealing with.
It is highly advised that students play Yiruma's grateful notes before any exam or during study sessions, as it helps soothe anxiety and set the mood for focus and attention.
River Flows in You belongs to the album "First Love" from 2001.
The song was played in the Twilight movie, heading faster into fame and artist recognition.
6. Lofi Girl Hip Hop Tracks – Youtube
This one is for students who cannot concentrate while listening to music with lyrics but need something to play in the background while studying.
Lofi Girl videos are relaxing music tracks that are characterized by downtempo beats and familiar environmental noise such as the sounds of fire, rain, sea waves, or quiet chitchats, depending on your choice!
Since there are no lyrics, Lofi Music is not a source of distraction, hence assisting in better comprehension and writing.
Fun fact: I am listening to Lofi tracks as I am writing this blog!
Songs to Motivate You
Before exams, students are haunted by the fear of failure. In such cases, motivational songs can be the message they need to regain their belief in themselves.
Here are a few suggestions.
7. Whatever It Takes – Imagine Dragons
It's all in the lyrics. A quick look can make you think Whatever It Takes is a narration of a lover promising a girl to stay by her side.
However, it is a statement of a man who is fighting for his ambitions and is not willing to stop before getting them done. A perfect match for students during exam periods!
"I'm ready for whatever it takes", "I'm a masterpiece" and more lines are the kind of words that can help any student retrieve confidence he/she lost on the way.
After being released in 2017, Whatever It Takes won Best Rock Video at the 2018 MTV Video Music Awards.
NBA's Utah Jazz frequently play the song prior to the tip-off of every home game in Utah.
8. Never Give Up – Sia
Never Give up is an uplifting song every student will find relatable, as they all have huge rocks in their academic paths hindering them from going forward.
This song – with its Never Give Up, No on repeat – is the voice of resilience to keep going on even after a devastating shock of failure.
Exam stress and lack of motivation to study will completely vanish after playing Never Give Up by Sia!
Never Give Up was originally written for the movie Lion, 2016.
9. Good Life – OneRepublic
Saving the best for last: Good Life is a mood uplifter, indeed!
Revolving around living the best life even if you hit the rock bottom, this song can tell students things will turn out well regardless.
Focus on the person you want to be, do not deviate from your goals, and do not let hard times prevent you from looking at the good.
After its release in 2009, Good Life was featured in the trailer of Eat Pray Love movie, TV series America's Got Talent and Gossip Girl, and much more.
10 More songs to help you get through exam stress
| | |
| --- | --- |
| Counting Stars | OneRepublic |
| Autumn Night | Davichi |
| Pocketful of Sunshine | Natasha Bedingfield |
| Burst Into Flames | Cavale |
| For Someone Like Me | Dayon feat. Robin Öman |
| Roads Unraveled | Linkin Park |
| Believer | Imagine Dragons |
| Coffee Shop | B.A.P |
| Beautiful Stranger | Black Atlass |
| Photograph | Ed Sheeran |
I think now you have the perfect playlist set up just for you, all you have to do is upload it or stream it on your device and let that stressful exam period pass as calmly as possible.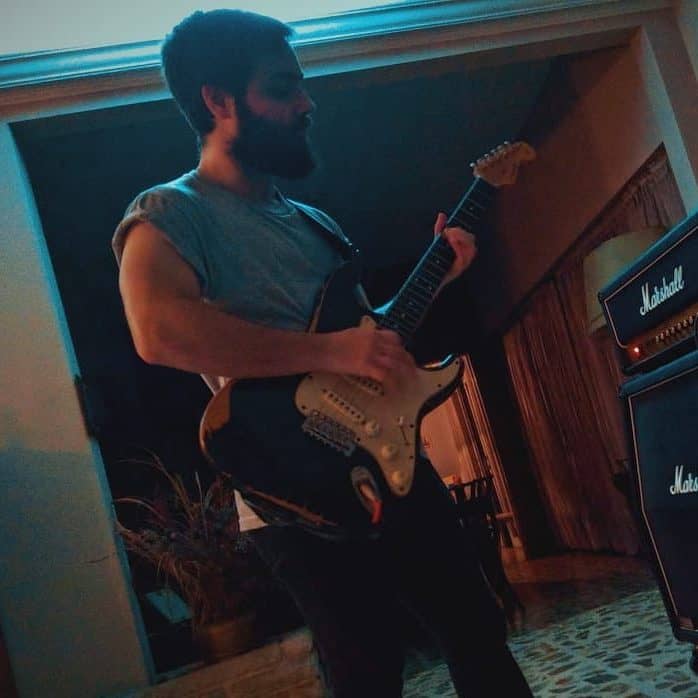 Hello there, my name is Ramiro and I've been playing guitar for almost 20 years. I'm obsessed with everything gear-related and I thought it might be worth sharing it. From guitars, pedals, amps, and synths to studio gear and production tips, I hope you find what I post here useful, and I'll try my best to keep it entertaining also.