The 20s are a pivotal period in anyone's existence.
19-year-olds are just a step ahead of a brand new decade packed with adventures, turmoils, discoveries, and laughter.
All things considered, we could argue that being in your twenties feels like listening to an epic classical composition, providing a wide range of emotions or "melodies", all of them equally beautiful, including the sad ones.
I think it's high time we leave metaphors aside and, instead, stick to this list with 27 songs about being 20.
1. 9 to 5 – Dolly Parton
Did you think being in your 20s would mean partying and freedom? I'm sorry to tell you, you were awfully wrong.
Most people will work themselves to the bone during this youthful decade; either by studying a career to build their future, or getting a full-time job.
American singer Dolly Parton wrote this anthem complaining about the hardships of a 9 to 5 lifestyle, where the hard-earned money seems to disappear in the blink of an eye.
It's tough, but it's worth it. So hang in there!
2. 20 Something – SZA
20 Something is a relaxing song in which the beautiful voice of Solána Imani Rowe is accompanied by guitar string arrangements and an occasional choir.
Oddly enough, its comfortable melody collapses with the unbearable reality portrayed in the lyrics.
To be more precise, they deal with fear, insecurities, and frustration; common emotions that appear during the early 20s.
3. Schoolin' Life – Beyoncé
"This is for them twenty-somethings / Time really moves fast, you were just sixteen"
That's the opening line to Beyoncé's classic Schoolin' Life from her 2011 album 4.
Although the first verse aims at a 20-year-old audience, it continues with a similar premise for people in their 30s, 40s, and even in their 50s.
The ultimate message of this song is that life is a never-ending learning experience.
4. Pushing 20 – Sabrina Carpenter
Pushing 20 starts with a mysterious, almost gloomy beat that immediately switches the mood towards a more mainstream and friendly-listening base, which stays pretty much the same throughout the rest of the song.
5. Youth – Troye Sivan
This killer track's title defines this age in a single word.
The music video also does some justice to being 20, at least regarding the "live-today-regret-tomorrow" side.
Nonetheless, Youth by Troye Sivan is far from making it to anyone's "PARTY-HARD" playlist.
The song has a catchy beat but remains a gentle pop tune with mitigating keyboards and voice effects.
6. Twenty-Somethings – Judah & The Lion
Twenty-Somethings is a bit-of-pop, bit-of-country song in which the first verse begins with a powerful statement: "We don't know where we're going…"
Aimlessness and wandering may appear during your twenty-somethings, but if you ask me, I believe it's part of a worth-doing process.
7. Mommy's Little Monster – Social Distortion
From Social Distortion's debut album, we extract Mommy's Little Monster.
This song tells a story about a 20-year-old boy experiencing a "me-against-the-world" facet.
He dropped school and quit his job. Unlike his brother and sister who became successful, he doesn't want to study a career.
The second part of this song tells another story: a 20-year-old girl who escapes home and lives on the street, only to find herself beaten up by the guys she sleeps with.
This song demonstrates how difficult it is for some to grow up and be at this peculiar age.
8. Not Nineteen Forever – The Courteeners
Indeed, no one can be nineteen forever. Sooner or later, you'll jump right into your twenties, waiting to experience a rollercoaster of moments.
Or as F. Scott Fitzgerald wrote in The Great Gatsby: right before you it is stretching the "portentous, menacing road of a new decade."
The Courteeners' song narrates a romantic relationship between a young boy and an older woman.
9. Under 21 – Save Ferris
Yearning to be an adult is common among teenagers and children.
The main problem is that a thousand experiences can be only done by people over 21, such as going to nightclubs or purchasing alcohol.
Being under 21 might seem like a drag, but soon you'll realize your 20s have finished in the blink of an eye.
10. I Love College – Asher Roth
Going to college. What an experience!
For some, it's a place where you deal with career insecurities and dread for the future 24/7.
Not for Asher Roth, that's for sure! He prefers to stick with the fun, wild side of it.
Hanging out with friends, drinking, and smoking. In a nutshell, seizing the age.
11. Wasted & Wounded – Santa Cruz
Wasted & Wounded is a song that celebrates celebrations.
It starts with a guitar lick that has a bubble-like effect as if the notes were emerging from the bottom of an alcohol lake.
It moves on to some wild breakdown riffs but never loses the catchy and easy-to-listen essence of the chorus.
The song makes it to the list because it reminds us of the importance of having a blast during your teen and early adulthood years.
12. When I Grow Up – NF
It's common to ask children what do they want to become when they grow up.
This song is about those children who wish to become artists or musicians. Unfortunately, once they did grow up and reached their twenties, they had to face the facts.
Anger, sadness, frustration, and hope; blend them all together and you'll get this song by NF.
The music video finds this young rapper getting by in dead-end jobs, feeling time passing by, and realizing how hard it is to become a full-time singer.
Nonetheless, he never loses his heart.
13. Wish You Were Sober – Conan Gray
Mix a cheerful beat with a melancholic lyric and, as a result, you get Wish You Were Sober by Conan Gray.
The song's about the end of a relationship and, of course, the emotional and mental torment that's experienced after that.
14 More Songs About Being 20
| | |
| --- | --- |
| Title | Artist |
| Sugar Mountain | Neil Young |
| At Least I Look Cool | Sasha Alex Sloan |
| Life of The Party | Shawn Mendes |
| She Works Hard For The Money | Donna Summer |
| Numb Little Bug | Em Beihold |
| Youth Gone Wild | Skid Row |
| Forever Young | One Direction |
| Time To Pretend | MGMT |
| Unwritten | Natasha Bedingfield |
| Two Weeks From Twenty | Yellowcard |
| Learning To Fly | Tom Petty |
| Lazy Song | Bruno Mars |
| Yesterday | The Beatles |
| Royals | Lorde |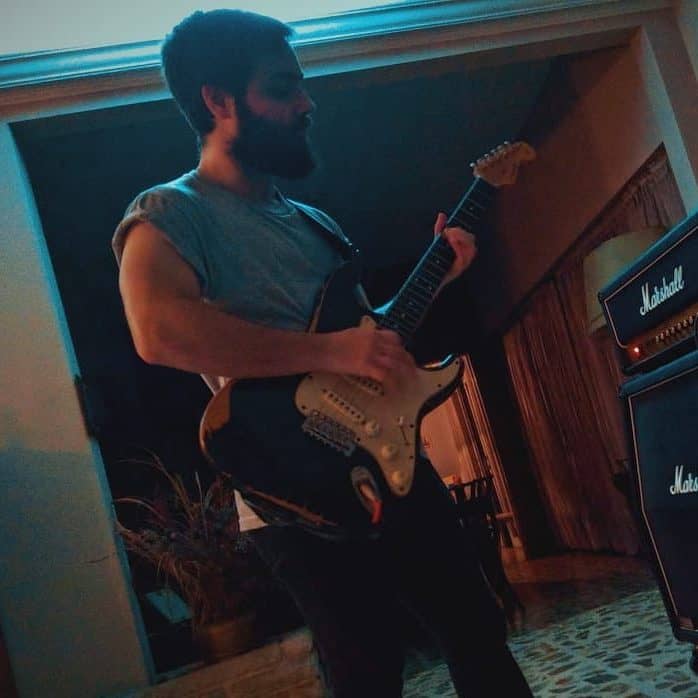 Hello there, my name is Ramiro and I've been playing guitar for almost 20 years. I'm obsessed with everything gear-related and I thought it might be worth sharing it. From guitars, pedals, amps, and synths to studio gear and production tips, I hope you find what I post here useful, and I'll try my best to keep it entertaining also.